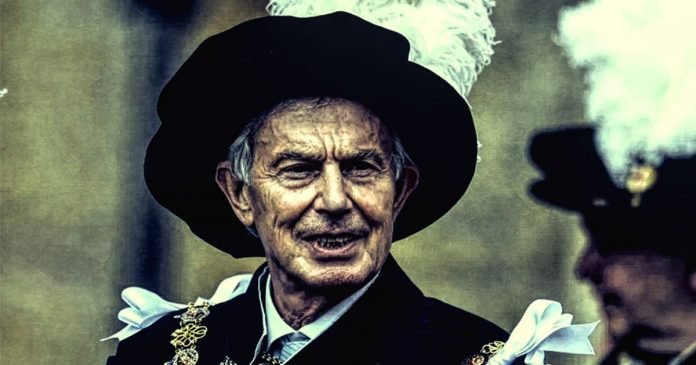 The Establishment Honours Their Own.
The former prime minister will be made Knight Companion of the Most Noble Order of the Garter by the Queen.
The man that took the UK into an illegal war, that became the catalyst for the next quarter of a century of war, terror, destruction and debt.
In 1997 Blair was carried in on a wave of populism after 17 years of the harshest Tory rule Britain had endured. His landslide victory was seen as a turning point for hard pressed working class however we soon learnt we had only exchanged one Tory for another, the so-called third way was little more than a compromise, downward pressure on workers but not too forcefully.
Under Blair, the party used the phrase "New Labour" to distance itself from previous Labour politics and the traditional idea of socialism. Despite opposition from Labour's left-wing, he abolished Clause IV, the party's formal commitment to the nationalisation of the economy, weakened trade union influence in the party and committed to the free market and the European Union.
Labour won two more general elections under his leadership—in 2001, in which it won another landslide victory (albeit with the lowest turnout since 1918), and in 2005, with a greatly reduced majority. He resigned as prime minister and Labour Party leader in 2007 and was succeeded by Gordon Brown, who had been his chancellor of the Exchequer since 1997.
Blair's governments enacted constitutional reforms, removing most hereditary peers from the House of Lords, while also establishing the UK's Supreme Court and reforming the office of Lord Chancellor (thereby separating judicial powers from the legislative and executive branches). His government held referendums in which Scottish and Welsh electorates voted in favour of devolved administration, paving the way for the establishment of the Scottish Parliament and Welsh Assembly in 1999. He was also involved in negotiating the Good Friday Agreement.
His time in office occurred during a period of continued economic growth, but this became increasingly dependent on mounting debt. In 1997, his government gave the Bank of England powers to set interest rates autonomously, and he later oversaw a large increase in public spending, especially in healthcare and education.
He championed multiculturalism and, between 1997 and 2007, immigration rose considerably, especially after his government welcomed immigration from the new EU member states in 2004. This provided a cheap and flexible labour supply but also fuelled Euroscepticism, especially among some of his party's core voters.
His other social policies were generally progressive; he introduced the National Minimum Wage Act 1998, the Human Rights Act 1998 and the Freedom of Information Act 2000, and in 2004 allowed gay couples to enter into civil partnerships. However, he declared himself "tough on crime, tough on the causes of crime" and oversaw increasing incarceration rates and new anti-social behaviour legislation, despite contradictory evidence about the change in crime rates.
There are those that look back on the Blair days with rose-tinted glasses, listing Blair's achievements even proclaiming a new age of Blrisim under Starmer, however, scratch the surface and Blairs legacy you will find a clear road to war, death, destruction and debt.
The great PFI heist: The real story of how Britain's economy has been left high and dry by a doomed economic philosophy
The Blairite Third Way promised somehow to square the circle by delivering new schools, hospitals, roads, railways and prisons without the debt or inefficiency of the public sector. It seemed too good to be true yet those who dared to question the orthodoxy du jour were swatted away. This was Blair's real domestic legacy, it wasn't so much of a case of jam today, it was forever debt funnelling public money into the oligarchy greedy mouth.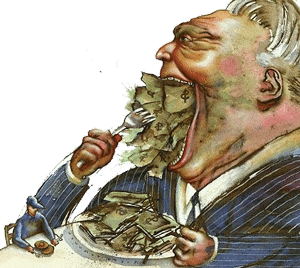 PFI debt for the British taxpayer is more than £300bn for infrastructure projects, with a value of £54.7bn. To put it into perspective, the PFI debt is four times the size of the budget deficit used to justify austerity. It makes the bankers rich while leaving the NHS in constant debt, a constant funnelling of public money into private hands.
As early as 1999, Richard Smith, editor of the British Medical Journal, denounced it as "PFI: Perfidious Financial Idiocy" in an editorial revealing that repayments would be exorbitant. In the same year, Professor Allyson Pollock and colleagues published a paper sounding the alarm over the potentially disastrous consequences of PFI debt and the financialisation of public services. And in a 2004 long read for Private Eye the late Paul Foot exposed the seedy underbelly of its history.
It was Sir Howard Davies, chairman of the Royal Bank of Scotland (RBS), who recently made an astonishing admission on BBC1's Question Time when he stated that private finance initiatives (PFI) had been a "fraud on the people". Beyond seemingly populist rhetoric, the real story of PFI reveals that RBS alongside other global banks, notably HSBC, were instrumental in what Sir Howard has effectively labelled a great heist.
The argument went that Labour had inherited public services in such a diabolical state of neglect that there was no alternative to the private financing of whole swathes of infrastructure.
For a golden period, Gordon Brown's apparent vanquishment of boom and bust kept any problems in check. But when the financial crisis was followed by the diktats of austerity, PFI began to unravel. South London Healthcare Trust became the first NHS trust to go bust in the summer of 2012, having found itself on the hook for huge PFI costs.
The total bill for NHS PFI hospitals is ultimately projected to rise above £79bn, way in excess of original build costs of £11.4bn.
Many PFI contracts came with strings attached, "facilities maintenance" often subcontracted on a long-term basis as part of the deal. As a result, only specific contractors are allowed to change or fix certain equipment or fittings, such as a plug socket or a light bulb. A Daily Telegraph investigation flagged up several egregious examples but this one really stood out: one hospital was charged £52,000 for a job which should have cost £750.
What's more, PFI payments have been indexed higher with each successive year regardless of a hospital's revenue. Total UK PFI debt for the taxpayer is over £300bn for infrastructure projects with a value of £54.7bn. To put it into perspective, the PFI debt is four times the size of the budget deficit used to justify austerity. PFI, it could be said, underlines that austerity is a political choice rather than a necessity.
To look at it another way, a quick calculation reveals that the outstanding PFI payments would cover the pay for all the nurses, full-time consultants and GPs for 10 years. There would still be plenty left over to cover the training of the next generation of surgeons and build 80 state-of-the-art hospitals. If you wanted to keep it simple then the PFI debt would cover the entire NHS budget for over 2 years.
Across the NHS, PFI repayments have contributed to hospital mergers, closures and downgrades. Long-time critic of PFI Professor Pollock argues that these mergers will be followed by the final "wave of closures in the run-up to privatisation and franchising out". She astutely points out the great irony that PFI was once hailed as the largest NHS hospital-building programme; in fact, it is likely to end up becoming the largest hospital closure programme.
PFIs are complex, financial instruments and the answers to how they might be brought to heel – or cancelled – need to be carefully thought out. Simply centralising the debt might still mean taxpayers forking out billions as profits for PFI consortia. Read more about PFIs in Youssef El-Gingihy brilliant article on Blair's PFI legacy The great PFI heist
There is no threat of privatisation of the NHS it's far too valuable to the private sector as a cash cow, a constant flow of public money funnelled into private hands, it would be unsustainable outside public ownership.
Tony Blair: 'My job was to build on some Thatcher policies'
Former Prime Minister Tony Blair has described Baroness Thatcher as "a towering political figure" whose legacy will be felt worldwide. Mr Blair said Lady Thatcher had always been "immensely kind" to him. He added: "I always thought my job was to build on some of the things she had done rather than reverse them. "Many of the things she said, even though they pained people like me on the left… had a certain creditability."
How to Sell a War: Tony Blair's Afghan intervention speech 'Let us reorder this world' Labour Party conference 2001
Then there is a legacy that will be recorded in all the history books, Blair's legacy of war.
On the foreign policy side of things, Blair oversaw the British interventions in Kosovo and Sierra Leone in 1999 and 2000, respectively. Although these were generally considered successful, Blair drew major controversy in the early 00s for supporting the foreign policy of US President George W. Bush and his administration during the War on Terror. He ensured that the British Armed Forces participated in the war in Afghanistan and the invasion of Iraq, and falsely claimed that Saddam Hussein's regime held weapons of mass destruction. Later, after the 7/7 bombing in London in 2005, Blair introduced an array of anti-terror legislation that was also controversial.
14 Oct 2001 Bush rejects Taliban offer to hand Bin Laden over.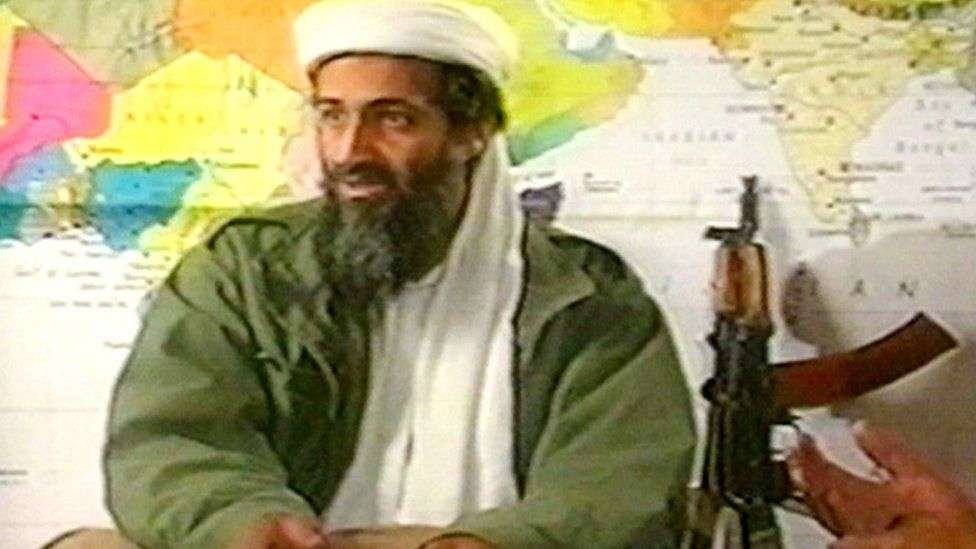 The Taliban asked for evidence of Bin Laden's guilt.
Bush rejects the Taliban offer to hand Bin Laden over.
Afghanistan's Taliban rulers stated they are not ruling out the possibility that Osama bin Laden masterminded the 9/11 attacks, but they say they need proof before he can be handed over.
Previously the hardline Islamic movement has insisted bin Laden could not possibly have been involved. Bin Laden has been reported as denying any role.
In Jalalabad, deputy prime minister Haji Abdul Kabir – the third most powerful figure in the ruling Taliban regime – told reporters that the Taliban would require evidence that Bin Laden was behind the September 11 terrorist attacks in the US, but added: "we would be ready to hand him over to a third country".
President George Bush rejected as "non-negotiable" an offer by the Taliban to discuss turning over Osama bin Laden if the United States ended the bombing in Afghanistan.
Returning to the White House after a weekend at Camp David, the president said the bombing would not stop, unless the ruling Taliban "turn [bin Laden] over, turn his cohorts over, turn any hostages they hold over." He added, "There's no need to discuss innocence or guilt. We know he's guilty".
1 Nov 2001 Palamentery vote- Coalition Against International Terrorism — Deployment of UK Forces to Afghanistan
Coalition Against International Terrorism — Deployment of UK Forces to Afghanistan — 1 Nov 2001
The context this has been interpreted as opposing deploying UK armed forces to Afghanistan.
The majority of MPs voted technically simply to adjourn the House of Commons, however, this has been interpreted as support for the then Government's Coalition Against International Terrorism and support for deploying UK armed forces to Afghanistan.
All the other MPs tried to prevent those MPs opposed to the deployment of UK armed forces to Afghanistan from recording their votes by refusing to act as tellers during the voting procedure. This meant two of those MPs who were opposed to the deployment had to act as tellers in the No lobby and have their votes counted in the opposite way to the way they wished to vote.
Aye: 13 MPs
No: 373 MPs
These were the MPs that voted against
Diane Abbott Labour
Jeremy Corbyn Labour
Mr Tam Dalyell Labour
George Galloway Labour
Lynne Jones Labour
Elfyn Llwyd Plaid Cymru
Robert Marshall-Andrews Labour
Adam Price Plaid Cymru
Angus Robertson Scottish National Party
Alan Simpson Labour
Michael Weir Scottish National Party
Hywel Williams Plaid Cymru
Mike Wood Labour
Tellers
Mr Paul Marsden Labour
Mr Kerry Pollard Labour
For the next 20 years war was waged on Afganastan by the worlds mightiest superpower supported by the UK and other EU countries.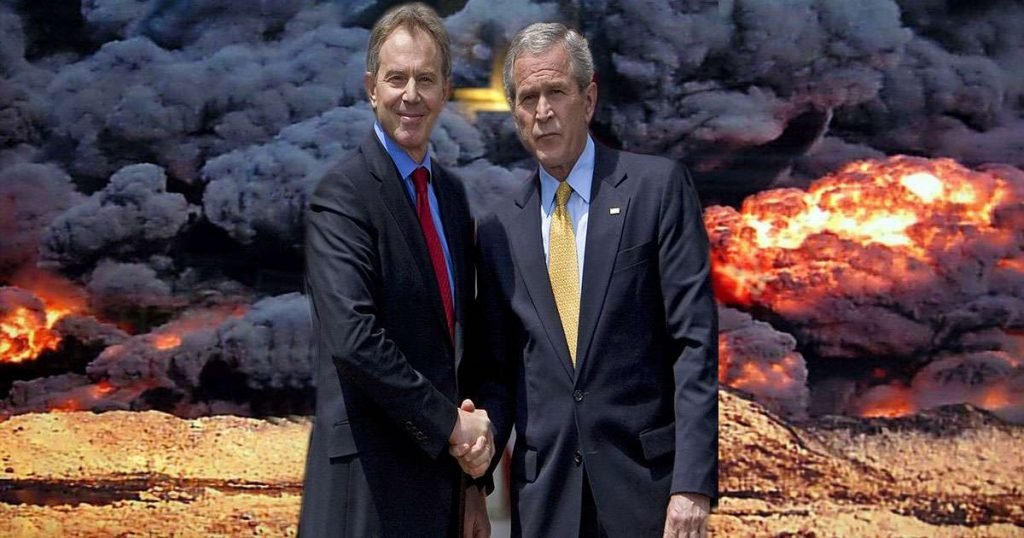 Blair invades Iraq
The Labour Prime minister Tony Blair took the UK military not only into Iraq where the UK carried out an illegal war based on a lie but in his first six years of office, Blair ordered British troops into combat five times in total, more than any other prime minister in British history.
This included Iraq in both 1998 and 2003, Kosovo (1999), Sierra Leone (2000) and Afghanistan (2001).
People want to know how a Labour Prime Minister ignored over a million people marching through the capital city of London to say 'NO TO WAR!' over Iraq and then went on to commit our forces to an even longer campaign in a foreign country, Afghanistan.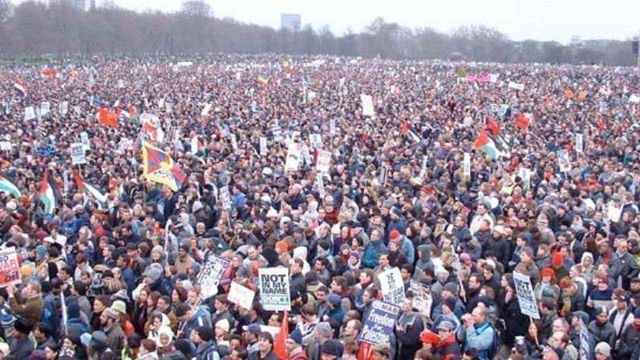 Back in 2002, Tony Blair's Labour Party government was looking for valid reasons to join with the United States to invade Saddam Hussein's Iraq.
Iraq – Its Infrastructure of Concealment, Deception and Intimidation more commonly known as the Iraq Dossier, the February Dossier or the Dodgy Dossier was a 2003 briefing document for the prime minister Tony Blair's Labour Party government.
It was issued to journalists on 3 February 2003 by Alastair Campbell, Blair's Director of Communications and Strategy, and concerned Iraq and weapons of mass destruction. Along with the earlier September Dossier, these documents were ultimately used by the British government to justify its involvement in the invasion of Iraq in 2003.
On 24 September 2002, Tony Blair presented to Parliament a document entitled "Iraq's Weapons of Mass Destruction". The title, which was altered during drafting, would seem to imply that Iraq was known to have WMDs and not just the means to manufacture them.
The intelligence report stated that Iraq had weapons of mass destruction which posed a clear and present danger to the West. The report headlined the claim that Iraq could deploy and activate chemical weapons within 45 minutes of an order being given.
A foreword signed by Tony Blair claimed that "military planning allows for some of the WMDs to be ready within 45 minutes of an order to use them." The inference drawn was that British troops stationed in Cyprus could be hit by an Iraqi WMD at only 45 minutes' notice, which would have been untrue even if Iraq had possessed WMDs.
The 45 minutes claim was a major plank of the former Prime Minister's argument to join the USA in an invasion of the country in 2003.
The dossier later made the case for the invasion of Iraq in 2003 and included government influence on some of the contents. The dossier is also controversial for having been "sexed up"—sensationalised—by Blair's director of communications and strategy Alastair Campbell.
The term Dodgy Dossier was first coined by online polemical magazine Spiked in relation to the September Dossier. The term was later employed by Channel 4 News when its reporter, Julian Rush, was made aware of Glen Rangwala's discovery that much of the work in the Iraq Dossier had been plagiarised from various unattributed sources including a thesis produced by a student at California State University. The most notable source was an article by then graduate student Ibrahim al-Marashi, entitled Iraq's Security and Intelligence Network: A Guide and Analysis.
David Christopher Kelly CMG was a Welsh scientist and authority on biological warfare (BW). Kelly was the distinguished government scientist who hunted down weapons of mass destruction of the kind used by the Blair government to justify the 2003 war with Iraq. The problem was the Saddam Hussein regime did not have them.
In July 2003 he had an off-the-record conversation with Andrew Gilligan, a BBC journalist; during their discussion, they talked about the 2002 dossier on Iraqi weapons of mass destruction, which stated that some of Iraq's chemical and biological weapons were deployable within 45 minutes. When Gilligan reported this on BBC Radio 4's Today programme, he stated that the 45 minute claim was included at the insistence of Alastair Campbell, the Downing Street Director of Communications—something Kelly denied.
Despite the denial from the government, on 1 June—the day after Kelly and Watts had spoken on the telephone—Gilligan wrote an article for The Mail on Sunday in which he specifically named Campbell; it was titled: "I asked my intelligence source why Blair misled us all over Saddam's weapons. His reply? One word … CAMPBELL"
Alastair Campbell, was incandescent with rage when he learned of the Gilligan broadcast with its very serious implications for his boss the prime minister.
The government complained to the BBC about the claim, but they refused to recant on the claim; political tumult between Downing Street and the BBC developed. Kelly informed his line managers in the MoD that he may have been the source, but did not think he was the only one, as Gilligan had reported points he had not mentioned. Kelly's name became known to the media, and he was called to appear on 15 July before the parliamentary Intelligence and Security and Foreign Affairs Select committees.
Two days later Kelly was found dead near his home.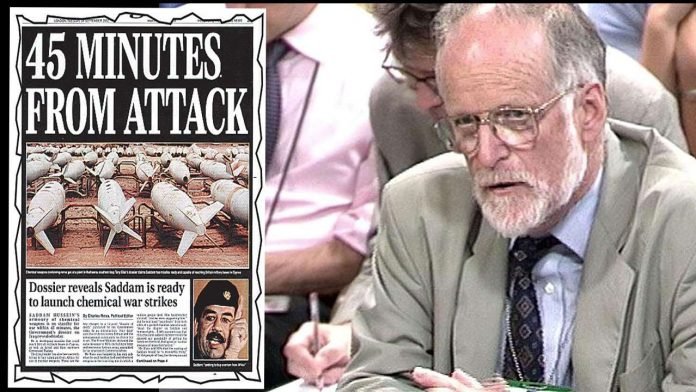 The official explanation was that the distinguished weapons expert had taken his own life by overdosing on painkillers and cutting his left wrist, devastated after being unmasked as the source of the BBC's claim that the Government had 'sexed up' the case for the Iraq War.
A BBC Today programme report claimed the government had embellished or "sexed up" the intelligence it presented to the public in 2003 to justify the war.
A furore erupted between the government, led by chief spin doctor Alastair Campbell, and the BBC, which refused to back down, having failed to spot the flaws in its reporting.
Kelly was outed as the BBC's source, felt publicly humiliated and was reprimanded by his bosses. A proud man felt let down by them, and that his reputation built up over a lifetime was being irreparably tarnished.
In the days before that final walk, Kelly's family said they had never seen him so low. As news of his death spread, the normally self-assured Blair seemed stunned when a reporter cried: "Do you have blood on your hands?"
Kelly's death led not to an inquest, but a public inquiry by Lord Hutton, which brought a rare glimpse into the secret worlds of Whitehall, British intelligence, the low arts of high politics, and the workings of the BBC.
Its conclusion largely absolved the government of blame, to the surprise of many observers.
Its criticism of the BBC led to the demise at the corporation of then chairman Gavyn Davies, correspondent Andrew Gilligan and director-general Greg Dyke, who in 2013 a decade on said history has proven the broadcaster was right: "Ten years on, it is very difficult to find anyone who believes they did not 'sex up' that document."
One legacy of Tony Blair's tenure is the Chilcot report, if there is anything to be gained by that report it should be to encourage us to be bolder in challenging authority, in being sceptical of official claims, in standing firm against an aggressive agenda spun by the media.
A defiant Tony Blair defended his decision to go to war in Iraq in 2003 following the publication of a devastating report by Sir John Chilcot, which mauled the ex-prime minister's reputation and said that at the time of the 2003 invasion Saddam Hussein "posed no imminent threat".
The head of the Iraq war inquiry said the UK's decision to attack and occupy a sovereign state for the first time since the second world war was a decision of "utmost gravity". Chilcot described Saddam as "undoubtedly a brutal dictator" who had repressed and murdered many of his own people and attacked his neighbours.
But he was withering about Blair's choice to sign up to a military plan drawn up in the immediate aftermath of 9/11 by the US president, George W Bush, and his neo-con team. Chilcot said: "We have concluded that the UK chose to join the invasion of Iraq before the peaceful options for disarmament had been exhausted. Military action at that time was not a last resort."
The report also bitterly criticised the way in which Blair made the case for Britain to go to war. It said the notorious dossier presented in September 2002 by Blair to the House of Commons did not support his claim that Iraq had a growing programme of chemical and biological weapons.
The then Labour government also failed to anticipate the war's disastrous consequences, the report said. They included the deaths of "at least 150,000 Iraqis – and probably many more – most of them civilians" and "more than a million people displaced". "The people of Iraq have suffered greatly," Chilcot said.
Chilcot did not pass judgment on whether the war was legal. But the report said the way the legal basis was dealt with before the 20 March invasion was far from satisfactory. The attorney general, Peter Goldsmith, should have given written advice to cabinet and ministers – one of few findings that Blair accepted on Wednesday.
Lord Goldsmith told Blair that war without a second UN resolution would be illegal, only to change his mind after a trip to Washington in March 2003 and meetings with Bush administration legal officials.
Overall, Chilcot's report amounts to arguably the most scathing official verdict on any modern British prime minister. It implicitly lumps Blair in the same category as Anthony Eden, who invaded Egypt in a failed attempt to gain control of the Suez canal. Chilcot's 2.6m-word, 12-volume report was released on Wednesday morning, together with a 145-page executive summary.
It was the late Archbishop Desmond Tutu who called for Tony Blair and George Bush to be hauled before the international criminal court in The Hague and delivered a damning critique of the physical and moral devastation caused by the Iraq war.
Tutu, a Nobel peace prize winner and hero of the anti-apartheid movement, accuses the former British and US leaders of lying about weapons of mass destruction and says the invasion left the world more destabilised and divided "than any other conflict in history".
Writing in the Observer, Tutu also suggests the controversial US and UK-led action to oust Saddam Hussein in 2003 created the backdrop for the civil war in Syria and a possible wider Middle East conflict involving Iran.
"The then leaders of the United States and Great Britain," Tutu argues, "fabricated the grounds to behave like playground bullies and drive us further apart. They have driven us to the edge of a precipice where we now stand – with the spectre of Syria and Iran before us."
But it is Tutu's call for Blair and Bush to face justice in The Hague that is most startling. Claiming that different standards appear to be set for prosecuting African leaders and western ones, he says the death toll during and after the Iraq conflict is sufficient on its own for Blair and Bush to be tried at the ICC.
"On these grounds, alone, in a consistent world, those responsible for this suffering and loss of life should be treading the same path as some of their African and Asian peers who have been made to answer for their actions in The Hague," he says.
For all the Blairites that constantly list achievements made by New Labour the one thing that is always missing his the death toll Blair's legacy left behind.
More than 387,000 civilians have been killed in the fighting since 2001.
Millions of people living in the war zones have also been displaced by war. The U.S. post-9/11 wars have forcibly displaced at least 38 million people in and from Afghanistan, Iraq, Pakistan, Yemen, Somalia, the Philippines, Libya, and Syria. This number exceeds the total displaced by every war since 1900, except World War II.
Blair officially resigned from his premiership in June of 2007 after ten years in office. He was subsequently confirmed as Middle East envoy for the United Nations, European Union, Russia, and United States. In 2008, he introduced a new plan for peace and Palestinian rights. Blair later resigned as envoy in 2015.
Blair also joined the private sector in the years after his premiership. He joined investment bank, JP Morgan Chase, in a senior advisory capacity, and advised Zurich Financial Services on issues related to climate change.
In 2008, Blair created the organisation Tony Blair Associates to provide strategic advice on politics and economics. However, he came under attack for conflicts of interest between this work and his role as a Middle East envoy.
Among his other private sector work, Blair launched the Tony Blair Sports Foundation to promote childhood participation in sports, and created the Tony Blair Faith Foundation to encourage an understanding of people of different religious backgrounds, and to work toward eradicating global conflict and poverty. Later, in 2016, he launched the Tony Blair Institute to champion global change in organisations and governments.
Tony Blairs net worth is $60 million.
Support Labour Heartlands
Help Us Sustain Ad-Free Journalism
Sorry, I Need To Put Out the Begging Bowl
Independent Journalism Needs You
Our unwavering dedication is to provide you with unbiased news, diverse perspectives, and insightful opinions. We're on a mission to ensure that those in positions of power are held accountable for their actions, but we can't do it alone. Labour Heartlands is primarily funded by me, Paul Knaggs, and by the generous contributions of readers like you. Your donations keep us going and help us uphold the principles of independent journalism. Join us in our quest for truth, transparency, and accountability – donate today and be a part of our mission!
Like everyone else, we're facing challenges, and we need your help to stay online and continue providing crucial journalism. Every contribution, no matter how small, goes a long way in helping us thrive. By becoming one of our donors, you become a vital part of our mission to uncover the truth and uphold the values of democracy.
While we maintain our independence from political affiliations, we stand united against corruption, injustice, and the erosion of free speech, truth and democracy. We believe in the power of accurate information in a democracy, and we consider facts non-negotiable.
Your support, no matter the amount, can make a significant impact. Together, we can make a difference and continue our journey toward a more informed and just society.
Thank you for supporting Labour Heartlands
Just click the donate button below