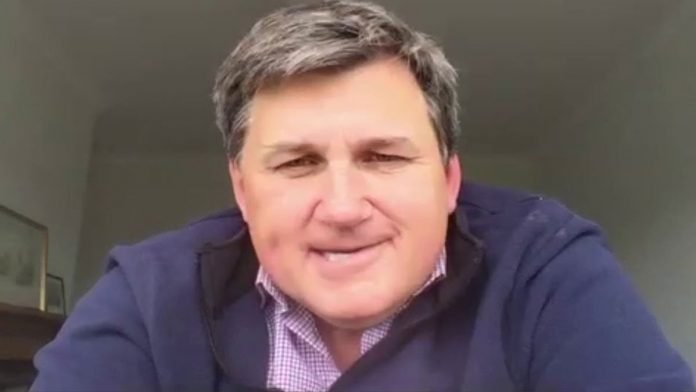 Policing minister Kit Malthouse, charged a total of £4,000 on expenses for "bought-in services" between April and October last year.
Each of the claims mentioned work on his podcast "The Maltcast", which he has published sporadically since February 2019.
He registered each claim with expenses authorities with variations on "Community focussed campaign planning, strategy and delivery including recording and editing podcasts".
Mr Malthouse's podcast has covered such topics as "Long Live Our Local Pub" and "Time to Legalise Assisted Dying?", and appear to involve minimal editing and production.
He released a series of short ' Coronavirus community information' episodes between March and May 2020, one of which saw him interview an engineering operations manager from grocery delivery service Ocado.
The most recent episode of the podcast was released in August – but Mr Malthouse continued to claim for podcast expenses until at least October.
Kit Malthouse The Maltcast YouTube channel totalled 10 subscribers that works out the cost to the public is at £400 a subscriber.
A Labour source said: "This is daylight robbery. The policing minister is paying for podcasts with taxpayers' cash while freezing the pay of Britain's bobbies."
The Policing Minister did not declare who the payments were made to.
Between April 2019 and April 2020, Mr Malthouse claimed the same figure almost every month for "bought-in services", but these were registered as "Parliamentary press and social media management."
A spokesperson for Mr Malthouse said: "Mr Malthouse has correctly and properly declared his expenses inline with IPSA guidelines."
The Mirror also reveal fellow ministers Anne Marie and Robert Buckland have both claimed £500 a month in expenses paid to high-end social media consultancy firm Westminster Digital.
Support Labour Heartlands
This is a "Pay as You Feel" website. You can have access to all of our online work for free. However if you want to support what we do, you could make a small donation to help us keep writing and staying ad-free. The choice is entirely yours.
PLEASE HELP US KEEP GOING AD-FREE
HELP US GROW.
The future can be ours - but only if we work together to make it happen. We've been fighting to make the Labour Heartlands a better, more fairer and equal place for over two years now. With a dedicated team and the commitment from our generous supporters giving small regular donations each month, more if they can afford it, we're winning. But there is still so much to do. We're ambitious, but we can only continue to make positive change and shape our country if more of our supporters join us on this journey. If you believe in the issues we fight for please take action and join Labour Heartlands grassroots think-and-do-tank today. It will make all the difference. And then we can make all the difference for everyone.
Not funded by millionaires or advertisers.
Labour Heartlands funded by the people.