The botched Labour reshuffle
The Labour reshuffle is little more than rearranging the deck chairs, in fact, many are wondering what exactly was the purpose other than to be seen to be doing something or ultimately to divert away from the backlash of sacking Rayner.
Sir Keir Starmer was facing criticism after losing the Hartlepool by-election and control of 8 Labour councils. He made a statement declaring he would take full responsibility then promptly sacked Angela Rayner as the party's chair and campaigns coordinator.
Ex-shadow chancellor John McDonnell said she had been made a "scapegoat".
The negative response from Labour members caused Starmer to quickly reshuffle his team like many things Starmer does, it was rash, confused and disjointed, Angela Rayner's sacking from the Party chair and national campaigns coordinator has been mitigated by placing her as shadow Cabinet Office minister; of course, she remains deputy party leader that was a democratically voted in position voted in by the members.
It all seems to be a series of knee jerk reactions all gaining media attention, all moving away from the disastrous Hartlepool byelection and the appalling local elections.
Anneliese Dodds: Sacked from shadow chancellor to party chair
Anneliese Dodds was sacked as Shadow Chancellor tonight as Labour leader Sir Keir Starmer took the knife to his top team following disastrous election results.
Dodds, who had faced months of grumblings about her performance, has been demoted to become party chairwoman – the job Angela Rayner old job.
Shadow Education Secretary Kate Green had been among those whose positions were said to be under threat.
Starmer was forced to scale back his planned reshuffle as some frontbenchers staged a revolt – faced with taking lesser posts or quitting altogether to avoid the humiliation.
He only began ringing frontbenchers to confirm they were moving posts or keeping their roles at 9pm on Sunday night.
Rachel Reeves, promoted from shadow Cabinet Office minister to shadow chancellor
Reeves a former Bank of England economist, is close aid to Starmer and worked closely with him to develop the party's vote losing Brexit policy implemented in the 2019 manifesto during her post as shadow Cabinet Office minister.
Labour will be tougher than Tories on benefits, promised Reeves
In 2013 Labour's new shadow Chancellor of the Exchequer 'Rachel Reeves vowed to cut the welfare bill and force long-term jobless to take up work offers or lose state support'
Reeves said that under Labour the long-term unemployed would not be able to "linger on benefits" for long periods but would have to take up a guaranteed job offer or lose their state support.
Adopting a firm party line on welfare, the former Bank of England economist stressed that a key part of her task would be to explore the "myth" that Labour is soft on benefit costs, and to prove instead that it will be both tough and fair.
Obviously, another spoon-fed centrist who has never had the misfortune to be on welfare but sees those working class that have found themselves in this unfortunate position, a result of a million valid reasons including both the Labour and Tory governments mismanagement of the economy as little more than scroungers.
As for Policy Labour are still advocating TINA
There is no alternative.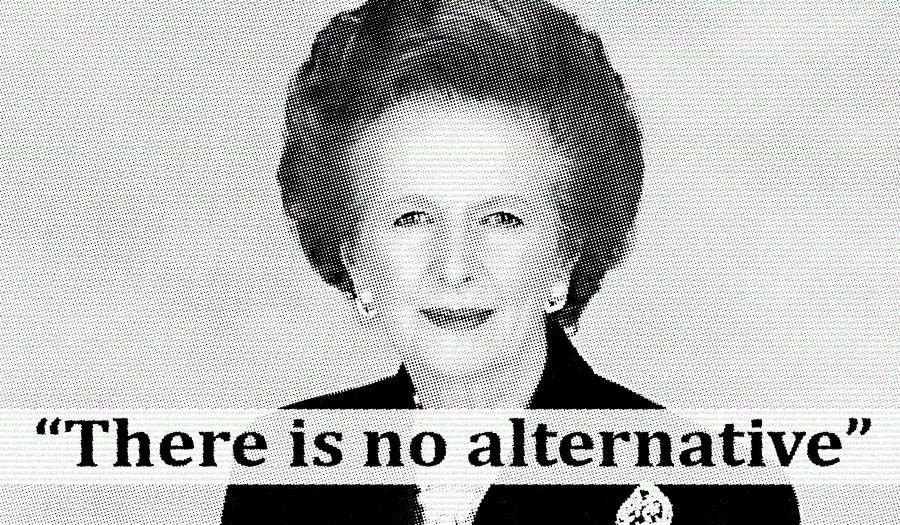 Tony Benn once said: "..You see there are two flames burning in the human heart all the time. The flame of anger against injustice, and the flame of hope you can build a better world. And my job at 83 is going round and fanning both flames…because people need encouragement"
The job of ensuring any threat of socialism doesn't gain a toehold in the UK is being conducted by Sir Keir Starmer, he is doubling down on his orchestrated attack on the Left. Starmer is not here to challenge the status quo but to uphold the establishment.
His job is to snuff out those flames of anger at injustice and burning desire of hope, Starmer will create disillusionment and apathy, his Labour Party will become a political waiting room where activist go to die, above the door a sign reading 'Don't leave fight!' intermittently flashing 'Not yet!.
The best Labour will offer is TINA "There is no alternative" The phrase was used to signify Thatcher's claim that the market economy is the only system that works, and that debate about this is over. One critic characterised the meaning of the slogan as: "Globalised capitalism, so called free markets and free trade were the best ways to build wealth, distribute services and grow a society's economy. Deregulation's good, if not God."
To get their the Parties mantra will be Left wing policies fail the country rejected them.
Repetition makes a statement seem more true, regardless of whether it is or not. Understanding this effect can help you avoid falling for propaganda.
Starmer wants to take the Labour party to the right. The only alternative he will offer is to become an alternative Tory Party, he claims Labour's 2019 policies were too far to the Left. But the reality is there was only one policy that lost Labour 60 seats.

STARMER'S OWN SECOND REFERENDUM POLICY
Since 2019 Starmer has attacked Left wing policies especially those he himself stood in the 2019 manifesto that got him elected. He had the audacity to blame those policies for Labour's appalling general election result where Labour lost 60 seats.

Of those 60 seats, 6 seats were in Scotland 54 seats Labour lost were English 52 were strong Leave-voting constituencies.
Constituencies that had warned the Labour Party HQ that they would lose if the shadow Brexit secretary continued to insist on his Brexit policy.
Starmer and Mandelson blame the slightly Left-wing policies for Labour losses.
Listen to the Corbyn interview
Both Sir Keir Starmer and his boss Lord Mandelson, coincidently the Leader and director of the so-called People's vote, that organisation that cynically used to remainers to undermine Jeremy Corbyn and Labour while giving the Tories a free pass on Brexit have both constantly blamed Left wing policies for Labour's defeat.
The problem with this is that Labour's policies are, in fact, overwhelmingly popular: significant majorities of voters support funding the NHS, raising the minimum wage, building council homes and other such social democratic policies.
There is no doubt on the doorstep some people were verbally opposed to the Labour Party and expressed their concerns at Jeremy Corbyn's past, irrelevant of truth.
This makes it easy for Sir Keir Starmer and his propaganda machine to associate the lie with the "illusion of truth" associating it to why Labour lost the general election of 2019.
Sir Keir Starmer hopes his seeds of deceit, that whisper of a lie, will grow and becomes an "illusion of truth" It's much the same lie as the Tory's used when they blamed Labour for the World's financial crisis of 2007–2008.
They repeated the lie that Labour had brought about the financial crash so many times over so many years that an audible grown could be heard every time it was mentioned on programs such as question time. Unfortunately, the method worked and even today that very lie is still repeated.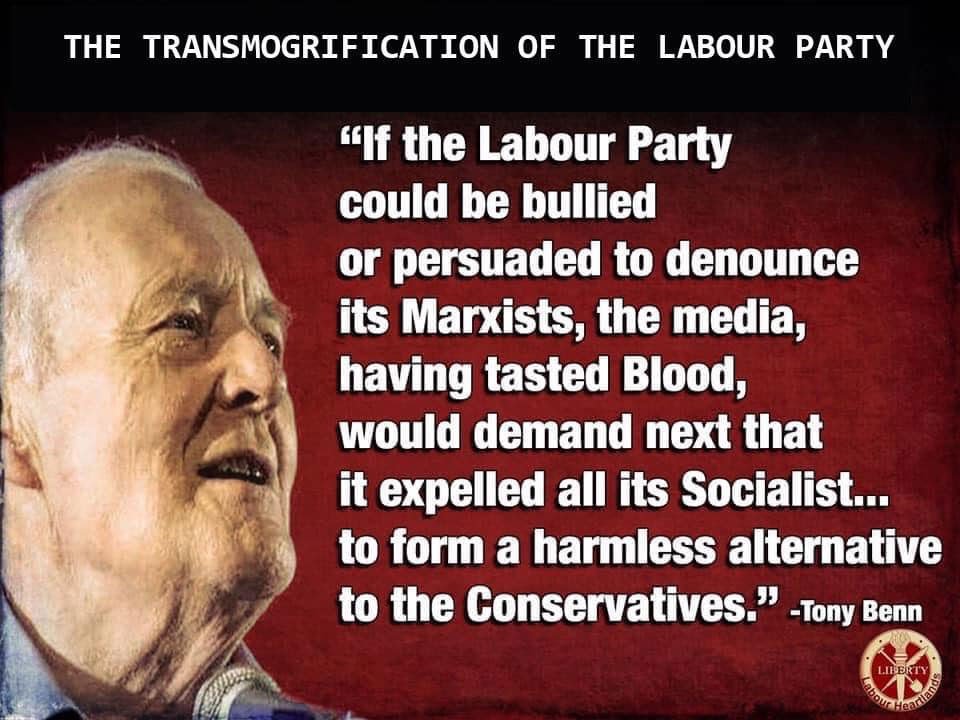 Labour have one chance before it becomes the other Tory Party. Drop Starmer now. Call a special conference, reassert its own identity, use its own socialist foundations to articulate a vision of the future. When a consensus is made on Labour's destination chose the best person to captain the ship on its destination. The alternative is to keep choosing leaders who then recreate the party in their own image, tacking from Left to right. This does nothing but moves the party further away from its foundations and the people it was created to represent along with the fact it escalates the constant civil war between factions.
Right now we are in the midst of that civil war with the Right wing blaming Long-Corbyn and the Left understanding only real opposition and Left values and policies can beat the Tories.
The other deck chairs within Starmer's Labour Party.
Nick Brown, a veteran of Blair and Brown governments, was ousted as Chief Whip and replaced by his deputy Sir Alan Campbell.
A spokesman for Mr Brown insisted it was on good terms, saying: "Nick thinks it's a reasonable time for Nick to move on. He and Keir have parted on good terms, with mutual respect. He wishes Keir and the new Chief Whip every success."
Shadow Housing Secretary Thangam Debbonaire, who was tipped for the chop, has been moved aside to become Shadow Leader of the Commons. She replaces Valerie Vaz, who had been one of the few surviving ministers from Corbyn's shadow cabinet.
Lucy Powell, who served under Ed Miliband and led the inquest after Labour's 2019 election disaster, has been promoted to the Shadow Cabinet as the new Shadow Housing Secretary.
Also promoted is Wes Streeting, a prominent critic of the former leader Jeremy Corbyn who takes a new job of Shadow Child Poverty Secretary. And Miliband-era shadow minister Shabana Mahmood takes Ms Rayner's job of campaign co-ordinator.
Here is what Labour's shadow cabinet looks like now – the changes are in bold:
Deputy Leader, Shadow First Secretary of State, Shadow Chancellor of the Duchy of Lancaster and Shadow Secretary of State for the Future of Work: Angela Rayner
Party Chair & Chair of Labour Policy Review: Anneliese Dodds
National Campaign Coordinator: Shabana Mahmood
Shadow Chief Whip: Alan Campbell
Shadow Chancellor of the Exchequer: Rachel Reeves
Shadow Chief Secretary to HM Treasury: Bridget Phillipson
Shadow Secretary of State for Foreign & Commonwealth Affairs: Lisa Nandy
Shadow Secretary of State for the Home Department: Nick Thomas-Symonds
Shadow Secretary of State for Justice: David Lammy
Shadow Secretary of State for Defence: John Healey
Shadow Secretary of State for Health and Social Care: Jonathan Ashworth
Shadow Secretary of State for Business, Energy and Industrial Strategy: Ed Miliband
Shadow Secretary of State for Work and Pensions: Jonathan Reynolds
Shadow Secretary of State for International Trade: Emily Thornberry
Shadow Secretary of State for Education: Kate Green
Shadow Secretary of State for Digital, Culture, Media and Sport: Jo Stevens
Shadow Secretary of State for Environment, Food and Rural Affairs: Luke Pollard
Shadow Secretary of State for Communities & Local Government: Steve Reed
Shadow Secretary of State for Housing: Lucy Powell
Shadow Secretary of State for Transport: Jim McMahon
Shadow Secretary of State for International Development: Preet Gill
Shadow Secretary of State for Wales: Nia Griffith
Shadow Secretary of State for Scotland: Ian Murray
Shadow Secretary of State for Northern Ireland: Louise Haigh
Shadow Secretary of State for Women and Equalities: Marsha de Cordova
Shadow Leader of the House of Commons: Thangam Debbonaire
Shadow Attorney General: Charlie Falconer
Shadow Secretary of State for Mental Health: Rosena Allin-Khan
Shadow Secretary of State for Child Poverty: Wes Streeting
Shadow Secretary of State for Young People and Democracy: Cat Smith
Shadow Secretary of State for Employment Rights & Protections: Andy McDonald
Shadow Leader of the House of Lords: Angela Smith
Opposition Chief Whip in the House: Tommy McAvoy
Support Labour Heartlands
Help Us Sustain Ad-Free Journalism
Sorry, I Need To Put Out the Begging Bowl
Independent Journalism Needs You
Our unwavering dedication is to provide you with unbiased news, diverse perspectives, and insightful opinions. We're on a mission to ensure that those in positions of power are held accountable for their actions, but we can't do it alone. Labour Heartlands is primarily funded by me, Paul Knaggs, and by the generous contributions of readers like you. Your donations keep us going and help us uphold the principles of independent journalism. Join us in our quest for truth, transparency, and accountability – donate today and be a part of our mission!
Like everyone else, we're facing challenges, and we need your help to stay online and continue providing crucial journalism. Every contribution, no matter how small, goes a long way in helping us thrive. By becoming one of our donors, you become a vital part of our mission to uncover the truth and uphold the values of democracy.
While we maintain our independence from political affiliations, we stand united against corruption, injustice, and the erosion of free speech, truth and democracy. We believe in the power of accurate information in a democracy, and we consider facts non-negotiable.
Your support, no matter the amount, can make a significant impact. Together, we can make a difference and continue our journey toward a more informed and just society.
Thank you for supporting Labour Heartlands
Just click the donate button below