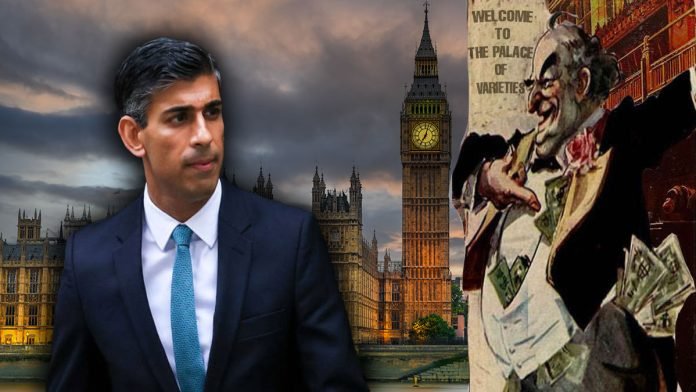 Parliamentary commissioner opens probe into possible conflict of interest for Rishi Sunak
The parliamentary commissioner for standards, Daniel Greenberg, has opened an investigation into Chancellor of the Exchequer Rishi Sunak over a possible failure to declare an interest.
An update to the parliamentary website shows the investigation, opened on Thursday, relates to paragraph six of the code.
The investigation relates to rules requiring MPs to declare their interests, particularly in relation to paragraph six of the code, which requires Members to be open and frank in declaring any relevant interest in any proceeding of the house or its committees.
A Downing Street source has revealed that the investigation relates to the shares that Sunak's wife, Akshata Murty, holds in a childcare agency that will be boosted by the budget. This revelation raises serious questions about the transparency of the UK Parliament and the conduct of its Members.
A No 10 spokesperson responded: "We are happy to assist the commissioner to clarify how this has been transparently declared as a ministerial interest."
The revelation that Rishi Sunak is under investigation by the parliamentary watchdog for a possible breach of the code of conduct is a shocking and disgraceful episode that exposes the moral rot at the heart of this government.
This Tory government seems to be going the way of all Tory governments… sleaze scandal and corruption.
Tory Sleaze: Matt Hancock among three MPs under investigation by Standards watchdog
Matt Hancock, the former health secretary, is among three Tory MPs who have been placed under investigation by parliament's standards watchdog. The commissioner, Daniel Greenberg, has launched a series of inquiries into allegations of sleaze in the Tory Party.
Hancock is being investigated over allegations that he broke the MPs' code of conduct by "lobbying the commissioner in a manner calculated or intended to influence his consideration" of whether a separate breach had been committed.
They're all at it…
Meanwhile, Scott Benton, MP for Blackpool South, is being investigated over the use of his parliamentary email. This comes after he was caught last week offering to lobby ministers and obtain early access to a sensitive government report for up to £4,000 a month.
Benton had the whip suspended last week after referring himself to the standards commissioner. Of course, he referred himself only after a he had been caught out by undercover reporters from the Times who were posing as representatives of a fake investment fund. Benton was seen laughing when he revealed how MPs could get away with not declaring hospitality.
In the footage, Scott Benton can be clearly heard offering to lobby ministers directly, share market-sensitive information, and ask questions in parliament on behalf of businesses. He also claimed he could leak a confidential policy paper and table parliamentary questions to promote the interests of his clients.
Henry Smith, a backbench Tory MP for 13 years, is also being investigated over an alleged breach of rules on using taxpayer-funded stationery. Smith is being investigated for an alleged breach of the rules on using taxpayer-funded stationery.
Support Labour Heartlands
PLEASE HELP US KEEP GOING AD-FREE
This is a "Pay as You Feel" website.
Hey there! Thanks for stopping by. If you've enjoyed reading the articles on Labour Heartlands so far, We would be incredibly grateful if you could consider making a small donation. Labour Heathlands is not your typical news outlet. We are not here to simply regurgitate the daily news cycle, that's for the rest of them. Our focus is on delving deeper, uncovering the untold stories and shedding light on the issues that the mainstream media chooses to ignore.
Our unwavering commitment to journalistic integrity means that we are not influenced by any external forces. We are not beholden to PR companies, advertisers or press barons, and we refuse to let anyone dictate what we report on. Our editorial independence is sacrosanct, and our only allegiance is to the truth.
While we do not align ourselves with any particular political party, we stand firmly against corruption, injustice and the erosion of truth and the rule of law. We believe that accurate information is the lifeblood of a democracy and that facts are not up for debate.
Once again, thank you for your support – We truly couldn't do this without you!
PLEASE HELP US KEEP GOING AD-FREE