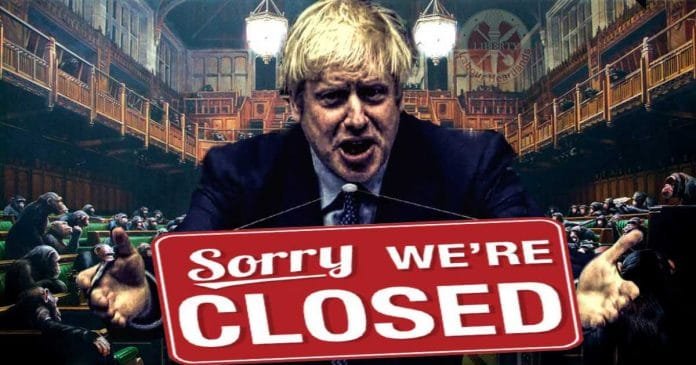 Boris Johnson is accused of using the procedural device of 'prorogation' to curtail debate on Brexit.
Parliament will be suspended at close of business on Monday, a Government spokesperson said.
Johnson last month secured an order from the queen to suspend parliament for a month until October 14. He was accused of using the procedural device of 'prorogation' for political purposes to curtail MPs' ability to scrutinise the government's Brexit plans.
The prime minister's official spokesman confirmed at a daily briefing on Monday morning that the suspension, which under the queen's order can begin between Monday and Thursday, would commence on Monday night.
Before parliament prorogues, it is believed the government will hold a vote on whether to hold an early general election. However, opposition MPs have said they will not back the plan, meaning the two-thirds majority required for it to pass will not be met.
After Johnson's decision to suspend parliament, MPs acted quickly last week to legislate for a delay to Brexit, beyond the current date of October 31, if no agreement is in place by October 19. That legislation is expected to become law on Monday before parliament is suspended.
The move means the PM will not attempt again to force a snap general election in October if MPs vote down his attempt to do so today. MPs will not return for more than a month until a Queen's Speech on October 14.
Jeremy Corbyn fumed: "I think it is disgraceful. Parliament should be sitting.
"Parliament should be holding the Government to account.And the Prime Minister appears to want to run away from questions."
Mr Corbyn added: "We will take every parliamentary action we can and continue the public campaign to get no-deal taken off the table.
"And then let's have a general election and see what kind of Government the people of this country want."
Two applications have been made to hold emergency debates in Parliament later.
Labour leader Jeremy Corbyn has requested a debate around the rule of law.
The second application is being made by Dominic Grieve – who lost the Conservative whip last week for voting to block a no-deal Brexit – but it is not clear what the subject will be.
Gina Miller's bid to stop Parliament prorogation rejected
Last week Gina Miller's bid to stop Parliament prorogation was rejected. The legal challenge over Boris Johnson's decision to prorogue Parliament has been rejected in the High Court.
Gina Miller applied for a judicial review of the legality of proroguing Parliament and was joined by former prime minister John Major. Miller, who argued the move was "an unlawful abuse of power".
Ms Miller, the businesswoman who successfully challenged the Government over the triggering of the Article 50 process to start the Brexit countdown, sought to challenge the legitimacy of Boris Johnson's advice to the Queen regarding the decision to prorogue.
Rejecting Ms Miller's case, Lord Justice Burnett said she could immediately appeal because of the important points of law at stake.
The appeal is expected to be heard at the Supreme Court on 17 September.
Ms Miller said she was "very disappointed with the judgment".
She added: "We feel it is absolutely vital that Parliament should be sitting. We are therefore pleased that the judges have given us permission to appeal to the Supreme Court, which we will be doing, and they feel that our case has the merit to be handed up."
Johnson announced on 28 August he wanted to shut down Parliament, a process known as proroguing, for five weeks ahead of a Queen's Speech on 14 October.
His political opponents argued at the time that Mr Johnson's aim was to avoid parliamentary scrutiny and to stop them passing legislation that would prevent the UK leaving the European Union without a deal on 31 October.
The UK government insisted this was not the case and said the aim of proroguing Parliament was to allow Mr Johnson to set out his legislative plans in the Queen's Speech while still allowing sufficient time for MPs to debate Brexit.
Lord Doherty, the judge presiding, said the prime minister had not broken any laws by asking the Queen for a five-week suspension as it was for Parliament and the electorate to judge the prime minister's actions – not the courts.
The group of more than 70 largely pro-Remain politicians, argues that Mr Johnson is exceeding his powers and attempting to undermine democracy by avoiding parliamentary scrutiny before the UK leaves the EU on 31 October.
Support Labour Heartlands
PLEASE HELP US KEEP GOING AD-FREE
HELP US GROW.
This is a "Pay as You Feel" website.
This blog has no source of state, corporate or institutional finance whatsoever. It runs entirely on voluntary subscriptions from its readers – many of whom do not necessarily agree with every article, but welcome the alternative voice, insider information and debate.
You can have access to all of our online work for free. However if you want to support what we do, you could make a small donation to help us keep writing and staying ad-free. The choice is entirely yours.