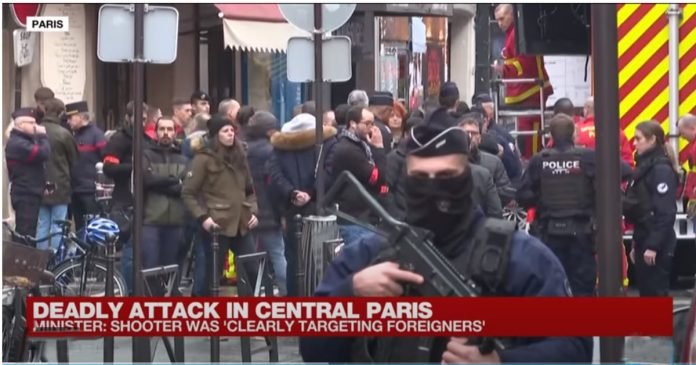 Gunmen kills three in suspected racist attack at Kurdish centre in Paris
On Friday, a 69-year-old gunman opened fire at a Kurdish cultural centre and a hairdressing salon in Paris, killing three people and injuring three others, witnesses and prosecutors said.
French prosecutors said a shooting in central Paris left three dead and several injured on Friday.
"There are three dead, one person in intensive care and two people with serious injuries, and the suspect, who was arrested, has also been injured, notably to the face," a prosecutor told reporters at the scene.
The lawyer of the Kurdish cultural center that had been targeted said all the people confirmed dead were members of the local Kurdish community, according to the Reuters news agency.
Officials had initially announced two deaths and four injuries, including two in critical condition. They later raised the death toll to three.
"An investigation has been opened for murder, voluntary manslaughter and aggravated violence," prosecutors said.
The suspect targeted 'foreigners'
French Interior Minister Gerald Darmanin said in press statements on Friday after visiting the scene of the shooting that the suspected attacker was clearly attempting to target foreigners, but that there was no evidence yet that Kurds were the specific target.
He stated: "Following the dramatic shooting that took place this morning, I am returning to Paris and will go there. All my thoughts go out to the loved ones of the victims. The author was arrested."
"We yet don't know his exact motives," he said.
A la suite de la dramatique fusillade qui s'est déroulée ce matin, je rentre à Paris et me rendrai sur place. Toutes mes pensées vont aux proches des victimes. L'auteur a été interpellé.

— Gérald DARMANIN (@GDarmanin) December 23, 2022
French President Emmanuel Macron denounced the attack in comments on Twitter.
"The Kurds in France have been the target of an odious attack in the heart of Paris," Macron said. "Thoughts for the people who are fighting for their lives, their families and their loved ones. Thanks to the security forces for their courage and sang-froid."
Les Kurdes de France ont été la cible d'une odieuse attaque au cœur de Paris. Pensées aux victimes, aux personnes qui luttent pour vivre, à leurs familles et proches. Reconnaissance à nos forces de l'ordre pour leur courage et leur sang-froid.

— Emmanuel Macron (@EmmanuelMacron) December 23, 2022
The French interior minister said that the Kurdish community gathering places should receive extra security after the attack. He added that Turkish diplomatic missions should also be secured, in case of counterattacks.
An eyewitness told Reuters that the suspect was targeting Kurds.
What we know about the shooting
The gunman opened fire in the Rue d'Enghien, a street lined with small shops and cafes in Paris' 10th arrondissement.
The mayor of the arrondissement, Alexandra Cordebard, told reporters that the shooting took place at a Kurdish community center, a restaurant facing it and at a hair salon.
The French AFP news agency reported, citing witnesses, that seven or eight shots had been fired.
"It was total panic. We locked ourselves inside [a shop]," a witness was quoted as saying by AFP.
Paris Mayor Anne Hidalgo thanked the police for "their decisive intervention" in the incident. 
The suspect was previously charged with racist violence
Witnesses told AFP that the gunman, described by police as white, a French national, named as William M. in the French media, is believed to be 69 and had already been linked to two previous attempted murders in 2016 and 2021.
The suspect had attacked a migrant centre a year ago, Paris prosecutor Laure Beccuau told reporters.
He had previously been charged with premeditated armed violence with a racist motive, she said, adding that he had been placed in detention and only released recently. 
Witnesses said he initially targeted the Kurdish cultural centre before entering a hairdressing salon where he was arrested.
"It was a total panic," a shopkeeper from a nearby building who wished to remain anonymous told AFP.
"We saw an old white man come in and shoot in the Kurdish cultural centre, then he went into the hairdresser's next door. We took refuge in the restaurant with other employees," Romain, the assistant manager of the Pouliche Paris restaurant in the street, told AFP by telephone.
According to another witness, a local resident who was walking by, "there were people in panic who shouted at the police: 'He's here, he's here, move on', pointing to a hairdressing salon."
"I saw police officers enter the salon where I saw two people on the ground, with injuries to their legs, I saw blood," he added, describing "people in shock and panic".
Of the three wounded people, one is in intensive care and two are being treated for serious injuries, officials said.
Clashes with police
The Kurdish community centre, called Centre Ahmet Kaya, is used by a charity that organises concerts and exhibitions, and helps the Kurdish diaspora in the Paris region.
Within hours of the attack, Kurdish protesters clashed with police, who used teargas in an attempt to disperse them as they tried to break through a police cordon deployed to protect Interior Minister Gerald Darmanin who had arrived at the scene.
Demonstrators threw objects at police while voicing fury over an attack they saw as deliberate and which French security services had done too little to prevent.
Several cars parked in the area as well as police vehicles had their windows smashed as protesters threw bricks.
Speaking to reporters at the scene, the local mayor Alexandra Cordebardshe said the "real motivation" for the shooting remains unclear.
As she spoke, a crowd nearby chanted, "Erdogan, terrorist" — referring to Turkish President Recep Tayyip Erdoğan — and "Turkish state, assassin."
The Kurdish Democratic Council of France (CDK-F), which uses the cultural centre as its headquarters, said in a statement it considered the shooting to be a "terror attack".
Some members of the Kurdish centre could be seen weeping and hugging each other for comfort after the attack.
"It's starting again. You aren't protecting us. We're being killed!" one of them cried to nearby police.
Often described as the world's largest people without a state, the Kurds are a Muslim ethnic group spread across Syria, Turkey, Iraq and Iran.
The Kurdish Democratic Council of France and Kurds at the scene underlined that the shooting coincided with the 10th anniversary of the murder of three female Kurdish militants in Paris.
A Turkish man was charged with the assassinations on January 9, 2013, but he died in custody before being tried.
The Ahmet Kaya Centre, named after a famous Turkish-Kurdish singer who lived in the city, is an association established in the French capital in 1901 whose aim is to "promote progressive integration" of the Kurdish population living in the wider Paris area.
After the capture and arrest of the suspected gunman motivations should become more apparent.
"An investigation has been opened on charges of murder, intentional homicide and aggravated violence," and "the investigations have been entrusted for the time being to the 2nd district of the judicial police (DPJ)," the prosecutor's office said earlier on Friday.
Support Labour Heartlands
PLEASE HELP US KEEP GOING AD-FREE
This is a "Pay as You Feel" website.
Hey there! Thanks for stopping by. If you've enjoyed reading the articles on Labour Heartlands so far, We would be incredibly grateful if you could consider making a small donation. Labour Heathlands is not your typical news outlet. We are not here to simply regurgitate the daily news cycle, that's for the rest of them. Our focus is on delving deeper, uncovering the untold stories and shedding light on the issues that the mainstream media chooses to ignore.
Our unwavering commitment to journalistic integrity means that we are not influenced by any external forces. We are not beholden to PR companies, advertisers or press barons, and we refuse to let anyone dictate what we report on. Our editorial independence is sacrosanct, and our only allegiance is to the truth.
While we do not align ourselves with any particular political party, we stand firmly against corruption, injustice and the erosion of truth and the rule of law. We believe that accurate information is the lifeblood of a democracy and that facts are not up for debate.
Once again, thank you for your support – We truly couldn't do this without you!
PLEASE HELP US KEEP GOING AD-FREE