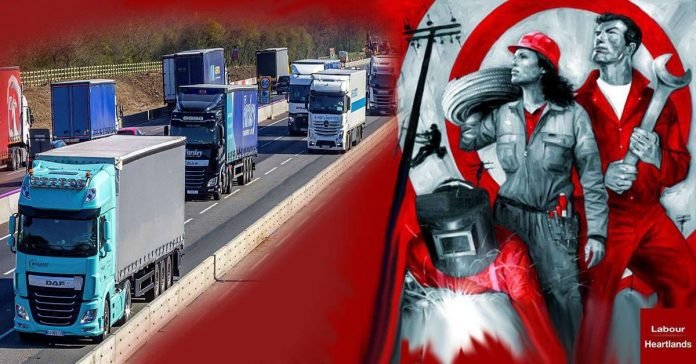 The Reserve Army of Labour
Marx described how capitalism relies on the existence of a pool of cheap labour, 'a mass of human material always ready for exploitation'. This 'reserve army' is an ever-ready supply of labour when needed by capitalism, the existence of which keeps wages low for the mass of the working class and maintains workers in a state of uncertainty and instability, knowing they may be hired and fired as needed.
With the introduction of Freedom of movement, the reserve army became internationalised, it ceased to be necessarily located in the same country as the capitalists who use it, and the pool of cheap labour exploited by the member states was increasingly drawn from the countries which had been underdeveloped and oppressed during the decline of the soviet union and the introduction of capitalism from western EU economies greedy for cheap labour.
Now that tap has been turned off the government have a choice they can invest in training and protection of workers or suffer the continued shortages that the lack of skilled workers brings.
During the 80s Britain suffered from mass unemployment. This amongst other things lead to job creation schemes but also gave access to retraining for the unemployed.
The official level of unemployment exceeding 3 million by 1982 and the rate reaching 11.9% in 1984. The fact was unemployment rate during the 1980s was likely higher than reflected in official statistics, due to attempts to manipulate it. Most of the jobs had been lost in the heavy industry sector, which was in decline, with the government's monetarist policies to tackle inflation also being blamed for the economic downturn and subsequent mass unemployment, which was particularly severe in Scotland, Northern Ireland, the north of England, and in South Wales crippled the working class.
During this time many schemes were introduced in an effort for the government to look like they were actually doing something, not all the schemes entailed public money passing into the pockets of Tory friends and donors via invented schemes. Some actually helped in vocational retraining, bringing back into the workplace people who had suffered from long-term unemployment.
Freight companies are reporting a "massive" shortage of lorry drivers, which is pushing up wages. The claim is a shortfall of at least 60,000 HGV drivers partly because of the pandemic, which delayed 30,000 tests for new drivers. but other trades and industries are short of skilled workers too.
It is not beyond the government to do two things that help everyone at this stage. It should introduce a Drive for work scheme for free HGV courses on the basis of a bonafide job offer and the investment in more university technical colleges that gives the unemployed access to 'FREE' training for jobs where there are shortages, training from electricians to bricklaying while receiving full benefits plus a training bonus.
Levelling up
Vocational job schemes should be free to anyone unemployed.
At a time when technology is changing demand for different kinds of skills, and evolving patterns of work mean that people are more likely to pursue several careers during their working lives, it is crucial that our education system enables people to upskill and retrain over their lifetimes. As part of our dynamic industrial strategy, lifelong education and vocational training deliver productivity and growth to the whole economy while transforming the lives of individuals and communities.
Governments work for the people, they have a responsibility to the people! Providing vocational training through University technical colleges while giving access to the agencies that can provide the skills required to help support them and their families would be the biggest step in introducing any form of levelling up post-Brexit.
The economic needs of the country are rapidly changing. If the government is serious about levelling up it must make lifelong learning a reality, by giving everyone the opportunity to access education throughout their lives and importantly vocational training must be a major part of that commitment.
We cannot all be computer programmers or data analysis, we cannot all be university students in the halls of academia a country needs workers.
That inclusiveness extends into vocational education, colleges that provide training and skills for the workers who wish to work by hand.
The government have a responsibility, to create cradle-to-grave learning and like the NHS, it should be is free at the point of use. Built on the principle that 'Every Child – and Adult Matters' an educational system that incorporates all forms of education, from early years through to adult education.
In the 21st century giving people the ability to choose to train and gain vocational skills and trades is essential in the development of a first-world country.
Courses and access to higher qualifications that can be carried on while in work, benefits everyone and making education a right, not a privilege, takes us a step closer to real equality. This should be part-funded through corporation tax, after all, a well educated healthy workforce benefits business just as much.
DENNIS SKINNER MP – HOW THATCHER FORGED THE CAPITALIST EU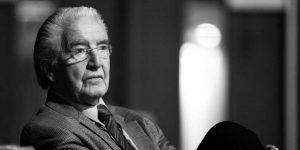 'When I hear Tories and the purple-faced UKIP go on now about Poles, Romanians and Bulgarians coming to Britain to work, I think back and remember what Mrs Thatcher did.
She signed the 1986 Single European Act to create the free market of people.
She was championing the eastwards expansion of the European Union into the former Soviet satellites.
She wanted the EU to embrace that part of the world to roll back the Iron Curtain, and stick it to Mikhail Gorbachev and Communists.
The Single Market was designed deliberately to allow employees to transfer cheap labour across national borders.
It wasn't principally about letting workers decide where they'd look for jobs.
That's a by-product. The Single Market's main aim was to supply cut-price workers to capitalism.
A capitalism with an insatiable appetite for the dozen-a-penny workers she created by stripping away employment rights, by shackling trade unions.
The problems we wrestle with today can be traced back to her door.' –DENNIS SKINNER
Freedom of movement had more than one face it brought with it massive exploitation of workers and quite a lot of benefits for the bosses. Jeremy Corbyn described his concerns for workers and the EU tax avoidance in a growing free-market back in 2015.
Vocational training works.
A Brief Description of Germany's VET System
Despite being a federal country like the U.S., in which individual states have autonomy over educational matters, Germany has established a fairly uniform and highly regulated VET system nationwide. There are a number of different training programs in place, including full-time school programs that do not include a practical training component, but most vocational sector students enroll in the dual system (Duale Berufsausbildung). This system straddles upper-secondary and post-secondary education: Students typically enter vocational school (Berufsschule) after they complete lower-secondary education (ninth or tenth grade) and continue in vocational programs lasting two to four years, depending on the specialization.
During their studies, trainees spend three to four days a week at a company to learn the practical foundations of their occupation. On the other one or two days, they study theoretical subjects in school. Alternatively, students may attend school in full-time blocks of up to eight weeks in what are colloquially called sandwich programs. Participating companies are obligated to provide training in accordance with national regulations and pay students a modest salary.
VET is regulated and funded by both the federal government and the German states and is closely coordinated with German industry. Employers and trade unions play an important role in decision-making processes and in the development of curricula and competency standards. School curricula may vary slightly between the different German states (Bundesländer), but the final graduation examinations are uniform throughout the country and lead to formal vocational qualifications.
In their classes, students learn job-specific as well as general education subjects (German, politics, religion, physical education, etc.). Programs usually conclude with examinations administered either by the government or by industry associations like regional Chambers of Commerce or Chambers of Crafts. Graduates earn a state-examined or state-recognized vocational title (staatlich anerkannte Berufsbezeichnung) or a journeyman certificate, all of which are official certifications recognized throughout Germany. In 2015, there were officially recognised vocational occupations, ranging from carpenter to industrial electrician, tax specialist, dental technician, film and video editor, and product designer.
Take the German model as an example.
Germany moved back to a free at the point of use higher education system in 2014 making all universities free.
In 2014, Germany's 16 states abolished tuition fees for undergraduate students at all public German universities. This means that currently both domestic and international undergraduates at public universities in Germany can study for free, with just a small fee to cover administration and other costs per semester.
In Germany, the vocational track has traditionally been very strong and skilled labour continues to play a key role for economic prosperity, even under globalisation and changing labour markets. During the most recent economic crisis, the German vocational education and training system (VET) received much international attention as youth unemployment rates in Germany remained remarkably low as compared to most other European countries. This was attributed to the German dual apprenticeship training, which can be linked to facilitating a smooth school-to-work transition and low rates of youth unemployment (Forster et al., 2016; Müller and Shavit, 1998; OECD, 2018). One reason is the occupational specificity of training, which increases initial productivity and reduces the immediate need for on-the-job training for firms (Forster and Bol, 2018).
Skill formation in Germany is typically associated with the dual system of apprenticeship training. The dual system is much discussed and researched and upheld as a model for countries around the world (Bohlinger and Wolf, 2016; Gessler et al., 2019). The German vocational training system, however, comprises more training routes, each of which corresponds to a specific labour market demand, training concept and logic of social inclusion. Apart from the dual system, school-based vocational training programmes constitute the second fully-qualifying training sector in Germany.
Like dual training, school-based programmes have a well-established tradition and have been gaining significance with the ongoing expansion of the service sector, as they mainly qualify people for jobs in personal social services (Haasler and Gottschall, 2015; Hall, 2012). In addition, a considerable number of pre-vocational programmes are targeted to prepare young people either to enter a fully-qualifying vocational programme or to complete a regular school qualification (Protsch and Solga, 2016). In 2017, one-third of the roughly one million young people in Germany opting for the vocational track enrolled in pre-vocational programmes and 21.5 per cent in school-based programmes, leaving about 45 per cent for the dual system (Autorengruppe Bildungsberichterstattung, 2018).
Finally, tertiary education has also gained significance in the past decade. In 2013, for the first time in German history, the absolute number of first-year higher education students was higher than the number of young people starting a dual apprenticeship programme (Federal Ministry of Education and Research [BMBF], 2017). These developments reflect changing labour market and skilling trends and challenge the role, structure and historically dominant position of the dual system in various ways.
Germany's VET system yields tremendous economic benefits. For one, it helps to minimize youth unemployment: With an unemployment rate more than three percentage points below that of the U.S. (6.4 percent versus 9.5 percent in 2017, according to the World Bank), Germany has one of the lowest youth unemployment rates in the European Union.
In addition, Germany's standing as a country with one of the most productive workforces in the world is strongly aided by its VET system, which supplies Germany's companies with well-trained employees. Germany's dual training system, which combines practical training at a workplace with theoretical classroom instruction, also helps trainees transition into work life. VET opens up a variety of promising career options for young people, thereby strengthening society and culture.
The success of the German model has inspired countries like Spain, Greece, Portugal, Italy, Slovakia, and Latvia to adapt their own VET-like systems to the German model.
We may have left the EU but it does not stop us from adopting any system or best practices that work.
Support Labour Heartlands
Help Us Sustain Ad-Free Journalism
Sorry, I Need To Put Out the Begging Bowl
Independent Journalism Needs You
Our unwavering dedication is to provide you with unbiased news, diverse perspectives, and insightful opinions. We're on a mission to ensure that those in positions of power are held accountable for their actions, but we can't do it alone. Labour Heartlands is primarily funded by me, Paul Knaggs, and by the generous contributions of readers like you. Your donations keep us going and help us uphold the principles of independent journalism. Join us in our quest for truth, transparency, and accountability – donate today and be a part of our mission!
Like everyone else, we're facing challenges, and we need your help to stay online and continue providing crucial journalism. Every contribution, no matter how small, goes a long way in helping us thrive. By becoming one of our donors, you become a vital part of our mission to uncover the truth and uphold the values of democracy.
While we maintain our independence from political affiliations, we stand united against corruption, injustice, and the erosion of free speech, truth and democracy. We believe in the power of accurate information in a democracy, and we consider facts non-negotiable.
Your support, no matter the amount, can make a significant impact. Together, we can make a difference and continue our journey toward a more informed and just society.
Thank you for supporting Labour Heartlands
Just click the donate button below