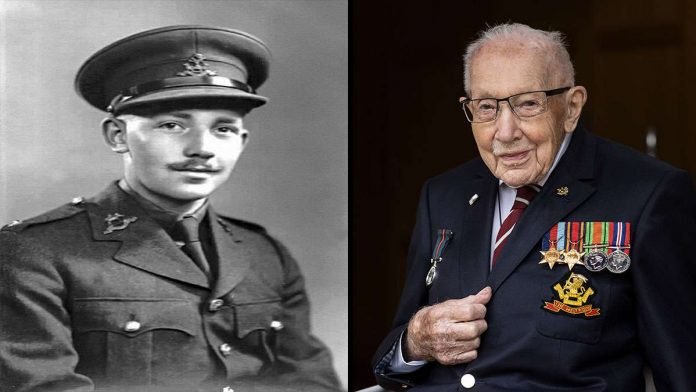 The veteran that inspired a nation when he raised more than £32 million for the NHS, walking 100 laps of his garden before his 100th birthday during the first national lockdown last April.
He was admitted to Bedford Hospital on Sunday having been treated for "a few weeks" for pneumonia at home and Captain Tom – as he has become universally known – contracted coronavirus some time in mid-January.
His daughters, Hannah and Lucy, confirmed Moore's death in a statement.
They said:
"It is with great sadness that we announce the death of our dear father, Captain Sir Tom Moore. We are so grateful that we were with him during the last hours of his life; Hannah, Benjie and Georgia by his bedside and Lucy on FaceTime.
"We spent hours chatting to him, reminiscing about our childhood and our wonderful mother. We shared laughter and tears together.
"The last year of our father's life was nothing short of remarkable. He was rejuvenated and experienced things he'd only ever dreamed of. Whilst he'd been in so many hearts for just a short time, he was an incredible father and grandfather, and he will stay alive in our hearts forever.
"The care our father received from the NHS and carers over the last few weeks and years of his life has been extraordinary. They have been unfalteringly professional, kind and compassionate and have given us many more years with him than we ever would have imagined."
---
Labour Heartlands: "Our thoughts and prayers along thanks go out to an exceptional man that showed a true heroic spirit in an exceptional time."
Support Labour Heartlands
PLEASE HELP US KEEP GOING AD-FREE
This is a "Pay as You Feel" website.
Hey there! Thanks for stopping by. If you've enjoyed reading the articles on Labour Heartlands so far, We would be incredibly grateful if you could consider making a small donation. Labour Heathlands is not your typical news outlet. We are not here to simply regurgitate the daily news cycle, that's for the rest of them. Our focus is on delving deeper, uncovering the untold stories and shedding light on the issues that the mainstream media chooses to ignore.
Our unwavering commitment to journalistic integrity means that we are not influenced by any external forces. We are not beholden to PR companies, advertisers or press barons, and we refuse to let anyone dictate what we report on. Our editorial independence is sacrosanct, and our only allegiance is to the truth.
While we do not align ourselves with any particular political party, we stand firmly against corruption, injustice and the erosion of truth and the rule of law. We believe that accurate information is the lifeblood of a democracy and that facts are not up for debate.
Once again, thank you for your support – We truly couldn't do this without you!
PLEASE HELP US KEEP GOING AD-FREE