A post-war political consensus existed for some form of National Health Service, but powerful vested interests still had to be faced down. There was tenacious resistance to the incorporation of charitably funded hospitals into the new service while the BMA's leadership fought tooth and nail in defence of private practice. Bevan said consultants were only appeased because he "stuffed their mouths with gold".
The NHS was born was 5 July 1948. On that day, doctors, nurses, pharmacists, opticians, dentists and hospitals came together for the first time as one giant UK-wide organisation. It was inaugurated when Aneurin "Nye" Bevan, the health minister who was its far-sighted creator, visited Park hospital in Davyhulme, Manchester. It is now Trafford general hospital and is known as "the birthplace of the NHS" as the first NHS hospital.
On that day Bevan met the NHS's first patient, 13-year-old Sylvia Diggory, who had acute nephritis, a life-threatening liver condition. Later, Diggory recalled: "Mr Bevan asked me if I understood the significance of the occasion and told me that it was a milestone in history – the most civilised step any country had ever taken. I had earwigged at adults' conversations and I knew this was a great change that was coming about and that most people could hardly believe this was happening." It had huge public support, though the British Medical Association, the doctors' union, was still threatening to boycott it until as late as February 1948.
The newly created health boards took control of 2,751 of Britain's 3,000 hospitals, which had been run by charities or local authorities, but were now nationalised. The prime minister, Clement Attlee, asked the public to be patient with the new service as "there are bound to be early difficulties with staff, accommodation and so on". By the day of the launch, 94% of the public were enrolled with the NHS. Previously, many patients had to pay to visit a doctor or stay in hospital, pushing many families into debt. Free healthcare for all swept that away.
The problems of Manchester were the problems of Glasgow were the problems of Cardiff were the problems of London. They were poor housing, insanitary conditions, harsh working environments, maldistribution of wealth and all the symptoms of a profit-driven industrial society. Rural poverty was an equal reality accompanied by the diseases that were scourges reared in dire housing conditions.
Without the scale of Labour victory in 1945, the new NHS would have been a different and weaker creature. The principle of "free at the point of use" would not have been established and a patchwork of provision, heavily weighted towards the wealthiest communities, would have persisted. Soon, however, the question of cost became inescapable and that has never gone away.
For today's generation, the scale of what the NHS achieved is scarcely conceivable. And why should it be otherwise? Diseases like polio and turbercolosis which haunted families in the post-war years are now virtually unknown.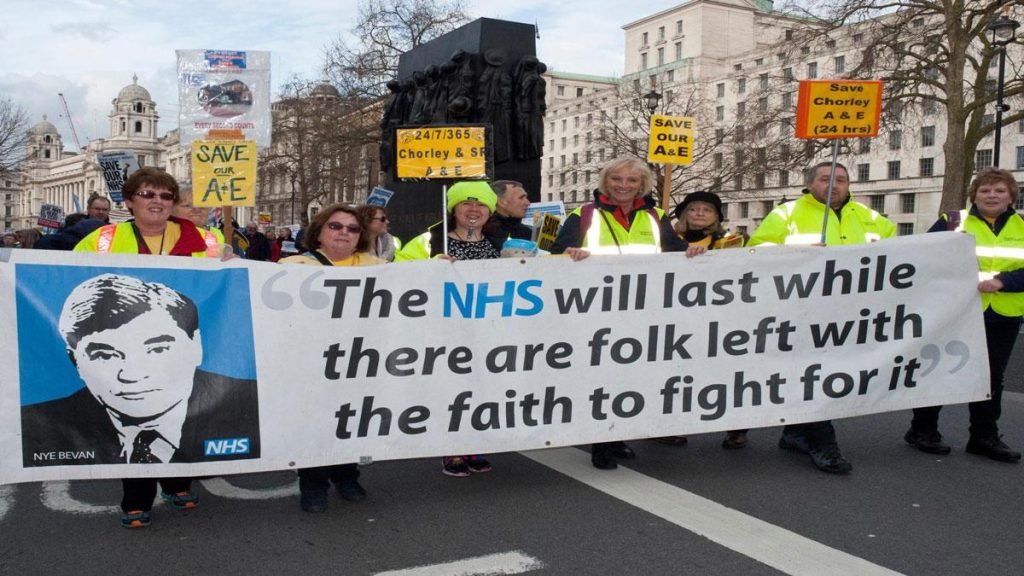 Minute's silence observed in remembrance of coronavirus victims
Today the NHS faces a new threat, Coronavirus. The hard work and dedication shown by the staff of the NHS is a testament to the vision of Nye Bevan and spirit of the working class of post-war Britain who built the NHS.
More than 100,000 hospital inpatients have been treated for Covid-19 in the UK, including the Prime Minister Boris Johnson, along with many more who suffered with the virus at home.
In the UK we have now reached the frightening number of excess deaths linked to coronavirus of 64,000 people.
A minute's silence was held in remembrance of those who have died during the coronavirus pandemic.
People were asked to observe the silence and light a candle on Saturday night as public buildings – including Downing Street – were lit up in blue.
Prime Minister Boris Johnson was among those due to take part in the event, with a candle planned to be lit at his official residence at 9pm.
The Archbishop of Canterbury, the Rev Justin Welby, also lit a candle of remembrance in Canterbury Cathedral ahead of the NHS's 72nd anniversary on Sunday.
A nationwide round of applause is set to take place on Sunday evening to mark the milestone.
Boris Johnson will meet NHS workers in the Number 10 garden on Sunday afternoon, and, speaking at a Downing Street press conference on Friday, urged the public to clap for "those who have worked tirelessly and selflessly to help the nation get through this pandemic".
Other public buildings including the Royal Albert Hall, Blackpool Tower, the Shard and the Wembley Arch will also be lit up in blue in tribute to the NHS.
The nationwide clap follows the success of the weekly Clap For Carers during the coronavirus outbreak and it is hoped that the applause, which is planned for 5pm on Sunday, will become an annual tradition.
NHS chief executive Sir Simon Stevens said he hopes the public will use the anniversary as an opportunity to "say a heartfelt thank you" to hospital staff.
Sir Simon said: "This year has been the most challenging in NHS history, with staff displaying extraordinary dedication, skill and compassion to care for the 100,000 patients with Covid-19 who needed specialist hospital treatment, and many others besides.
"During this testing time our nurses, doctors, physios, pharmacists and countless more colleagues were sustained by the support of the public, not least through the weekly applause for key workers.
"No health service, not even the NHS, could have coped alone with this coronavirus pandemic."
Chief executive for NHS Wales Dr Andrew Goodall said Clap For Carers was "very much embraced" in Wales, and he is "delighted" to support it.
The nationwide clap has been organised following a letter from the Together coalition, in which influential figures including Sir Simon and Mr Welby voiced their support for making July 5 an official day of commemoration.
Thank you, Nye Bevan, and thank you to the entire NHS.
Support Labour Heartlands
Help Us Sustain Ad-Free Journalism
Sorry, I Need To Put Out the Begging Bowl
Independent Journalism Needs You
Our unwavering dedication is to provide you with unbiased news, diverse perspectives, and insightful opinions. We're on a mission to ensure that those in positions of power are held accountable for their actions, but we can't do it alone. Labour Heartlands is primarily funded by me, Paul Knaggs, and by the generous contributions of readers like you. Your donations keep us going and help us uphold the principles of independent journalism. Join us in our quest for truth, transparency, and accountability – donate today and be a part of our mission!
Like everyone else, we're facing challenges, and we need your help to stay online and continue providing crucial journalism. Every contribution, no matter how small, goes a long way in helping us thrive. By becoming one of our donors, you become a vital part of our mission to uncover the truth and uphold the values of democracy.
While we maintain our independence from political affiliations, we stand united against corruption, injustice, and the erosion of free speech, truth and democracy. We believe in the power of accurate information in a democracy, and we consider facts non-negotiable.
Your support, no matter the amount, can make a significant impact. Together, we can make a difference and continue our journey toward a more informed and just society.
Thank you for supporting Labour Heartlands
Just click the donate button below