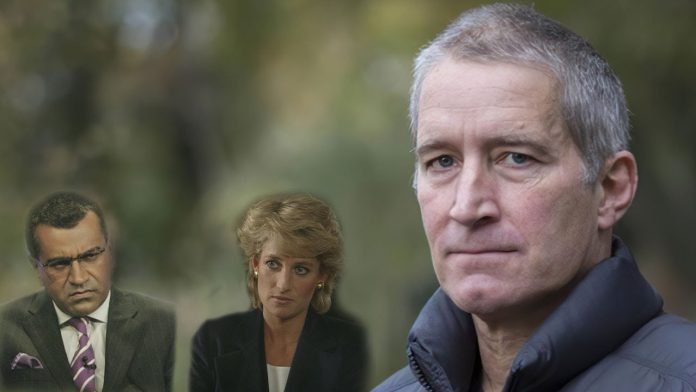 Matt Wiessler, who first raised concerns about the fake documents used to secure the BBC's Martin Bashir Panorama interview with Princess Diana, has said he wants to meet the current BBC director general Tim Davie as it appears "the important people are being covered up".
Wiessler was the graphic designer who mocked up bank statements that helped Martin Bashir secure an interview with Diana Princess of Wales, he has demanded a face-to-face face-apology from the director general of the BBC after being exonerated by a report into the scandal.
It follows an inquiry, conducted by the former supreme court judge John Dyson, into the broadcast.
In the report, Lord Dyson praised Matt Wiessler for acting "responsibly and appropriately" after he blew the whistle on Bashir when he realised how the fake statements had been used to gain the trust of Diana's brother, Charles Spencer.
He added: "I want to see Tim Davie [the BBC director general] in person – end of story." On Thursday, Davie wrote to Wiessler with an apology he dismissed as "so bland it was almost meaningless".
Documents released last year revealed that in 1996 the then head of news and future director general, Tony Hall, blacklisted Wiessler from working for the corporation in the wake of an internal review into the interview.
Wiessler said he had been made the "fall guy" to protect Bashir and the interview scoop. He said: "The blacklist must be lifted as a matter of principle."
He added: "They threw me under the train. I'm still lying on the tracks. Come and pick me up."
Wiessler, who won a Royal Television Society award for his work at the BBC before the Diana interview, plans to discuss a compensation claim. His lawyer is Louis Charalambous, who represented Amber Heard in her libel victory against Johnny Depp. Wiessler said: "I am probably owed something if the world is a fair one."
Wiessler, a former friend and squash partner of Bashir, said he had been "completely conned by him" into producing the fake bank statements. He said: "Martin could sweet talk people into believing him. He was saying: 'I'm on to a really big story – I've just got to reconstruct these documents that I've seen' and I worked through the night mocking them up."
After the Diana interview was broadcast, Wiessler said he "put two and two together" over how the fake documents had been used. He then raised concerns with at least four managers at the BBC, but they were all ignored. "When you blow the whistle on a huge scoop like that the entire corporation showed me their back," he said.
Wiessler also said he had confronted Bashir about what had happened over a meal at an Italian restaurant. "I said: I'm being set up as the fall guy and I want to get my story out.' He just zipped his lip and said: 'All I can say is, speak to no one.' We never spoke again. I left without saying goodbye."
He is still trying to clear his name. "As late as last November the Mail was still calling me a 'forger'. My family in arguments still say: 'You forger.' It's like a joke but not a joke."
The report found that Bashir had engaged in "deceitful behaviour" by commissioning fake bank statements to land the interview – a "serious breach" of the BBC's editorial guidelines, Dyson concluded.
In his 127-page report, the judge also criticised the conduct of Tony Hall, the corporation's former director-general, who was accused of overseeing a flawed and "woefully ineffective" internal probe into the issue. As the then head of BBC News, he was aware Bashir had told "serious and unexplained lies" about what he had done to persuade the princess to speak to him.
And when other media began asking questions about how the BBC had secured the world exclusive, Dyson said the corporation "covered up in its press logs" what it knew.
Prince William: BBC employees had: "lied and used fake documents to obtain the interview with my mother
In his statement, Prince William said Lord Dyson's findings were "extremely concerning."
He said the investigation had found BBC employees had: "lied and used fake documents to obtain the interview with my mother; made lurid and false claims about the royal family which played on her fears and fuelled paranoia; displayed woeful incompetence when investigating complaints and concerns about the programme; were evasive in their reporting to the media and covered up what they knew from their internal investigation."
His statement added: "It is my view that the deceitful way the interview was obtained substantially influenced what my mother said. The interview was a major contribution to making my parents' relationship worse and has since hurt countless others.
"It brings indescribable sadness to know that the BBC's failures contributed significantly to her fear, paranoia and isolation that I remember from those final years with her.
"But what saddens me most, is that if the BBC had properly investigated the complaints and concerns first raised in 1995, my mother would have known that she had been deceived. She was failed not just by a rogue reporter, but by leaders at the BBC who looked the other way rather than asking the tough questions."
He said the programme should never be aired again. "In an era of fake news, public service broadcasting and a free press have never been more important. These failings, identified by investigative journalists, not only let my mother down, and my family down; they let the public down too."
Lord Grade, who was the BBC chairman between 2004 and 2006 – said the BBC's "cover-up", had been worse than Bashir's behaviour. "It's taken 25 years to get the truth."
The devastating findings provoked widespread condemnation and prompted a series of apologies from current and former BBC executives – including one from the corporation to the royal family.
The corporation also handed back every award it received for the interview, including a Bafta.
Diana's brother, Earl Spencer, said he "draws a line" between the Panorama interview and her death two years later.
"Without justification, the BBC fell short of the high standards of integrity and transparency which are its hallmark," the report said.
The BBC has made an "unconditional apology" over the way it got the interview with Diana, Princess of Wales, more than 20 years ago.
The independent inquiry by Lord Dyson, a former senior judge, found journalist Martin Bashir used deception to secure the interview and then lied to BBC managers.
Support Labour Heartlands
Help Us Sustain Ad-Free Journalism
Sorry, I Need To Put Out the Begging Bowl
Independent Journalism Needs You
Our unwavering dedication is to provide you with unbiased news, diverse perspectives, and insightful opinions. We're on a mission to ensure that those in positions of power are held accountable for their actions, but we can't do it alone. Labour Heartlands is primarily funded by me, Paul Knaggs, and by the generous contributions of readers like you. Your donations keep us going and help us uphold the principles of independent journalism. Join us in our quest for truth, transparency, and accountability – donate today and be a part of our mission!
Like everyone else, we're facing challenges, and we need your help to stay online and continue providing crucial journalism. Every contribution, no matter how small, goes a long way in helping us thrive. By becoming one of our donors, you become a vital part of our mission to uncover the truth and uphold the values of democracy.
While we maintain our independence from political affiliations, we stand united against corruption, injustice, and the erosion of free speech, truth and democracy. We believe in the power of accurate information in a democracy, and we consider facts non-negotiable.
Your support, no matter the amount, can make a significant impact. Together, we can make a difference and continue our journey toward a more informed and just society.
Thank you for supporting Labour Heartlands
Just click the donate button below