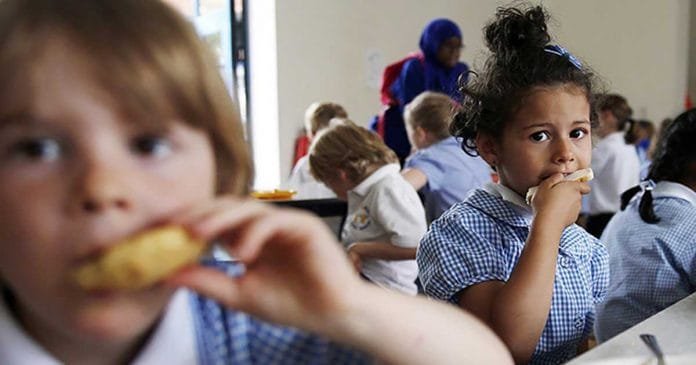 Starvation diseases seen in poor countries have almost trebled in Britain under the Tories.
Malnutrition cases treated by the NHS have risen from 2,893 to 8,537 since 2009. One disease on the rise is kwashiorkor, which causes the swollen ­bellies familiar in reports from famine-stricken countries.
Starvation diseases seen in poor countries have almost trebled in Britain under the Tories.
A severe form of malnutrition caused by an extreme lack of protein, usually found in developing countries, it is almost always fatal if not treated or if treatment is started too late.
figures released by government while MPs are on holiday, seemingly in the hope they would not be spotted, reveal that the number of malnutrition cases treated by the NHS increased from 2,893 in 2009 to reach a staggering 8,537 cases in 2018.
This includes 320 children, up from 202 cases in 2009.
The Mirror reports that one of diseases on the rise in Britain is Kwashiorkor, which is typically only seen in the world's poorest countries and can be fatal if not treated quickly enough.
It is caused by a severe deficiency of protein in a person's diet, with one of the most noticeable signs being a bloated stomach.
If left untreated, Kwashiorkor can lead to permanent physical and mental disability, coma, shock, and eventually death.
The rise of food poverty
The Faculty of Public Health emphasize Food prices in Britain have risen by 12 percent in the past seven years, while British workers have suffered a 7.6 percent decrease in their wages over the same period.
In an effort to address increasing food poverty throughout Britain, multiple non-state initiatives are attempting to assist families in need.
The Ashram Housing Association's Holliday Kitchen, the Fun and Food in School Holidays program and the Kellog's Holiday Breakfast Club are just some of the independent schemes working to help families and individuals struggling to make ends meet.
According to the NHS, signs of malnutrition include rapid weight loss, weak muscles, constant tiredness, increased infections and illness, slow growth in children and irritability, sluggishness and anxiousness.
Responding to the figures, Labour's Shadow Health Secretary Jonathan Ashworth said: "These disgraceful increases in malnutrition are a devastating verdict on Tory cuts, austerity and rising poverty.
Tory cuts, austerity and rising poverty.
"It's unforgivable so many children suffer from malnutrition and ministers should be ashamed."
"Tackling poverty and deprivation will be Labour's priority", he added.
The UK's largest food bank network Trussell Trust provided a record 1.6 million three-day emergency food supplies to people in crisis between 1 April 2018 and 31 March 2019, a 19% increase on the previous year. This included more than half a million children.
The nationwide charity blamed Universal Credit for leaving households without the financial means to feed themselves adequately.
Meanwhile, figures release last Friday reveal that the NHS are only spending £3 a day on meals per patient, as the government promised to carry out a review of hospital food.
Mr Ashworth said: "Matt Hancock (Health and Social Care Secretary) promised this review months ago and incompetence is why it has taken so long to be launched.
"Years of austerity mean that some hospitals are only spending close to £3 per patient a day on meals for patients – it's an utter disgrace.
"Labour will invest in hospital catering, enforce mandatory minimum standards and bring catering back in-house."
In a recent BBC 4 interview, Durham's Police and Crime Commissioner Ron Hogg said people were committing crimes nationwide "simply to live."
"The evidence shows that shoplifting and theft in general is rising exponentially and there must be a reason for that," he said, emphasizing its vital to address the root causes of such petty crimes.
However, shoplifting to stave off hunger is not confined to Durham. A recent freedom of information request tendered to Devon and Cornwall Police has revealed that recorded incidents of people stealing food in the region have soared since 2011.
Concern over Britain's food poverty epidemic came to a head in April, following the release of figures from British food bank charity, the Trussell Trust. The statistics revealed over 900,000 people were allocated emergency food between April 2013 and April 2014 – a sharp increase of 163 percent in a year.
This dramatic rise in demand followed a government-enforced benefit sanction, which roused criticism from politicians, and anti-austerity campaigners.
Following the release of the Trussell Trust's sobering statistics, an array of anti-poverty charities accused the UK government of breaching international law by violating Britons' human right to an adequate supply food.
Support Labour Heartlands
PLEASE HELP US KEEP GOING AD-FREE
HELP US GROW.
This is a "Pay as You Feel" website.
This blog has no source of state, corporate or institutional finance whatsoever. It runs entirely on voluntary subscriptions from its readers – many of whom do not necessarily agree with every article, but welcome the alternative voice, insider information and debate.
You can have access to all of our online work for free. However if you want to support what we do, you could make a small donation to help us keep writing and staying ad-free. The choice is entirely yours.