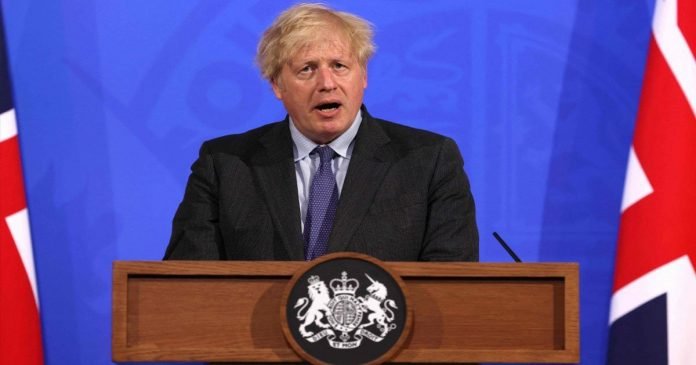 Boris Johnson has dashed the hopes of lifting lockdown by extending England's restrictions for four weeks to July 19.
Despite the UK's successful vaccine rollout, which has given two doses to more than half of the adult population, the prevalence of the Delta variant — first identified in India — has convinced the Prime Minister and his government that "freedom day" for English citizens, as some have called it, must be delayed by four weeks to July 19.
"Now is the time to ease off the accelerator because by being cautious now, we have the chance in the next four weeks to save many thousands of lives by vaccinating millions more people," Johnson said at a press conference in Downing Street.
The variant is growing in the UK at 7% week on week and the government fears that if restrictions were to be fully lifted next Monday, then hospitalizations could rise to the levels seen in the country's first wave.
The four-week gap will allow the government to accelerate giving second vaccinations to those most vulnerable."Vaccination greatly reduces transmission and two doses provides a very high level of protection against serious illness and death, but there are still millions of younger adults who have not been vaccinated and sadly a proportion of the elderly and vulnerable may still succumb even if they have had two jabs," Johnson said.
England will remain at step three of the roadmap limiting indoor gathering to six people.
Masks will continue in shops and on public transport, work-from-home guidance will carry on, and table service remains in pubs.
But thousands of couples will get a reprieve – as weddings and receptions will be allowed to go ahead with more than 30 attendees.
Rules on wakes and care home visits will also be relaxed slightly from next Monday.
Boris Johnson took the decision after scientists warned pushing ahead risked a surge in hospital cases as bad as the first wave last April.
He said he was "so concerned" that the Delta strain was "spreading faster than the third wave predicted in the February roadmap."
Back then, scientists had predicted more than 30,000 further Covid deaths between February 2021 and summer 2022.
But the government has now received advice that the Delta (Indian) variant is between 40% and 80% more transmissible than the Alpha (Kent) strain – much higher than first thought.
The PM said if June 21 went ahead, "there is a real possibility that the virus will outrun the vaccines and thousands more deaths would ensue that could otherwise have been avoided."
He added: "It's unmistakably clear the vaccines are working and the sheer scale of the vaccine roll-out has made our position incomparably better than in previous waves.
"But now is the time to ease off the accelerator, because by being cautious now we have the chance in the next four weeks to save many thousands of lives by vaccinating millions more people."
Two of the 'four tests' to move to step four are not met – variants changing the risks; and the risk of a "surge in hospitalisations which would put unsustainable pressure on the NHS".
There will be a two-week review of the delay on June 28, and the PM's official spokesman said if data is "much better than expected", restrictions could then be eased on Monday 5 July. But the spokesman added this outcome is "unlikely".
There is no guarantee step four will not be delayed again, and the move to step four will only be confirmed on July 12.
But Boris Johnson said: "I'm pretty confident that July 19 will be a terminus date". And his spokesman said there's "no suggestion" of reversing restrictions and crashing back into step two.
Evictions ban no longer stands.
However, some things will not stay in place, like the Eviction Ban up to a million households in rented properties are worried about being kicked out over the next three months as the government ban on bailiff-enforced evictions has ended. Read more…
That includes no change to the ban on commercial evictions, which is still due to end on June 30.
You can't claim more furlough
There are "no changes" to the furlough scheme or other economic support despite the four-week delay, the PM's spokesman said.
Currently the government is paying 80% of wages up to £2,500 a month as part of the Coronavirus Job Retention Scheme.
From July government contributions will fall to 70% up to £2,187.50, with employers having to pay 10%. They then fall again to 60% up to £1,875 in August and September, with employers paying 20%, before ending altogether.
Sky news so gracefully listed step three onwards.
For now, these are England's on going restrictions.
Step three – since 17 May:
Outdoors, most social contact rules have been lifted, but gatherings of more than 30 are illegal
Indoors, the rule of six or a larger group of up to two households is allowed
Indoor hospitality reopened – pubs, restaurants, cinemas, theatres, bowling alleys, museums, galleries, concert halls, children play areas, hotels, B&Bs – and indoor exercise classes allowed
People can make a personal choice on whether to social distance when seeing friends and family – but should remain cautious
Large indoor performances and sporting events with a capacity of 1,000 people are allowed
Outdoor large performances and sporting events must have a maximum capacity of 4,000 people or must only be half full, whichever is lower
Bigger sports stadiums are allowed 10,000 people or can only be a quarter full, whichever is lower
Testing will be used to support these openings
Weddings, wedding receptions, wakes, bar/bat mitzvahs and christenings are allowed with 30 people
Funerals are allowed with as many people as a COVID-secure venue can accommodate with social distancing
Care home residents can have up to five named visitors – two at a time – if visitors have tested negative
Remaining university students to return to campus, with new home testing kits to be provided to increase testing uptake and help limit virus transmission
Support groups and parent and child group gathering limits increased to 30 people (not including under-5s)
Legal restriction or permitted reason requirement to travel internationally has been lifted – but traffic light system applies
People are asked to continue working from home where possible
21 June – some restrictions on weddings and wakes lifted
30-person limit at weddings will be scrapped butrules on singing and dancing will remain
Guest limits will be set by venues based on their social distancing requirements
People must sit on tables of up to six people and receptions will be table service only
Funeral wakes will also no longer be limited to 30 people
Care home residents won't have to quarantine for 14 days after day visits out
Pilot mass gathering events will continue, including at Euro 2020 where at least 40,000 fans will allowed at the final four matches at Wembley
Step four – 19 July (delayed from 21 June):
All legal limits on social contact set to be removed
Nightclubs and theatres will be able to reopen and lifting of restrictions on large events such as festivals
Testing could be used as a condition of entry to venues
The four-week delay will be reviewed to see if action can be taken two weeks sooner, on 5 July
Yet to be decided
There are a few rules and issues that have not yet been agreed and will be subject to review during the easing of lockdown.
1. The one metre-plus rule, mandatory facemasks and working from home
The government had hoped to conclude a review of this before step four.
2. Whether you can use proof of having a COVID-19 vaccine to enter mass events
This remains under review by the government, but the idea of a COVID passport has seen a backlash from a cross-party group of MPs who say it would be discriminatory.
3. International travel
Travel has resumed to a very limited extent, with a traffic light system used to categorise countries depending on their COVID-19 situation.
People are advised only to travel to countries on the "green list" – which do not require quarantine on return – but very few destinations have made it onto this list.
4. Major events
The government has said testing could be used to ensure people can safely attend large events.
This is already being used at Euro 2020 games at Wembley Stadium.
No10 refused to accept modelling which has claimed the delay could have a £3bn impact on the hospitality industry.
The PM's official spokesman said: "As you would expect, there will be an economic impact to further delay.
"At the budget we deliberately extended most support well into the autumn, acknowledging there could be uncertainty in the path of the virus."
Support Labour Heartlands
WAIT! BEFORE YOU GO
PLEASE HELP US KEEP GOING AD-FREE
This is a "Pay as You Feel" website.
Your support for Labour Heartlands is greatly appreciated. As an independent nonprofit news outlet, we rely on our members to hold the powerful accountable. Our kind of reporting is essential to democracy, but it is not easy, cheap, or profitable.
To continue providing impactful journalism, we need your help. It's getting really hard for us all. Becoming one of our donors. It's simple and doesn't have to cost a lot. With as little as £2, £3, or £5 a month, you can support the journalism you rely on.
While we do not align ourselves with any particular political party, we stand firmly against corruption, injustice, and the erosion of truth and the rule of law. We believe that accurate information is the lifeblood of a democracy and that facts are not up for debate.
Your contribution, no matter how small, goes a long way in helping us continue our mission. Together, we can make a difference.
Thank you, The Labour Heartlands Team
PLEASE HELP US KEEP GOING AD-FREE