Israel's Knesset has voted for a fragile eight-party coalition, replacing Prime Minister Benjamin Netanyahu after 12 years in the top post.
Israeli lawmakers on Sunday passed a vote of confidence for a coalition government, ending Benjamin Netanyahu's 12-year hold on power.
The coalition is comprised of bitter ideological rivals, united by their will to oust Netanyahu, Israel's longest-serving leader.
They won a razor-thin majority of 60 to 59 in the 120-seat chamber.
Naftali Bennett was sworn in on Sunday, replacing his former ally Netanyahu as prime minister.
Israeli Knesset elected Mickey Levy of the Yesh Atid Party — a coalition member — to house speaker.
The new government is breaking some new ground in Israel's history, as its premier Naftali Bennett becomes the first kippa-wearing Orthodox prime minister and the Ra'am party becomes the first Arab Israeli faction to join a governing coalition.
A record-breaking nine women hold ministerial portfolios in the new government, including some of the most influential ones: transportation minister Merav Michaeli (Labor), interior minister Ayelet Shaked (Yamina), education minister Yifat Shasha-Biton (New Hope), economy minister Orna Barbivai (Yesh Atid), energy minister Karine Elharrar (Yesh Atid), social equality minister Merav Cohen (Yesh Atid), immigrant absorption minister Pnina Tamano-Shata (Blue and White), environmental protection minister Tamar Zandberg (Meretz), science minister Orit Farkash-Hacohen (Blue and White).
Key moments from the Knesset special session
Emotions ran high during the Knesset special session on Sunday with both Bennett and Netanyahu speaking through raucous boos from some lawmakers.
Naftali Bennett promised that the coalition "represents all of Israel."
He said that the coalition government would open a new chapter in the relationship between the state and Israel's Arab citizens, reported Israeli media outlet Haaretz.
He thanked Netanyahu for the role he played in this process.
Right wing politician Betzalel Smotrich was one of the politicians who let emotions get the best of him during the special session
He also vowed that the motley coalition of ideological rivals would oppose a renewed deal on Iran's nuclear program, saying: "Israel won't let Iran have nuclear weapons."
Meanwhile, Netanyahu, the leader of right-wing Likud Party during his speech vowed "the Israeli opposition will have a strong and clear voice" if he is ousted from power in a vote set to install a new government.
"If it's our destiny to be in the opposition, we'll do so with our heads high until we take down this bad government, and return to lead the country our way," Netanyahu added.
Itamar Ben-Gvir, leader of the far-right Otzma Yehudit Party, also let emotions get the better of him, during the heated Knesset special session.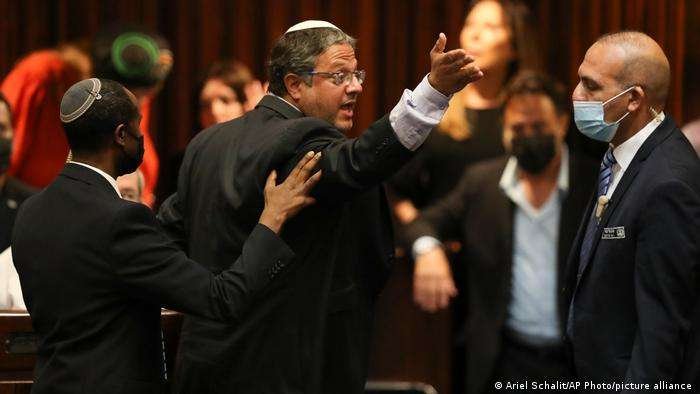 Who is in the anti-Netanyahu coalition?
The coalition, which has 61 of the 120 Knesset seats, brings together eight disparate parties from across the political spectrum, ranging from the right-wing nationalist Yamina party to Arab lawmakers.
The alliance, which includes three right-wing, two centrist and two left-wing parties, along with an Arab Islamic conservative party, was cobbled together by centrist politician Yair Lapid.
All coalition agreements have been signed and were submitted to the Knesset on Friday.
Yamina party leader Naftali Bennett said the moment brought "to an end two and a half years of political crisis."
Israeli opposition create coalition deal to force Netanyahu out: The Devil you know…
Who is Naftali Bennett, Israel's new prime minister?
It is very doubtful there will be any reprieve for Palestine if Naftali Bennett is confirmed, prime minister.
Bennett is a multi-millionaire former tech entrepreneur who made a name in politics with right-wing, religious-nationalist rhetoric.
A former special forces commando, Bennett is the son of US-born parents and lives with his wife Galit and four children in the central city of Raanana.
He entered politics after selling his tech start-up for $145m in 2005, and the next year became chief of staff to Netanyahu, who was then in opposition.
After leaving Netanyahu's office, Bennett in 2010 became head of the Yesha Council, which lobbies for Jewish settlers in the occupied West Bank.
He then took politics by storm in 2012 when he took charge of the far-right Jewish Home party, which was facing annihilation.
He increased its parliamentary presence fourfold, while making headlines with a series of incendiary comments about the Palestinians.
In 2013, he said Palestinian "terrorists should be killed, not released".
He has courted controversy on several occasions, once stating that the West Bank is not under occupation because "there was never a Palestinian state here", and that the Israeli-Palestinian conflict could not be resolved but must be endured.
Beyond holding the defence portfolio, Bennett has served as Netanyahu's economy minister and education minister.
He re-branded Jewish Home as Yamina (Rightward) in 2018, and was part of Netanyahu's coalition which collapsed the same year.
But he was not asked to join a Netanyahu-led unity government in May last year – a move seen as an expression of the prime minister's personal contempt towards him, despite their shared ideology.
In opposition and with the coronavirus pandemic raging in 2020, Bennett dampened his right-wing rhetoric to focus on the health crisis, moving to broaden his appeal by releasing plans to contain the virus and aid the economy.
Support Labour Heartlands
Help Us Sustain Ad-Free Journalism
Sorry, I Need To Put Out the Begging Bowl
Independent Journalism Needs You
Our unwavering dedication is to provide you with unbiased news, diverse perspectives, and insightful opinions. We're on a mission to ensure that those in positions of power are held accountable for their actions, but we can't do it alone. Labour Heartlands is primarily funded by me, Paul Knaggs, and by the generous contributions of readers like you. Your donations keep us going and help us uphold the principles of independent journalism. Join us in our quest for truth, transparency, and accountability – donate today and be a part of our mission!
Like everyone else, we're facing challenges, and we need your help to stay online and continue providing crucial journalism. Every contribution, no matter how small, goes a long way in helping us thrive. By becoming one of our donors, you become a vital part of our mission to uncover the truth and uphold the values of democracy.
While we maintain our independence from political affiliations, we stand united against corruption, injustice, and the erosion of free speech, truth and democracy. We believe in the power of accurate information in a democracy, and we consider facts non-negotiable.
Your support, no matter the amount, can make a significant impact. Together, we can make a difference and continue our journey toward a more informed and just society.
Thank you for supporting Labour Heartlands
Just click the donate button below