Honouring the Dishonourable: Canadian Parliament's Shameful Salute to Ukrainian Nazi
In a gesture that has sent shockwaves through the global community, Ukrainian President Volodymyr Zelensky and Canadian Prime Minister Justin Trudeau led the Canadian Parliament in a standing ovation for a 98-year-old man, Yaroslav Hunka, a former member of the Waffen-SS, during President Zelensky's visit to Ottawa.
You have to ask, in their adulation for all things Ukrainian, have Western leaders lost all sense of history and decency? By applauding a veteran of Hitler's SS, they insult the sacrifice of those who bled to defeat fascism.
There can be no statute of limitations on remembrance or remorse when it comes to aligning with such evil.
This sordid spectacle saw a Waffen SS soldier lauded in the halls of Canada's Parliament. Yaroslav Hunka's unit engaged in hideous atrocities during World War 2, yet MPs cheeringly whitewashed his past. Not a voice of dissent disturbed the proceedings as parliamentarians erased grim facts for political expediency.
This incident, captured in a photograph and footage, has sparked consternation online and among advocacy groups.
That was the day, according to Canadian Jewish groups, that a former soldier who fought with a Ukrainian military branch of Adolf Hitler's Nazi party not only was introduced in a session of Canada's Parliament during a visit by Ukrainian President Volodymyr Zelensky, but received a standing ovation from MPs.
This veteran was introduced as a war hero for fighting in the "First Ukrainian Division" against the Soviet Union.
The Canadian Speaker of the House Anthony Rota stated: "We have here in chamber today, a Ukrainian Canadian veteran from the Second World War who fought for Ukrainian independence against the Russians and continues to support the troops today even at his age of 98".
"I am very proud to say that he is from North Bay and from my riding of Nipissing–Timiskaming," the Ontario MP said as an introduction.
"He is a Ukrainian hero, a Canadian hero, and we thank him for all his service."
MPs cheered and Zelenskyy raised his fist in acknowledgement as Hunka saluted from the gallery during two separate standing ovations.
The appalling reality? This division was in fact the 14th Waffen Grenadier Division of the SS, or "Galicia Division" – a Waffen SS unit fighting alongside the Nazis.
By saluting this man, both Canadian Prime Minister Justin Trudeau and Zelenskyy have deeply disrespected the sacrifices made by countless Allied soldiers, their families, and all those who bravely fought to dismantle Hitler's monstrous regime.
In doing so, they have also shown a profound lack of sensitivity towards the Jewish community, the Romani people, the disabled, and anyone who had to endure the horrors of that harrowing period in history.
The Waffen SS represented the vile Nazi ideology in its most violent, racist and murderous form. Canada itself officially designated it a criminal organization at the Nuremberg Trials. Yet now, it disgraces our Parliament to honour those who voluntarily joined its ranks.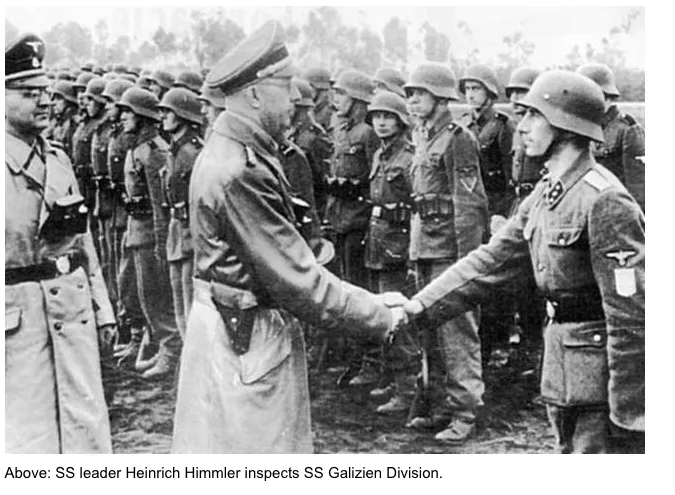 Defenders claim the Galicia Division represented Ukrainian nationalism more than Nazi ideology. But we must not whitewash harsh truths. This division eagerly assisted SS extermination squads in massacring Jews and other civilians. It committed atrocities with a bestial fanaticism that defies imagination.
These were not reluctant conscripts, but zealous adherents to Nazi plans for ethnic cleansing and genocide. Honouring them betrays the sacred memory of the Allied fallen and our veterans who defeated this existential threat to civilization.
Several Jewish advocacy organisations, including the Friends of Simon Wiesenthal Center for Holocaust Studies and B'nai Brith Canada, have rightly condemned the standing ovation for Mr Hunka. The Friends of Simon Wiesenthal Center noted that this division was responsible for the mass murder of innocent civilians, underscoring the brutality of their actions.
FSWC is appalled that Canada's Parliament gave a standing ovation to a Ukrainian veteran who served in a Nazi military unit during the Second World War implicated in the mass murder of Jews and others.

An apology and explanation is owed.https://t.co/ZkzIkOCvBe

— Friends of Simon Wiesenthal Center (@CanadianFSWC) September 24, 2023
Shoving Ukrainian Nazis Down the Memory Hole
In a statement The Centre for Israel and Jewish Affairs has expressed deep concern over the incident, highlighting the importance of acknowledging historical crimes committed during the Holocaust and not whitewashing them. While MPs from various parties rose to applaud Mr Hunka, it is essential to hold those responsible for his invitation and recognition to account.
The vandalism of monuments in Canada dedicated to the Galicia Division in recent years also reflects the ongoing controversy surrounding this dark chapter in history. Many questions have been asked why such staus are allowed on Canadian soil.
In 2021, a statue of Ukrainian military leader Roman Shukhevych and a monument to the fighters of the Waffen-SS Galicia Division in Edmonton, Canada were vandalised by someone who spray painted them with the words "Actual Nazi."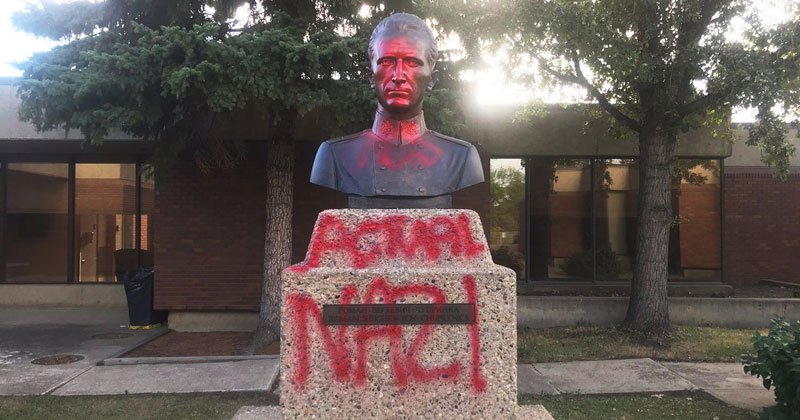 The Friends of Simon Wiesenthal Center said at the time that it had been advocating for their removal for decades.
In 2020, a monument to the Waffen-SS Galicia Division in Oakville, Ont., was vandalized in a similar way.
The decision to admit Ukrainian immigrants who had served in the SS Waffen Division in the post-war period was contentious, with Jewish groups arguing they should be barred from the country.
The International Military Tribunal in Nuremberg declared the SS to be a criminal organisation, including the SS Waffen in that declaration.
The Waffen-SS Galicia Division surrendered to the British army in 1945, and just over 8,000 men were moved to the United Kingdom in 1947.
In 1950, the federal cabinet decided to allow Ukrainians living in the U.K. to come to Canada "notwithstanding their service in the German army provided they are otherwise admissible. These Ukrainians should be subject to special security screening, but should not be rejected on the grounds of their service in the German army."
In 1985, then-prime minister Brian Mulroney called for a royal commission to examine whether Canada had become a haven for war criminals.
The Deschênes Commission found there were about 600 former members of the Waffen-SS Galicia Division living in Canada at the time. But Justice Jules Deschênes said membership in the division did not itself constitute a war crime.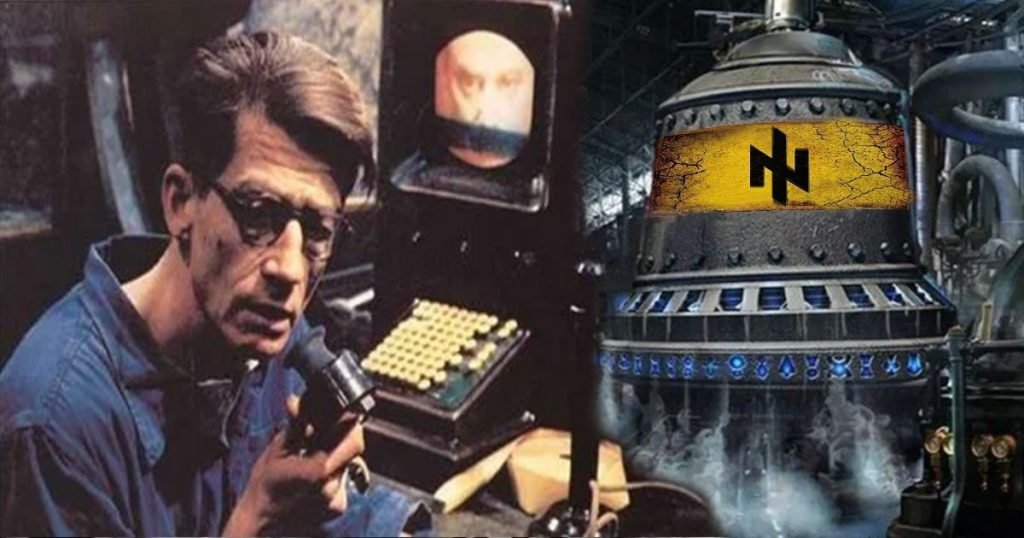 The decision to admit Ukrainian immigrants who had served in the SS Waffen Division in the post-war period remains contentious, with Jewish groups arguing for their exclusion. The International Military Tribunal in Nuremberg declared the SS to be a criminal organization, including the SS Waffen in that declaration.
In an era when the lessons of history are more critical than ever, we must not allow the sacrifice of millions who fought against fascism to be overshadowed by misguided gestures of reverence for those who collaborated with the darkest forces of human history. The ovation for Yaroslav Hunka in the Canadian Parliament should serve as a stark reminder of the importance of preserving the truth of the past and the need to honour those who fought for justice, not those who aligned themselves with tyranny.
Support Labour Heartlands
Help Us Sustain Ad-Free Journalism
Sorry, I Need To Put Out the Begging Bowl
Independent Journalism Needs You
Our unwavering dedication is to provide you with unbiased news, diverse perspectives, and insightful opinions. We're on a mission to ensure that those in positions of power are held accountable for their actions, but we can't do it alone. Labour Heartlands is primarily funded by me, Paul Knaggs, and by the generous contributions of readers like you. Your donations keep us going and help us uphold the principles of independent journalism. Join us in our quest for truth, transparency, and accountability – donate today and be a part of our mission!
Like everyone else, we're facing challenges, and we need your help to stay online and continue providing crucial journalism. Every contribution, no matter how small, goes a long way in helping us thrive. By becoming one of our donors, you become a vital part of our mission to uncover the truth and uphold the values of democracy.
While we maintain our independence from political affiliations, we stand united against corruption, injustice, and the erosion of free speech, truth and democracy. We believe in the power of accurate information in a democracy, and we consider facts non-negotiable.
Your support, no matter the amount, can make a significant impact. Together, we can make a difference and continue our journey toward a more informed and just society.
Thank you for supporting Labour Heartlands
Just click the donate button below