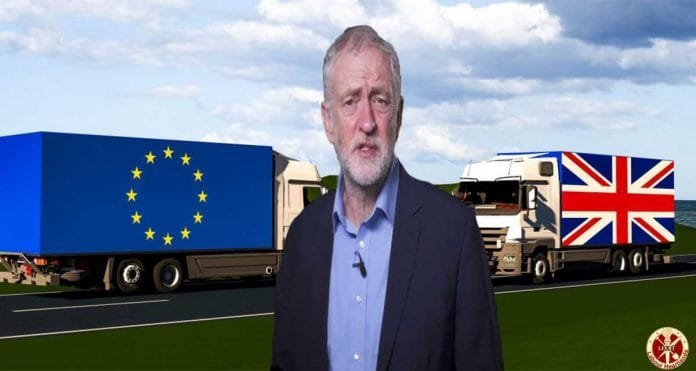 Labour's approach to this general election has followed the same course for the last 3 years. It as tried in vain to be all things to all people on the Brexit issue. Walking the middle road while making overtures to both Remain and the Leave camps yet committing to neither.
Now the 'so-called remain alliance' and the 'so-called leave alliance' have out flanked the Labour party both these alliances have one ambition to win Labour seats.
To be fair I voted twice for Jeremy Corbyn not only because I thought he was an honest politician but because I believed in his vision for the UK outside of the EU, A vision of a 21st century socialism. One with close trading ties with the EU but free from the restraints the EU place on a socialist agenda, an ambitious plan for regeneration of both infrastructure and industry.
The Labour Party and Corbyn had a manifesto in 2017, one to break monopoly capitalism, a manifesto that promised nationalisation of mail, rail and utilities. Non of which can happen if we remain in the EU. Some will sell you the lie of a watered down nationalised plan but we all know that the EU rules prohibit full nationalisation.
When I voted for Jeremy Corbyn I voted for the leader of the Labour Party not some ambiguous figurehead who seems content at walking in the middle of the road. At this point I would not mind if Corbyn came out full remain, at least the 5 million or so Labour Leave voters would know where they stand. We would know that our hopes of self-government a chance to set our own countries direction an opportunity to escape the corrupt neoliberal organisation of the EU
Nationalisation of utilities and rail in all senses of the word is a Monopoly and can be no other, it is on this bases that EU rules and regulations will not allow Labour's manifesto to be implemented in full.
From its inception, the EU has been a top-down project driven by political and administrative elites, "a protected sphere", in the judgement of the late Peter Mair, "in which policy-making can evade the constraints imposed by representative democracy". To complain about the EU's "democratic deficit" is to have misunderstood its purpose. The main thrust of European economic policy has been to extend and deepen the market through liberalisation, privatisation, and flexiblisation, subordinating employment and social protection to goals of low inflation, debt reduction, and increased competitiveness.
Prospects for Keynesian reflationary policies, or even for pan-European economic planning – never great – soon gave way to more Hayekian conceptions. Hayek's original insight, in The Economic Conditions of Interstate Federalism, was that free movement of capital, goods, and labour – a "single market" – among a federation of nations would severely and necessarily restrict the economic policy space available to individual members. Pro-European socialists, whose aim had been to acquire new supranational options for the regulation of capital, found themselves surrendering the tools they already possessed at home. The national road to socialism, or even to social democracy, was closed.
The direction of travel has been singular and unrelenting. To take one example, workers' rights – a supposed EU strength – are steadily being eroded, as can be seen in landmark judgements by the European Court of Justice (ECJ) in the Viking and Laval cases, among others. In both instances, workers attempting to strike in protest at plans to replace workers from one EU country with lower-wage workers from another, were told their right to strike could not infringe upon the "four freedoms" – free movement of capital, labour, goods, and services – established by the treaties.
The defence of workers' rights is the main pro-Remain argument used by the Trades Union Congress (TUC), all but three affiliated trade unions (TUs), and the newly formed Left Against Brexit (Another Europe is Possible). Their argument is flawed for the following reasons:
It is based on the false assumption that the EU protects workers' rights whilst at the same time over estimating the limited protections enacted.
It elevates and relies on the legal system rather than collective bargaining by workers organised in trade unions
It displays an ignorance of trade union history and in so doing undermines the role of organised workers to win hard fought improvement in wages and living standards.
It ignores the anti-trade union rulings of the European Court of Justice (ECJ), based, as
it is, on the palpable pro-employer nature of the EU itself.
Missed opportunity
The Labour Party came up with the idea that to resolve the Brexit chaos they would rerunning the whole divisive referendum again. This time claiming the vote would be a final vote, a once in a generation vote, yes the same promise given just three years ago. This time we are asked to vote on a Blind Brexit. We do not know what Labours Brexit deal will look like but we can guess that the EU will not change the withdraw agreement to any considerable degree. Making it just another BRINO.
But whats absurd is the fact that Keir Starmer Labour's Brexit shadow minister will negotiate a deal then campaign for remain along with other frontbenchers like Emily Thornberry. Then Labour wonder why they are just not selling this second referendum outside of the remain camps.
I really hope I am wrong! Seriously it will take a Christmas miracle to prove me wrong and I'm wishing for one.
Even if we do manage to get Labour into office the Labour Party government would need a clear majority otherwise we would again end up at an impasse. A repeat, Parliament blocking a clear path to remaining or leaving the EU. Both sides would be just as resolved to get the outcome they desired self-interest would again override democracy. If Labour stuck with its original pledge to respect the result then we would see the Tory vote crumble.
MP's like Tom Watson one of the loudest voices to call for this vote losing second referendum has now stood down from the Labour party MP that means the Blairite Peter Mandelson as one less load mouth in Parliament, pushing his so called 'Peoples vote' campaign. Others that backed him wholeheartedly such as Keir Starmer, Emily Thornberry, Clive Lewis and John McDonnell amongst others from the London bubble. MPs who have little to lose calling for a second referendum. After all, the metropolitan cities voted to remain and their majorities are almost guaranteed.
But when you realise that an overwhelming number of Labour constituencies voted to leave, all outside these metropolitan cities. You see just what folly it was in reversing Labours initial position on the referendum result and its 2017 Brexit manifesto. You see the folly of Labour Party members that ignored voices like Jeremy Corbyn, Len Mccluskey, Barry Gardiner saying 'no second referendum' for over two years. It will be the Labour MPs from the majority of leave voting constituencies that will be losing their seats, not the sat pretty safe city MPs.
Labour could have walked this election if only it stuck to its previous manifesto pledge. The domestic policies along with our new green industrial deal the promise of nationalisation are all vote winners. Policies and promises on universal credit changes, clear commitments to the NHS are all what we have come to expect from a Left-leaning Labour Party. Combined with a clear #LEXIT strategy Labour would have carried the day. We still could but it will take a some serious readjustments of Labours promises in particular the vote losing second referendum.
A quote from Nye Bevan best described Labour's currant position: "We know what happens to people who stay in the middle of the road. They get run down."
Labour ready to be run down.
Farage today pulled the Brexit Party out of half of all general election seats. In a shock press conference, he announced: "The Brexit Party will not contest the 317 seats the Conservative won at the last election".
The mass exit could strike a major blow to the Labour Party – as it means the Conservatives will get a clear run in their own constituencies while Labour faces the Brexit Party in their backyard.
Critics seized on the announcement – saying it showed the Tories and the Brexit Party are now the same party.
Farage's tactics seem to be to target both floating and traditional Labour supporters who voted leave giving them one clear leave Party to vote for.
Two-way traffic.
The other shoe dropped when it was announced that Remain Labour MPs are to be targeted by the pro-Remain pact. The Liberal Democrats, Greens and Plaid Cymru have established a 'Remain pact' allegedly to boost the number of pro-Remain MPs
This is a targeted campaign to pull the Remain vote from Labour. The cynic in me says they are doing it not to win the seat that would be a far cry however the could siphon enough of the vote to do severe damage and allow the Tory or Brexit Party a win neither of which will be splitting the vote.
The three parties have agreed to step aside for each other in the upcoming general election in 60 seats across England and Wales, to have one pro-Remain candidate in each seat.
Launching the plan on Thursday, despite not standing again as a candidate, Heidi Allen claimed that "with a single Remain candidate in 60 seats, we will return a greater number of Remain MPs to parliament".
Candidates in ten of the 13 Labour-held seats targeted by the alliance – 77% – have selected strongly pro-Remain Labour candidates to stand in the constituency.
Defector MP Angela Smith's seat, Penistone and Stocksbridge, is also targeted by the Remain pact. Labour won the seat in 2017 with a slim majority of 1,322 votes and the Tories in second place. The Lib Dem candidate secured just 2,042 votes, coming in fourth behind the UKIP candidate.
On the 'Remain pact' list, there are several Labour strongholds, such as Bristol West, Dulwich and West Norwood, Exeter, and Cardiff Central, plus Tory-held Chelsea and Fulham, Rushcliffe and South Cambridgeshire.
Portsmouth South was won from the Tories by Labour's Stephen Morgan in 2017, with a majority of just 1,554. Morgan voted against Theresa May's deal as well as Boris Johnson's proposal, which he described as one that "sells out Portsmouth people's jobs, rights and our city's communities".
There are concerns that the 'Remain alliance' decision to target marginal Labour seats, such as Portsmouth South, could allow the Tories to regain more constituencies.
For all intents and purposes, this 'Remain alliance' is more about stopping Labour than stopping Brexit.
AFTER ALL, IF THE TORIES NEED PROPPING UP THEY CAN ALWAYS COUNT ON JO SWINSON AND THE LIB DEMS.
Support Labour Heartlands
WAIT! BEFORE YOU GO
PLEASE HELP US KEEP GOING AD-FREE
This is a "Pay as You Feel" website.
Your support for Labour Heartlands is greatly appreciated. As an independent nonprofit news outlet, we rely on our members to hold the powerful accountable. Our kind of reporting is essential to democracy, but it is not easy, cheap, or profitable.
To continue providing impactful journalism, we need your help. It's getting really hard for us all. Becoming one of our donors. It's simple and doesn't have to cost a lot. With as little as £2, £3, or £5 a month, you can support the journalism you rely on.
While we do not align ourselves with any particular political party, we stand firmly against corruption, injustice, and the erosion of truth and the rule of law. We believe that accurate information is the lifeblood of a democracy and that facts are not up for debate.
Your contribution, no matter how small, goes a long way in helping us continue our mission. Together, we can make a difference.
Thank you, The Labour Heartlands Team
PLEASE HELP US KEEP GOING AD-FREE