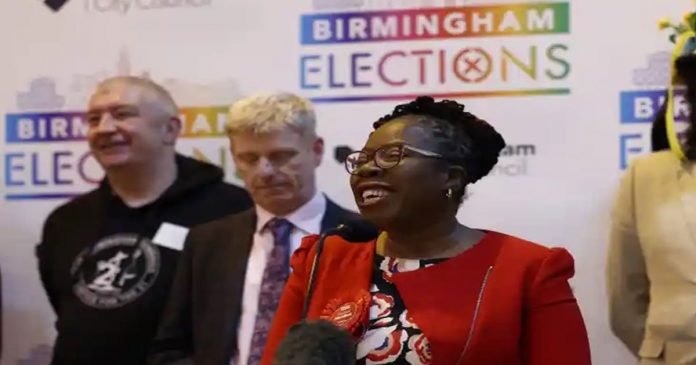 Labour's Paulette Hamilton has become the newest-elected MP after holding on to her party's seat of Birmingham Erdington.
The party suffered the humiliating loss of the North Shropshire byelection to the Liberal Democrats in December, after the resignation of disgraced former MP Owen Paterson, and senior Tories are concerned they could see significant losses in forthcoming local elections.
The hold came about after Labour's candidate in Erdington, local nurse Paulette Hamilton, was embroiled in controversy this week when comments emerged from 2015 when she attended a meeting called "The Ballot or the Bullet – Does Your Vote Count?" about increasing minorities' representation in politics.
Hamilton said she was not sure "we will get what we really deserve in this country using the vote". Labour said the remarks had been taken out of context.
Ms Hamilton won the former constituency of the late Jack Dromey with a marginally increased percentage vote share but an actual reduced number of votes.
Paulette Hamilton managed to garner just 9,413 votes holding the constituency for Labour.
The by-election was triggered by the death of the Labour MP Jack Dromey, who had represented the constituency since 2010. It has been held by Labour since 1974: as long as it has existed in its current form. Jack Dromleys last vote count in 2019 under the tenure of Jeremy Corbyn was more than the entire turnout of today's election at 17,720 votes.
Birmingham Erdington, by-election result:

LAB: 55.5% (+5.2)
CON: 36.3% (-3.8)
TUSC: 2.1% (+2.1)
REFUK: 1.7% (-2.4)
GRN: 1.4% (-0.4)
LDEM: 1.0% (-2.7)
IND: 0.6% (+0.6)
CPA: 0.5% (+0.5)
IND: 0.4% (+0.4)
MRLP: 0.3% (+0.3)
IND: 0.1% (+0.1)
MBPE: 0.0% (+0.0)

— Britain Elects (@BritainElects) March 4, 2022
Dave Nellist standing under the banner of TUSC managed to come in third behind the tories but in front of both Lib Dems and the Greens.
The low turnout is extremely concerning. Voter apathy is dangerous. Especially in the current social and political climate, choosing not to vote can lead at best to a politics that does not serve you, and at worst to a politics that will cause direct harm.
Apathy in today's political climate is a very dangerous thing.
As the late Tony Benn once stated:
"Apathy has its advantages for the political class – by which I mean the party leaders, their spin doctors and their embedded correspondents in the media, who live in the Westminster village and rarely seem to get out to listen to what is being said."
"It encourages ministers to do what they like on the grounds that the public are not really interested. For the same reason, it entitles the media to dumb down their coverage as if that is the only way to win attention. This suggests that those at the top have little confidence in people's intelligence."
"My own experience, four years after leaving parliament to devote more time to politics, has convinced me that, far from being apathetic, most people are angry that no one seems to be listening to them; nor do they believe what they are told. Anger and mistrust are highly political responses and in no sense can they be described as apathy."
"That is why we have seen so many popular movements growing up which provide a real outlet for those who no longer feel connected to the parliamentary process and its media entourage. The result is that real politics increasingly focuses on the issues of peace, the environment, civil liberties, pensions, student debt, and the rights of women and trade unions, whose activists get far less coverage than the personalities in the major parties, and are often described as troublemakers or rebels." -Tony Benn
Of course, for anyone that has read the crisis of democracy or understand Sir keir Starmer's position as a Trilateral Commission member they would understand fully that apathy is their aim, after all, democracy should be only for those with a real stake in society and not the working classes or that's what they would like us to think.
Support Labour Heartlands
WAIT! BEFORE YOU GO
PLEASE HELP US KEEP GOING AD-FREE
This is a "Pay as You Feel" website.
Your support for Labour Heartlands is greatly appreciated. As an independent nonprofit news outlet, we rely on our members to hold the powerful accountable. Our kind of reporting is essential to democracy, but it is not easy, cheap, or profitable.
To continue providing impactful journalism, we need your help. It's getting really hard for us all. Becoming one of our donors. It's simple and doesn't have to cost a lot. With as little as £2, £3, or £5 a month, you can support the journalism you rely on.
While we do not align ourselves with any particular political party, we stand firmly against corruption, injustice, and the erosion of truth and the rule of law. We believe that accurate information is the lifeblood of a democracy and that facts are not up for debate.
Your contribution, no matter how small, goes a long way in helping us continue our mission. Together, we can make a difference.
Thank you, The Labour Heartlands Team
PLEASE HELP US KEEP GOING AD-FREE