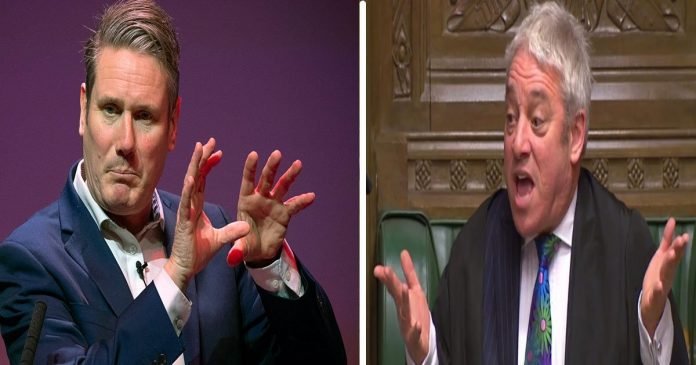 Former Commons speaker John Bercow has been administratively suspended from the Labour Party pending an investigation.
John Bercow: Former Speaker administratively suspended from Labour after bullying inquiry finds him guilty and bans him from parliament for life.
The disgraced former Conservative MP, who has since defected to Labour declared the investigation "amateurish" claiming the complainants had been resisting his attempts to modernise parliament.
Jenny Symmons the GMB union representative for MPs and Lord's staff reacted to the report, saying she welcomed its findings and told the Spectator: "This is the outcome we wanted; for him to be permanently banned from entering the Parliamentary estate. This shows real consequences for Members who have exploited their power and position to bully staff. Bercow isn't the only person deserving of this treatment and he won't be the last!
Dave Penman, general secretary of the FDA union which represents senior civil servants, said bullying had "flourished unchallenged" under John Bercow.
"No remorse, no contrition and willing to sacrifice the first independent process that investigates complaints, simply to save his own reputation," he added.
The Independent Expert Panel upheld 21 out of 35 claims against the former Commons speaker and found his behaviour "so serious that he should never be allowed a pass to the Parliamentary estate; and that if he were still an MP it would have recommended expelling him from the House", it said.
Mr Bercow was found to have bullied staff members by Kathryn Stone, the standards commissioner, after a career that saw him dogged by accusations of swearing at officials and throwing his mobile phone.
In its report published on Tuesday, the IEP said: "The findings of the Parliamentary Commissioner for Standards, which we have upheld, show that the respondent has been a serial bully.
"His behaviour fell very far below that which the public has a right to expect from any Member of Parliament.
"His evidence in the investigations, the findings of the Commissioner, and his submissions to us, show also that the respondent has been a serial liar.
"His behaviour fell very far below that which the public has a right to expect from any Member of Parliament.
The IEP was tasked with producing its 89-page report after Mr Bercow appealed the conclusions of an inquiry by Kathryn Stone – the parliamentary commissioner for standards.
The commissioner had upheld 21 allegations from three former parliamentary staff relating to events between 2009 and 2015, including verbal abuse, displays of anger and "undermining behaviour" against his secretary Angus Sinclair.
"The respondent's conduct was so serious that, had he still been a Member of Parliament, we would have determined that he should be expelled by resolution of the House. As it is, we recommend that he should never be permitted a pass to the Parliamentary estate."
Ms Stone also upheld allegations made by Ms Kate Emms, a current member of the House staff, who had claimed Mr Bercow mimicked her, created an "intimidating and hostile environment", and was responsible for "intimidating, insulting behaviour involving an abuse of power" towards her.
Support Labour Heartlands
PLEASE HELP US KEEP GOING AD-FREE
HELP US GROW.
This is a "Pay as You Feel" website.
This blog has no source of state, corporate or institutional finance whatsoever. It runs entirely on voluntary subscriptions from its readers – many of whom do not necessarily agree with every article, but welcome the alternative voice, insider information and debate.
You can have access to all of our online work for free. However if you want to support what we do, you could make a small donation to help us keep writing and staying ad-free. The choice is entirely yours.