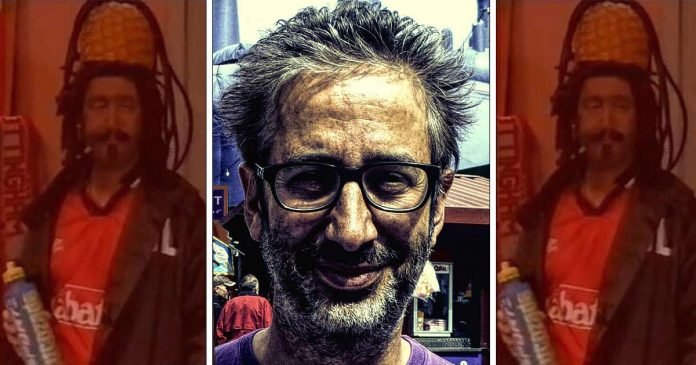 By Gavin Lewis
UK Channel 4 TV has announced it is turning David Baddiel's highly contentious monograph Jews Don't Count into a television programme. The premise – that in the modern era – white western Jews are uniquely oppressed – will no doubt be shocking to the families of Jermaine Baker, Sheku Bayoh, Leon Briggs, Rashan Charles, Kevin Clarke, Mark Duggan, Trevor Smith and very many more killed in Black Lives Matter police shoot to kill policies. It also might be disputed by victims of Tony Blair's poisonous ideology of collective Muslim guilt – labelled 'radical Islam' or 'militant Islam' – resulting in such crimes as Bishopbriggs, Glasgow and Finsbury Park, London mosques firebombed, 82yr old grandfather Muhammad Saleem murdered with his killer planting bomb devices on three further Mosques; and Muslim women wearing the Niqab, attacked in the street.
Baddiel also condemns the casting of non-Jews in Jewish roles using the re-invented term Jewface with Zionist veteran actor Maureen Lipman jumping on this bandwagon. This despite the fact, that the extreme offensiveness of the Minstrel Blackface tradition can only be exacerbated by this crass cultural appropriation.
Historical objections to Blackface are not merely based on a desire for Black roles to go to working Black actors. The popular cultural vaudeville/circus tradition of dressing up animals in brightly coloured uniforms – ala the proverbial 'organ grinders monkey' – also extends to slavery. For years after its initial 18th C vogue, comparable bright coloured attire for house-slave/servants continued to be a fashion.
Symbolically it was a similar domestication of the supposed 'animality' of the Black slave/servant, in the manner of a chimp tamed and groomed for repetitive tasks. At the very least Black slaves/servants were turned into human ornamentation, conspicuous manifestations of the master/employer's wealth and power, and this influenced the iconography of Minstrel Blackface including the golliwog doll. Clearly, it is obscene for Baddiel to pretend this is a white ethnic experience or that he's ever been treated as a domesticated human baboon.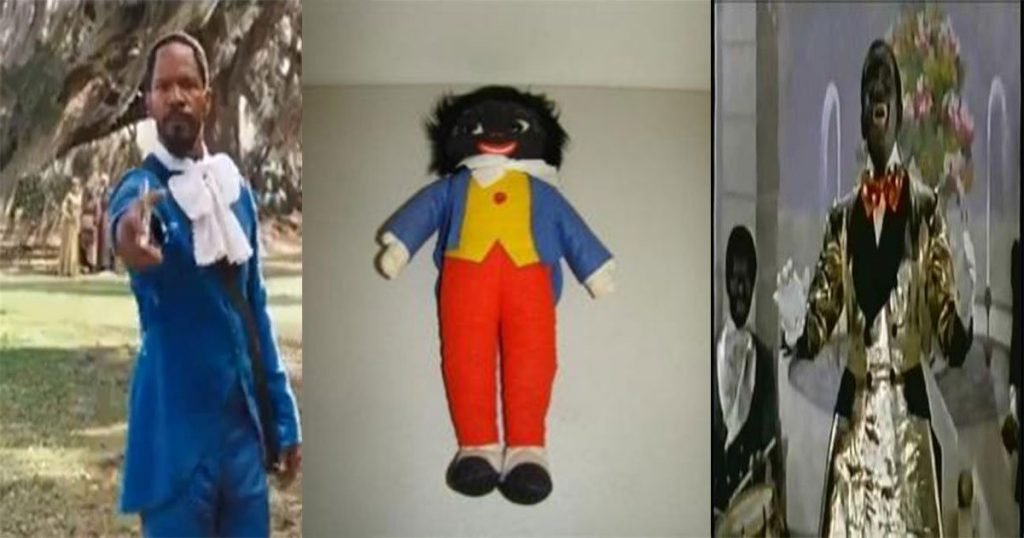 Another significant trope of Minstrel Blackface performance, are the codes of violently enforced deference to come out of lynching practices – what a victim might do to ingratiate him/herself with the lynch mob – self-debasing, begging, joking, dancing, essentially playing up to any white preconceived notion of what innocuous, primitive, endearing Black ethnicity was like.
Here historian Leon Litwhack describes the full horror of lynching practices.
"The story of lynching then is more than the simple fact of a black man or woman hanged by the neck. It is the story of slow, methodical, sadistic, often highly inventive forms of torture and mutilation. If executed by fire, it is the red-hot poker applied to eyes and genitals and the stench of burning flesh as the body slowly roasts over the flames and the blood sizzles in the heat. If executed by hanging it is the convulsive movement of limbs. Whether by fire or rope, it is the dismemberment and distribution of severed body parts as favours…teeth, ears, toes, fingers, nails, kneecaps, bits of charred skin and bones."
During 14yr old Emmett Till's lynching, his murderers castrated him. Emmett's mother insisted on an open casket funeral to demonstrate the cruelty of the attack, which had also left him with a brutally amputated ear and an eyeball hooked out of his head. For Baddiel to steal this history for personal career promotion is obviously contemptible. Sadly the Ch4 Commissioning Editor – Shaminder Nahal – aiding and abetting Baddiel is a woman of colour.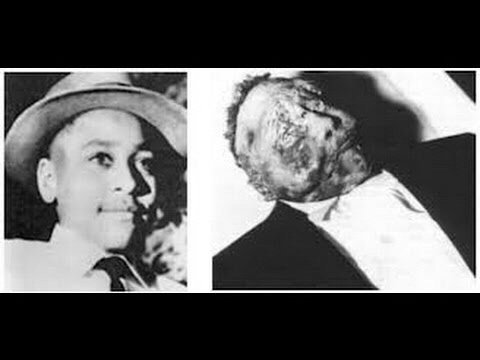 If Baddiel really thinks he is uniquely oppressed he might reflect that Emmett Till was tortured to death after it was claimed he'd wolf-whistled a white woman. Baddiel infamously joked about getting his 14yr old girl fans to submit to paedophilic relations, 'Forget the jelly babies, what about some anal intercourse?' He still has a career even in our anti-sexist MeToo era.
Perhaps more astonishing is that Baddiel is being commissioned despite a lengthy history of racist provocations. Among these is a column for the Guardian, Black Men Can Jump in which Baddiel describes how Black people are better at dancing and sport than whites – in coded middle-class dinner party language, invoking a natural sense of rhythm and Black physical animality tropes, which fed the original Minstrel Blackface tradition. And in an episode of the series Fantasy Football Baddiel, picked out a Black fan in a soccer stadium for mockery on the basis of his appearance, causing studio guest Sylvia Kristel to comment 'I don't like racism'.
More significantly, over the course of an entire tv season of Fantasy Football, he ridiculed the ethnic appearance of the Black soccer player Jason Lee on the basis of his traditional Black Diaspora locks and cornrows hairstyle. Baddiel invented Pineapple Head(s) among many slurs to describe Black people with this style. And in a further racist humiliation, he Blacked-up as Jason Lee.
Unlike most comedians who have stooped to racism, Baddiel has actual documented victims. His incitements resulted in tens of thousands abusing Lee in stadiums up and down the county. Professor Sarita Malik described the campaign against Lee as 'racial taunting'. Even at the time the poet and critic Tom Paulin said, "Jason Lee has been treated with great cruelty … the charge of racism is a very feasible one – the Sun (newspaper) had him portrayed as having bananas growing out of his head. It doesn't take much to realise what that's saying". (Late Review, BBC2, 6 May 1996). The victimisations caused by these incitements, included Lee's family.
Lee repeated the family experience to the Nottinghamshire Post.
"They were very defensive about it," said Lee, who now works in equalities and education for the PFA (Professional Footballers Association or union). "There would be racial stuff. In the end, I would tell them not to come. It can't be nice, supporting your child or partner and seeing him get so much abuse…It was, looking back, a form of bullying."
Contrary to certain corporate media coverage, Jason Lee has confirmed he "never received an apology".
Nor has Baddiel ever donated the monies harvested from the Fantasy Football series abuses, plus financial interest, to a Black anti-racist charity. This is significant because as Professor Ben Carrington notes Baddiel's incitements generated broader copycat offences.
"David Baddiel 'Blacked up' (evoking the barely coded racist imagery of the minstrel shows) with a pineapple on his head out of which Jason Lee's dreadlocks were growing—the 'joke' being that Jason Lee's 'dreads' resembled a fruit on top of his head. This joke was then carried out with increasing frequency for the rest of the series, with young children sending in drawings of Jason Lee adorned with various fruit on his head. The pineapple joke was then taken up by football fans in the terraces who chanted songs about Jason Lee's hair and significantly transcended the normally insular world of football fandom and entered into the public domain as both a descriptive term and a form of ridicule ('Pineapple Head') for any black person with dreads tied back." (Ben Carrington, "Football's Coming Home' but Whose Home? And Do We Want It?," 1998).
"You wouldn't be able to blackface now, that's crazy."

Former footballer Jason Lee has spoken out about his racist portrayal on '90s TV show Fantasy Football League. pic.twitter.com/dmgu939dHJ

— FootballJOE (@FootballJOE) June 30, 2020
Given the level of documentation, it is not just amazing that Baddiel has a media career but that he has escaped prosecution all these years for his incitements. It's impossible to imagine a Black under-privileged working-class comedian even still having a career, after having equivalently repeatedly incited the abuse of UK Jews.
Baddiel's current media career is based upon two factors. In 2014 Israel bombed Gaza. UN figures reported in the New York Times and Huffington Post cite "6,000 airstrikes, 14,500 tank shells and 45,000 artillery shells unleashed between July 7 and Aug. 26". Israel killed 551 children out of a total victim death toll of 2,252 Palestinians. Claims of anti-Semitism have since been used to overwrite objections to Israel's crimes. So firstly, courtesy of this moral panic, Baddiel has subsequently been able to ride his way out of a career trough claiming expertise on anti-Semitism – attacking Corbyn, the Labour Party and the Left generally.
The second factor is that Baddiel produces his own shows – sometimes with others such as Victoria Coren-Mitchell or Louis Theroux – which he sells to the BBC and now Ch4 on a sub-contractual basis. No mention of his racist history, other oppositional views, or narratives are permitted, creating a sort of artificial bubble effect. Testimonials to his Jewface theories are solicited from on-message light entertainers Stephen Fry, Jonathan Ross, Simon Mayo, neoliberal columnists et al, rather than Sociologists and Cultural Studies academics or even BLM activists.
Outside of this ideological bubble it is interesting to read critiques even other Jews make about Baddiel and his notion of Jewface from his book Jews Don't Count.
In an extensive review for Jewdas Yirmeyahu Wedgewood writes…
"Baddiel not only fails to consider how the practice of Blackface is historically and materially different than 'Jewface' but goes on to argue against claims that Blackface is a particularly more damaging practice."
Tony Booth and Miriam David writing for Jewish Voice for Labour (JVL) accuse Baddiel of "post-truthery"
On social media, Baddiel has claimed he and US actor/comedian Sarah Silverman are like-minded associates on this issue. Actually, in an article in Forward, she's since said
"let's not use the word 'Jewface'… the fact that (Al) Jolson, a Jew, made a career in blackface, indicates another major reason why we shouldn't use the term 'Jewface.' White Jews have benefited from this racist mode of performance."
As the Jewish Telegraphic Agency notes, "Blackface has a long Jewish history", that has been well documented. This has mostly been working-class vaudeville and music hall performers. Yet Baddiel has stooped to his practices from the privileged position of a Cambridge University educational background. Presumably, social class privilege is another factor affording him a career and legal cover.
Most socialists and anti-racists favour cross community solidarity over the hierarchy of victimhood favoured by Baddie and the Israel lobby, which doesn't stand basic scrutiny. In corporate media accounts of Nazi crimes against humanity, a generation of Black Germans – pejoratively known as 'the Rhineland Bastards' – are among those groups absented from mention. As Jackie Walker alluded to – go to the Holocaust Memorial Day website – and you won't find the 60+ million victims of the transatlantic slave trade.
Nor will you find the Holocausts that have occurred out of the western colonial tradition – of which Israel is the latest manifestation – such as 10 million Africans who died in the Belgian Congo. Or 100 million Natives dead in the Americas,(specifically in the US there are currently more western Jews in the county than surviving Native Americans, and the former are not ghettoised with restricted life opportunities in a reservation system).
Postwar if you were Black you'd find most of the white settler countries hazardous or off-limits to you. Large parts of the US were segregated, and until 1967, seventeen states had anti-miscegenation laws. There were white Australia and white New Zealand immigration policies designed to keep out the Black Commonwealth. Rhodesia and South Africa were practising variants of Apartheid. All of these countries had white Jewish citizens prospering under these systems (Israel is still apartheid even for Black Jews).
The 2011 British Census which covers the last 11 years of Baddiel's career suggests British Jews are 0.5% of the population, Black, Asian and Mixed Race groups add up to 12%. In theory, this means for every Baddiel, or Jonathan Freedland at the Guardian or Emma Barnett at Newsnight, there should be 24 Black Minority Britons enjoying equal prominence. Perhaps the reality of who doesn't count is something Baddiel is deliberately trying to obscure and appropriate.
For those wishing to raise concerns you can contact Ch4 Commissioning Editor Shaminder Nahal
Complaints/Contact Ch4 https://www.channel4.com/4viewers/contact-us
ABOUT THE AUTHOR
GAVIN LEWIS
Gavin Lewis is a freelance Black British mixed-race writer and academic. He has published in Australia, the United Kingdom, Canada and the United States on film, media, politics, cultural theory, race, and representation. He has taught critical theory and film and cultural studies at a number of British universities. He is a member of the British trade union Bectu.
The views and opinions expressed in this article are those of the authors and do not necessarily reflect the official policy or position of Labour Heartlands or its editors Any content provided by our bloggers or authors are of their opinion and are not intended to malign any religion, ethnic group, club, organisation, company, individual or anyone or anything.
Support Labour Heartlands
Help Us Sustain Ad-Free Journalism
Sorry, I Need To Put Out the Begging Bowl
Independent Journalism Needs You
Our unwavering dedication is to provide you with unbiased news, diverse perspectives, and insightful opinions. We're on a mission to ensure that those in positions of power are held accountable for their actions, but we can't do it alone. Labour Heartlands is primarily funded by me, Paul Knaggs, and by the generous contributions of readers like you. Your donations keep us going and help us uphold the principles of independent journalism. Join us in our quest for truth, transparency, and accountability – donate today and be a part of our mission!
Like everyone else, we're facing challenges, and we need your help to stay online and continue providing crucial journalism. Every contribution, no matter how small, goes a long way in helping us thrive. By becoming one of our donors, you become a vital part of our mission to uncover the truth and uphold the values of democracy.
While we maintain our independence from political affiliations, we stand united against corruption, injustice, and the erosion of free speech, truth and democracy. We believe in the power of accurate information in a democracy, and we consider facts non-negotiable.
Your support, no matter the amount, can make a significant impact. Together, we can make a difference and continue our journey toward a more informed and just society.
Thank you for supporting Labour Heartlands
Just click the donate button below