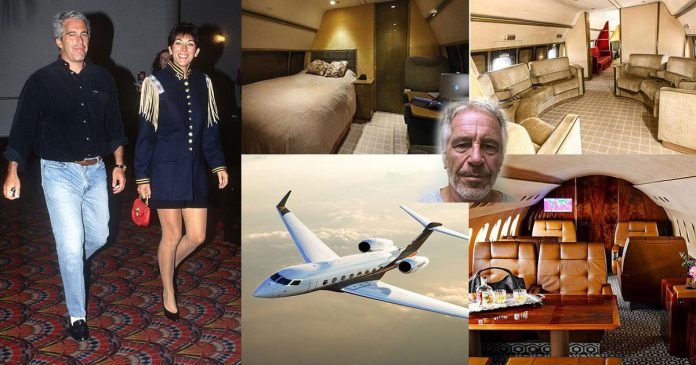 Names of 'EVERY' passenger to have flown on Jeffrey Epstein's aircraft 'to be revealed "sparking panic among the pedophile's wealthy friends"
A year after Jeffrey Epstein's death, reports about the convicted pedophile's private jet continue to emerge. Four weeks ago Heidi Klum denied that she'd ever been on what's been called the "Lolita Express" after documents from a Ghislaine Maxwell civil suit were unsealed as part of her case. The newly public materials showed that Epstein accuser Virginia Roberts Giuffre named Klum as one of the many celebrities she saw aboard the plane.
Jeffrey Epstein's flight logs on his aircraft, including his 'Lolita Express' jet, have been subpoenaed, sparking fear among the rich and famous who partied with the pedophile.
The Attorney General in the US Virgin Islands, where the billionaire had a home and is said to have carried out many of his horrific crimes, has demanded to see the logs which document the passengers on his aircraft.
The logs on his four helicopters and three planes span from 1998 until his death in prison last year.
Epstein's connections to the rich powerful and famous spread like a spiders web they include royals. politicians, Bankers and celebrities, he was even a member of The Trilateral Commission a small exclusive club of some of the most powerful people in the world a club Sir Keir Starmer belongs to. LINK
Peter Mandelson pictured with Jeffrey Epstein: Labour ex-minister who's friends with Prince Andrew shops with pedophile financier in 2005 after being introduced by Ghislane Maxwell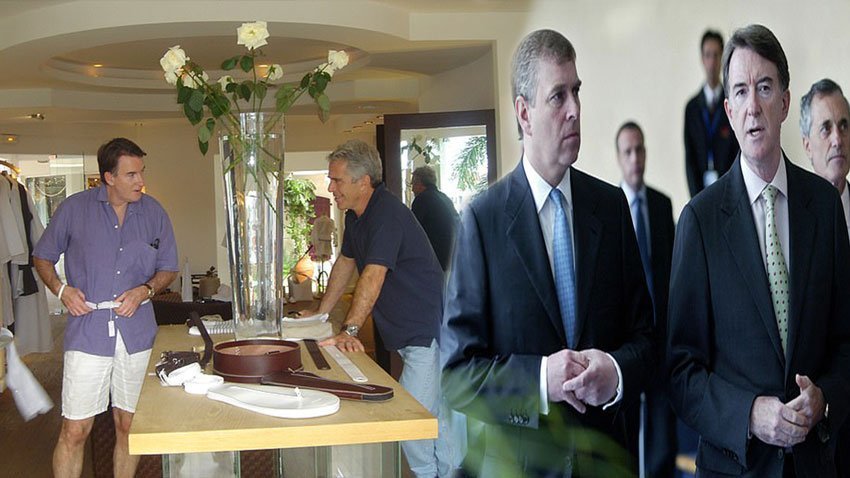 The plane has been held in Georgia for the last five years or so. On Sunday the New York Post reported an account of seeing the jet at Brunswick Golden Isles Airport. James McCloskey, an aviation consultant, told the tabloid he toured it in March while working for Scroggins Aviation, a company that buys planes and plane parts for films.
"When you get inside the aircraft, it's a playground," McCloskey said. "Everything lays out to be a bed. That was kind of creepy.
"You get on Epstein's airplane, and it's decorated from the 1970s," he added. "I mean, you would almost think that Elvis flew on this thing because it's, like, velour and bright red colors."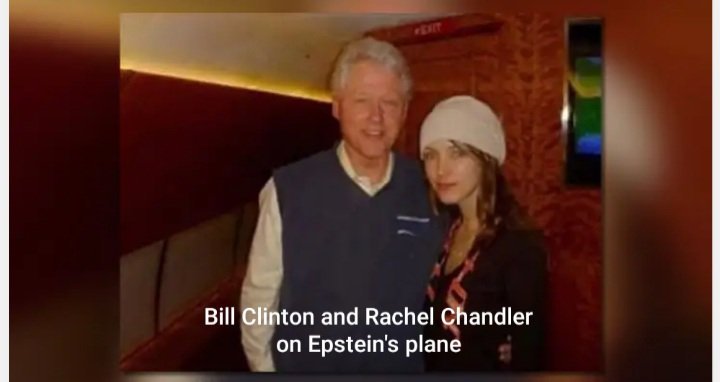 As both a site of Epstein's alleged abuse and a host to many powerful figures including Bill Clinton, the jet has continued to draw a range of scrutiny. The Post pointed out that several Epstein accusers have alleged that JEGE Inc., the company that owned the plane, facilitated sex trafficking.
In 2016, when asked by a lawyer where she'd allegedly had sex with Maxwell, Giuffre said, "If we're going to talk about other countries, we've got to talk about international travel space or plane space or whatever you want to call it." Maxwell has pleaded not guilty on charges of trafficking minors and perjury, and is being held without bail before her July 2021 trial.
Pilot David Rodgers has previously revealed logs from 2009 which showed Prince Andrew, Bill Clinton, Kevin Spacey and Naomi Campbell were among those who flew on his jet.
It is not suggested they were aware of any wrongdoing by Epstein.
Vanity fair's HOLLY AGUIRRE described Epstein's island saying:
"THE GIRLS WERE JUST SO YOUNG": THE HORRORS OF JEFFREY EPSTEIN'S PRIVATE ISLAND
Locals say Epstein was flying in underage girls long after his conviction for sex crimes—and authorities did nothing to stop him. "It was like he was flaunting it," says an employee at the airstrip on St. Thomas. "But it was said that he always tipped really well, so everyone overlooked it."
Ever since billionaire Jeffrey Epstein was arrested on July 6 on charges of sex trafficking, the media have been scrambling to make sense of what happened on Little St. James, his 70-acre private island in the Caribbean. But on nearby St. Thomas, locals say Epstein continued to bring underage girls to the island as recently as this year—a decade after he was forced to register as a convicted sex offender—and that authorities did nothing to stop him.
Two employees who worked at the local airstrip on St. Thomas tell Vanity Fair that they witnessed Epstein boarding his private plane on multiple occasions in the company of girls who appeared to be under the age of consent. According to the employees, the girls arrived with Epstein aboard one of his two Gulfstream jets. Between January 2018 and June 2019, previously published flight records show, the jets were airborne at least one out of every three days. They stopped all over the world, sometimes for only a few hours at a time: Paris, London, Slovakia, Mexico, Morocco. When they left St. Thomas, the employees say, they returned to airports near Epstein's homes in Palm Beach and New York City.
A source said: 'The records that have been subpoenaed will make the ones Rodgers provided look like a Post-It note.
'There is panic among many of the rich and famous.'
Lawyers for the victims said the logs released in 2009 did not include the flights of chief pilot Larry Visoki who had flown Epstein for more than 25 years.
It comes as a celebrity chef has been quizzed by detectives 20 years after he worked for Epstein – prompting renewed calls for Prince Andrew to speak to the FBI.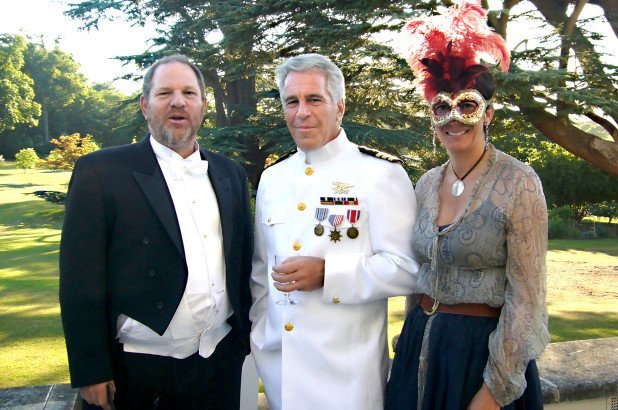 Adam Perry Lang, 51, opened the Barbecoa restaurant with Jamie Oliver in London in 2010 – and worked for Jeffrey Epstein between 1999 and 2003.
He is now 'fully cooperating' with the FBI investigation into allegations of sexual abuse by depraved billionaire Epstein, reported the Daily Mirror.
Attorney Arick Fudali, representing the victims, heaped pressure on Prince Andrew – who has been accused of stonewalling detectives.
Mr Perry Lang, who has been described as a decent man by victims, came forward after Virginia Giuffre, 37, wrote to ask him to be the 'hero'.
His lawyer Lawrence Lustberg confirmed the chef was helping the FBI. Mr Perry Lang himself added: 'We have absolutely always been available to the attorneys representing the victims.'
He previously denied being aware of any 'depraved behaviour' during his four-year term as Epstein's chef.
Epstein, 66, killed himself while awaiting trial in a cell for underage sex trafficking last year.
Last month, Virginia Giuffre claimed Prince Andrew played a 'guessing game,' with British socialite Ghislaine Maxwell about her age before comparing her to his daughters.
The accuser spoke out in a documentary series, Surviving Jeffrey Epstein, claiming she met the royal in London, describing him as an 'abuser,' and 'not the prince from the fairy tale stories you read'.
Ms Giuffre, who says she was trafficked by pedophile financier Epstein, alleges the duke had sex with her on three separate occasions, including when she was 17, still a minor under US law.
Andrew has categorically denied he has had any form of sexual contact or relationship with Ms Giuffre.
Maxwell is awaiting trial in the US after being charged with procuring teenage girls for Epstein to abuse. She denies this.
Earlier this year Prince Andrew said he was 'angry and bewildered' as he denied reports he was contacted about the Jeffrey Epstein investigation.
He said he would be 'more than happy to talk'.
MailOnline has contacted Prince Andrew for comment.
Support Labour Heartlands
Help Us Sustain Ad-Free Journalism
Sorry, I Need To Put Out the Begging Bowl
Independent Journalism Needs You
Our unwavering dedication is to provide you with unbiased news, diverse perspectives, and insightful opinions. We're on a mission to ensure that those in positions of power are held accountable for their actions, but we can't do it alone. Labour Heartlands is primarily funded by me, Paul Knaggs, and by the generous contributions of readers like you. Your donations keep us going and help us uphold the principles of independent journalism. Join us in our quest for truth, transparency, and accountability – donate today and be a part of our mission!
Like everyone else, we're facing challenges, and we need your help to stay online and continue providing crucial journalism. Every contribution, no matter how small, goes a long way in helping us thrive. By becoming one of our donors, you become a vital part of our mission to uncover the truth and uphold the values of democracy.
While we maintain our independence from political affiliations, we stand united against corruption, injustice, and the erosion of free speech, truth and democracy. We believe in the power of accurate information in a democracy, and we consider facts non-negotiable.
Your support, no matter the amount, can make a significant impact. Together, we can make a difference and continue our journey toward a more informed and just society.
Thank you for supporting Labour Heartlands
Just click the donate button below