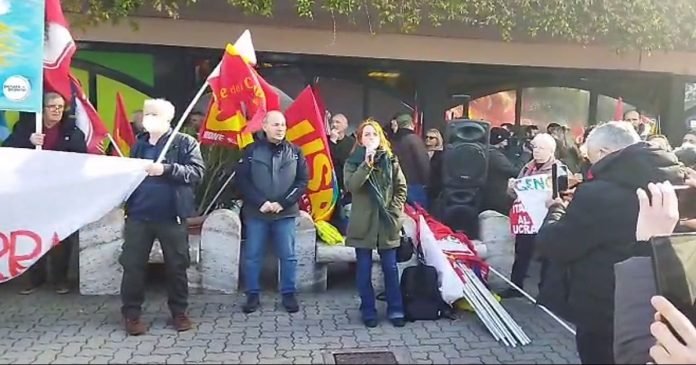 We strongly denounce this genuine forgery, which cynically uses "humanitarian" cover to continue fueling the war in Ukraine
Italian, workers discovered that weapons were being shipped to Ukraine under the pretence of sending "humanitarian aid" and have refused to hand them over. Their example should serve as a model for all workers on how to take action against the war.
The war in Ukraine is creating an arms race with constant sabre-rattling in the U.S. and Europe. Countries are massively ramping up their own military budgets, many more still are sending weapons to Ukraine. According to the Unione Sindacale di Base (USB), workers at Galileo Galilei Airport in Pisa, Italy discovered boxes full of "weapons of all kinds, ammunition and explosives." They had previously been informed that the delivery contained humanitarian goods such as food and medicine. The airport workers then refused to send the weapons to Ukraine via Poland.
USB reports that the chairman of Tuscany airports, Mario Carrai, has since assured that there will be no more arms shipments through Pisa airport. However, USB continues to call on workers to block all arms shipments. Next Saturday, USB is organizing a demonstration at Galileo Galilei Airport with the slogan "From Tuscany: Bridges of Peace instead of Flights of War."
The civil and military summit confirmed the trafficking of hidden weapons among the "humanitarian" aid. this led to a protest on Saturday 19th at the Pisa airport!
With their courageous actions, the workers not only prevented these weapons from being used to kill, but also provided an example for the entire working class on how we can fight the war with our own means. Unionized workers in the U.S. and beyond should take the action of their Italian colleagues as a model.
The incident is also an example of how "humanitarianism" can be abused. The USB statement says: "We strongly condemn this blatant deception, which cynically uses the guise of 'humanitarian aid' to further fuel the war in Ukraine." Humanitarian measures, such as sending aid supplies and accepting refugees are not enough to end the war — and in this case they even served as a cover for militarism.
Mr Acerbo said: "Citizens have the right to know what kind of military operations their country is conducting, especially when a city lends its airports, becoming a direct protagonist of the conflict on the one hand and a potential target on the other."
"The Pisa episode is very serious, and bitterly confirms our concerns," Mr Acerbo said, stating that an official parliamentary question over the affair was to be tabled.
The USB Pisa union condemned the actions as fraudulent and called for these type of flights to be banned.
"We strongly denounce this real falsification, which cynically uses the 'humanitarian' cover to continue fuelling the war in Ukraine," it said.
The union encouraged workers to continue their strike over the loading of arms shipments and urged them to join a protest calling for peace at Galilei airport.
Italian workers have a strong tradition of refusing to load munitions.
In May 2019 dockers in Genoa stopped the Saudi ship Bahri Yanubu from loading with drones and other equipment that would be used in its devastating war on Yemen.
Support Labour Heartlands
Help Us Sustain Ad-Free Journalism
Welcome to the Heartlands of Independent Journalism
At Labour Heartlands, we are committed to delivering independent news, views, and opinions. Our mission is to hold those in power accountable, and we can't do it without your support. As a non-profit independent organisation, we rely on our donors to keep our journalism ad-free and impactful.
Like everyone else, we're facing challenges, and we need your help to stay online and continue providing crucial journalism. Every contribution, no matter how small, goes a long way in helping us thrive. By becoming one of our donors, you become a vital part of our mission to uncover the truth and uphold the values of democracy.
While we maintain our independence from political affiliations, we stand united against corruption, injustice, and the erosion of free speech, truth and democracy. We believe in the power of accurate information in a democracy, and we consider facts non-negotiable.
Your support, no matter the amount, can make a significant impact. Together, we can make a difference and continue our journey toward a more informed and just society.
Thank you for supporting Labour Heartlands
Just click the donate button below