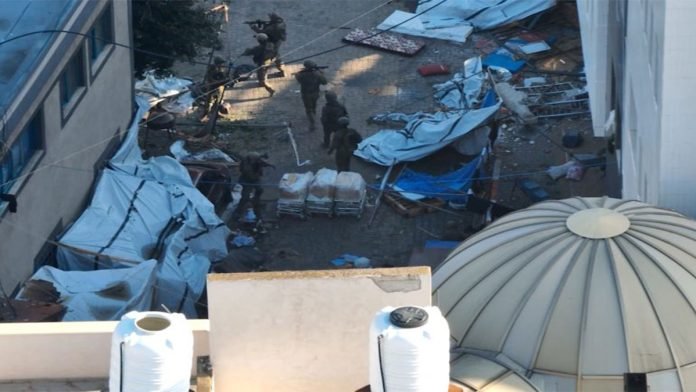 UN Alarmed as Israel Raids Gaza's Largest Hospital
Western world leaders remain silent on the ongoing genocide in Gaza the only official voice of dissent comes from the people and the United Nations as its top humanitarian official expressed alarm as Israeli forces raided al-Shifa, Gaza's largest hospital, on Wednesday.
"Hospitals are not battlegrounds," said UN emergency relief coordinator Martin Griffiths. "The protection of newborns, patients, medical staff, and all civilians must override all other concerns."
However, the UN's expression of "alarm" over Israel's brazen hospital bombing rings hollow while Gaza burns. Where is the global outrage and action as war crimes unfold live on our screens?
Perhaps we have become desensitized, browsing violence between bites of dinner as families perish under the rubble. Or maybe it's easier to change the channel than confront painful truths. But there can be no excuses for the world's silence and inaction as Gaza's hospitals are reduced to graveyards.
Rules of Engagement
This is not warfare, it is massacre. The systematic destruction of every civilian institution exposes the lie that only militants are targeted. Israel aims to break the will of the Palestinian people through collective punishment, to erase their identity and hopes under the rubble.
And yet the world leaders watch, mouths sealed, hands tied. Powerless to stop the unfolding tragedy? Or simply unwilling, for fear of displeasing a strong ally?
Either way, such moral bankruptcy will stain our generation forever. We cannot plead ignorance, for Gaza's anguish floods our screens. Empty platitudes about "restraint" grow more offensive by the day, as the bodies pile higher.
Israel encircled and bombarded al-Shifa hospital for days, claiming Hamas operated tunnels and conducted military actions beneath it. The US-backed this assertion but provided no evidence.
Yet the IDF announced zero arrests and even foreign media only mentioned two arrests, with four Hamas fighters being killed just outside the hospital, but none inside – not even a single gunfight.
As the Jewish Post reports: "Did 200 Hamas forces, who IDF intelligence claims were present at Shifa Hospital after Hamas's October 7 attack on Israel, vanish out of thin air?"
Hospitals are protected under international law unless actively used to harm enemies. Human Rights Watch found Israel failed to justify al-Shifa's bombardment.
According to hospital staff, Israeli soldiers detained and assaulted sheltering men during the raid. No aid was provided. Instead, "they only brought terror," said one employee.
With Gaza's healthcare system shattered, al-Shifa could not safely operate. Bodies piled up in a mass grave within its courtyard due to lack of refrigeration. Its generator ran out of fuel, endangering patients.
Israel's raids on medical facilities prevented counting Gaza's dead, which surpassed 11,000. Thousands more are believed killed since last week.
WHO chief Tedros Adhanom expressed alarm at losing contact with al-Shifa staff, fearing for their safety.
Despite accusations of war crimes, Israel called the raid "targeted" against Hamas. But its bombing campaign has decimated Gaza's civilian infrastructure while claiming to target militants.
A leaked Dutch memo states Israel aims to "deliberately cause massive destruction to…civilian centres" to showcase military might, violating international law.
It states that Israel is deliberately using "disproportionate force" in Gaza and targeting "civilian infrastructure" in an effort to limit its own losses and showcase its "military force," according to a confidential memo from the Dutch Embassy in Tel Aviv.
The memo, drafted by the Dutch defence attaché in the embassy and seen by Dutch outlet NRC, analyzes Israel's military strategy in Gaza, where Israeli forces have been launching retaliatory airstrikes for over a month straight and conducting a ground invasion, killing more than 11,000 people according to the Hamas-controlled health ministry in Gaza.
The defence attaché said that the Israeli army is using lethal force in an attempt to limit its own losses and "showcase credible military force to show Iran and its proxies [such as Hezbollah] that they will stop at nothing," NRC reported.
This strategy has the "intention of deliberately causing massive destruction to the infrastructure and civilian centres" in Gaza, targeting houses, bridges and roads, and causing massive civilian casualties, which explains the "high number of deaths" among civilians.
The memo also accuses the Dutch government of being aware of Israel's "ruthless approach," yet failing to condemn it. While Dutch Prime Minister Mark Rutte told Israel's Prime Minister Benjamin Netanyahu last week that Israel "must show that what they are doing is also proportionate," he has not publicly called for a cease-fire.
The Dutch Ministry of Foreign Affairs said that "not every internal document should be viewed as a policy recommendation."
"We do not comment on the wide variety of documents that are drafted at the ministry or at the diplomatic missions as part of the policy-making process," it said in an emailed statement.
The ministry added that the Netherlands is "highly concerned" about the "severity and scale" of the Israel-Hamas conflict and that "further civilian casualties on both sides must be avoided."
"We call for restraint, and we continue to emphasise this in all our diplomatic conversations," the ministry said. "The situation is highly complex. And that only goes to reaffirm the importance of investigating events on the ground."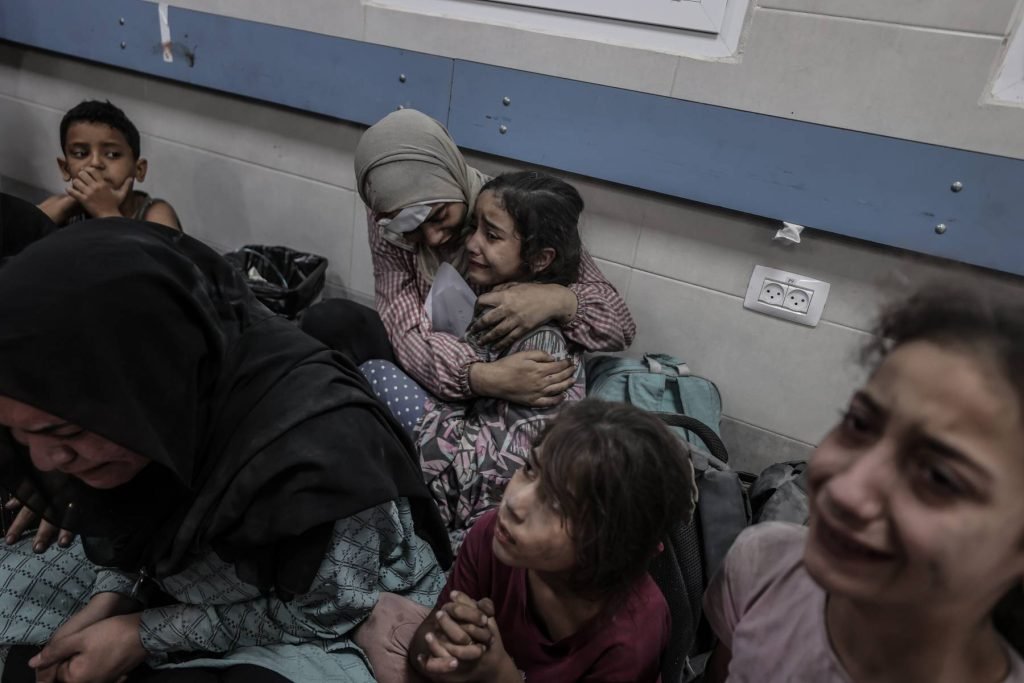 The UN and rights groups demand civilians be protected. But no world leader has forcefully condemned Israel's hospital attack, highlighting global inaction as Gaza's humanitarian disaster deepens.
If global leaders will not act, then we the people must fill the void. There is little choice other than to Raise your voice in protest, in solidarity with Gaza's pain. Demand a ceasefire demand international conventions that protect hospitals, schools and homes are never bombing targets. An occupation rooted in apartheid and dispossession will never achieve peace.
Palestinians are people too, their lives cherished as our own. If we forget this simple truth, we forsake our humanity along with theirs. Gaza's grief must become our own, its cries haunt our conscience. Only then can change emerge from the rubble. The world is watching and waiting – act now before all is lost.
Support Labour Heartlands
Help Us Sustain Ad-Free Journalism
Sorry, I Need To Put Out the Begging Bowl
Independent Journalism Needs You
Our unwavering dedication is to provide you with unbiased news, diverse perspectives, and insightful opinions. We're on a mission to ensure that those in positions of power are held accountable for their actions, but we can't do it alone. Labour Heartlands is primarily funded by me, Paul Knaggs, and by the generous contributions of readers like you. Your donations keep us going and help us uphold the principles of independent journalism. Join us in our quest for truth, transparency, and accountability – donate today and be a part of our mission!
Like everyone else, we're facing challenges, and we need your help to stay online and continue providing crucial journalism. Every contribution, no matter how small, goes a long way in helping us thrive. By becoming one of our donors, you become a vital part of our mission to uncover the truth and uphold the values of democracy.
While we maintain our independence from political affiliations, we stand united against corruption, injustice, and the erosion of free speech, truth and democracy. We believe in the power of accurate information in a democracy, and we consider facts non-negotiable.
Your support, no matter the amount, can make a significant impact. Together, we can make a difference and continue our journey toward a more informed and just society.
Thank you for supporting Labour Heartlands
Just click the donate button below