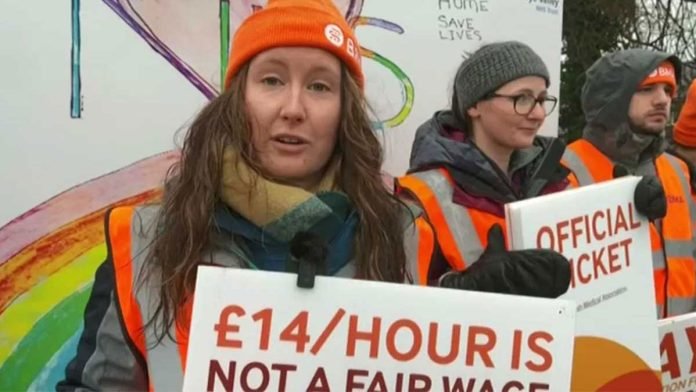 Junior doctors announce four days of strikes – as health secretary hits out at 'unreasonable demand'
The British Medical Association (BMA) said members will stage a 96-hour walkout from 11-14 April, in an escalation of a row over pay and conditions.
In the ongoing battle for fair pay and working conditions, junior doctors in England have announced they will strike for four consecutive days next month. This comes after accusing the government of refusing to make a reasonable offer that would address the concerns of these frontline healthcare workers.
It's important to understand the gravity of the situation at hand. Junior doctors are a vital part of the healthcare system, often working long and gruelling hours in high-pressure environments to provide essential care to patients. However, despite their critical role, they are frequently undervalued and underpaid. This is not only unjust but also unsustainable in the long run, as it risks driving talented young doctors away from the profession and exacerbating the ongoing recruitment crisis within the NHS.
The strike action being taken by junior doctors is not a decision they have taken lightly. In fact, they have already carried out several rounds of strikes in recent years in an attempt to draw attention to their plight. However, despite these efforts, little has been done to address their concerns.
The BMA say they need pay restoration as junior doctors' pay has been cut by more than a quarter since 2008 – leading to low morale and a staffing crisis at a time of record high waiting lists.
It is nothing short of scandalous that these dedicated professionals, who work tirelessly to keep our healthcare system running, have seen their salaries reduced year on year due to inflation and cuts, their salaries are 26% lower than they were in 2008 in real terms. They are under immense pressure, working long hours in difficult and often dangerous conditions, yet they receive very little recognition or compensation for their efforts.
The basic hourly pay of junior doctors can be as low as £14.09 in the first year of work-based training. This is based on a full-time salary of £29,384 for foundation year 1 for 2022-23.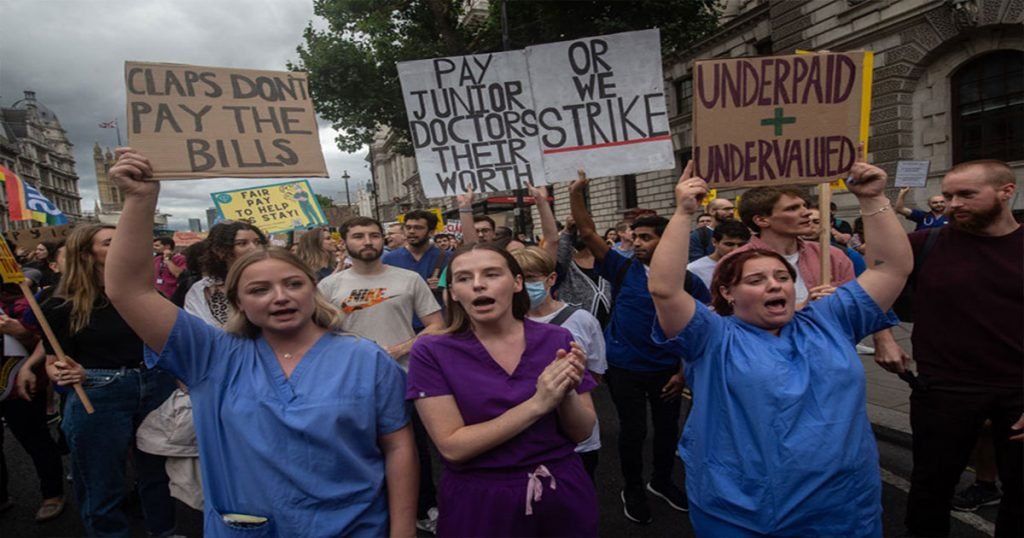 The BMA co-chairs said they have "no confidence that without further action these negotiations can be successful", adding the situation is "entirely of the government's own making".
They warned: "We are not going to stop until we are paid what we are worth, and if ministers don't accept that when we tell them in person, we will have to tell them from the picket line."
Dr Vivek Trivedi and Dr Robert Laurenson, co-chairs of the BMA junior doctor committee, said: "It is with disappointment and great frustration that we must announce this new industrial action. The government has dragged its feet at every opportunity.
"It has not presented any credible offer and is refusing to accept that there is any case for pay restoration, describing our central ask as 'unrealistic' and 'unreasonable'. Even yesterday they continued to add new unacceptable preconditions to talks instead of getting on and trying to find a resolution. "
Following the announcement, Mr Barclay tweeted: "I met the BMA's junior doctors committee yesterday in the hope of beginning constructive talks. They placed a pre-condition on these talks of a 35% pay rise. That is unreasonable.
"My door remains open to constructive conversations, as I have had with other health unions."
The government, in its infinite wisdom, has deemed the BMA's request for pay restoration to 2008 levels as "unrealistic" and "unreasonable." This, despite the fact that junior doctors have seen their pay slashed in real terms by over a quarter since that time, resulting in low morale and a staffing crisis that has left waiting lists at record highs.
The department of health predictably said further strikes "will risk patient safety and cause further disruption".
"Our door remains open to constructive conversations, as we have had with other health unions, to find a realistic way forward which balances rewarding junior doctors for their hard work while being fair to the taxpayer."
Other NHS strikes have been paused following a revised pay offer to unions representing thousands of frontline staff including nurses and paramedics.
The offer consists of a one-off payment of 2% of their salary plus a COVID recovery bonus of 4% for the current financial year 2022/23, and a 5% pay increase for 2023/24.
Health Secretary Steve Barclay, quick to dismiss the 35% pay rise precondition, seems to have forgotten the fundamental purpose of the National Health Service – to provide quality care for all, regardless of means. It is not the junior doctors who are being unreasonable; it is the government, which has consistently failed to invest in the very people who keep the NHS afloat.
Furthermore, the government's apparent refusal to engage in meaningful negotiations with junior doctors is a worrying sign of a wider disregard for the importance of healthcare workers. As we have seen over the past year and a half, frontline staff have been the backbone of the fight against COVID-19, putting their own lives on the line to keep the rest of us safe. The fact that they are now being denied the basic rights and recognition they deserve is nothing short of shameful.
In the end, this battle is about more than just pay restoration; it is about the future of the NHS itself. If the government continues to undervalue and underinvest in junior doctors, the very foundation of the healthcare system will be at risk. The time has come for the government to acknowledge their crucial role and to treat them with the respect and fairness they deserve.
Support Labour Heartlands
PLEASE HELP US KEEP GOING AD-FREE
This is a "Pay as You Feel" website.
Hey there! Thanks for stopping by. If you've enjoyed reading the articles on Labour Heartlands so far, We would be incredibly grateful if you could consider making a small donation. Labour Heathlands is not your typical news outlet. We are not here to simply regurgitate the daily news cycle, that's for the rest of them. Our focus is on delving deeper, uncovering the untold stories and shedding light on the issues that the mainstream media chooses to ignore.
Our unwavering commitment to journalistic integrity means that we are not influenced by any external forces. We are not beholden to PR companies, advertisers or press barons, and we refuse to let anyone dictate what we report on. Our editorial independence is sacrosanct, and our only allegiance is to the truth.
While we do not align ourselves with any particular political party, we stand firmly against corruption, injustice and the erosion of truth and the rule of law. We believe that accurate information is the lifeblood of a democracy and that facts are not up for debate.
Once again, thank you for your support – We truly couldn't do this without you!
PLEASE HELP US KEEP GOING AD-FREE