EU Unveils Controversial Green Label for Gas and Nuclear
The European Commission has labelled nuclear and gas as sustainable. Critics are calling the step "greenwashing" and say it could threaten the bloc's bid to become climate-neutral by 2050.
European Commission chief Ursula von der Leyen cannot repeat often enough how close stepping up climate action is to her heart.
She described the European Green Deal as "Europe's man on the moon moment." She has called climate neutrality "our European destiny." And she solemnly proclaimed that no effort will be spared for Europe to become the world's first continent with net-zero emissions.
The move has divided member states as the energy transition collides with political reality.
The EU announced on Wednesday technical amendments to its draft green-label criteria and proposed strengthening disclosure rules to ensure more transparency for investors.
The measure will now be scrutinised by national governments, but those opposing it may find it hard to block, as EU law requires at least 20 member states to reject the plan for that to happen. The positions of member states vary: the Netherlands and Denmark oppose including natural gas because they don't rely on such plants, while Germany — which is phasing out nuclear — criticized the green label for atomic power.
Greta Thunberg Tweeted: "The EU taxonomy today takes greenwashing to a completely new level. The people in power do not even pretend to care anymore. Now they are moving into unchartered greenwash territory". #PeopleNotProfit
The EU taxonomy today takes greenwashing to a completely new level. The people in power do not even pretend to care anymore. Now they are moving into unchartered greenwash territory.#PeopleNotProfit

— Greta Thunberg (@GretaThunberg) February 2, 2022
While the proposal underscored the divisions among countries and political parties. The right-wing EPP, the dominant group in the EU Parliament, acknowledged the role of nuclear as a low-carbon source of energy and said that natural gas used as a bridging fuel can help accelerate the shift to net-zero. The Greens said they would seek to muster a majority in the assembly to reject the regulation, which would classify those two energy sources as sustainable.
"The Commission is making a historic mistake with this proposal. It's undermining the credibility of the whole taxonomy," Bas Eickhout, Dutch vice-president of the group, told reporters. "With this, Europe is giving up its global leadership in green finance."
It'll be hard for the European Parliament and member states in the EU Council to reject the taxonomy proposal. Neither has the right to propose amendments — they can only block it if they get enough votes.
Can gas and nuclear be green?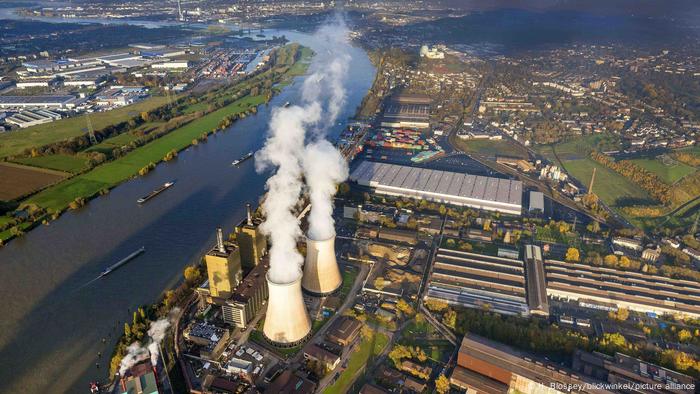 Germany has opted to use gas as a bridge away from more polluting fossil fuels and toward zero-carbon energy sources
Critics say the objective of climate neutrality could be under threat, as the European Commission, the EU's executive arm, decided to give nuclear energy and natural gas a green label under this taxonomy.
the EU Commission stated that certain strings remained attached. For example, gas plants could only be considered green if the facility switched to low-carbon or renewable gases, such as biomass or hydrogen produced with renewable energy, by 2035.
Nuclear power plants would be deemed green if the sites can manage to safely dispose of radioactive waste. So far, worldwide, no permanent disposal site has gone into operation though.
At a news conference in Brussels, Mairead McGuinness, the EU commissioner responsible for financial services, said her institution was not guilty of "greenwashing," as gas and nuclear were labelled as "transitional" energy sources in the taxonomy. "Our credibility is still strong," McGuinness added.
Natural gas can be liquified, allowing it to be shipped relatively easily via tanker
Environmental organizations most certainly see this critically, saying the proposal could jeopardize the EU's aim to reach climate neutrality by 2050. The Climate Action Network Europe wrote that the EU Commission "sacrifices the scientific integrity of the taxonomy on the altar of fossil gas and nuclear lobbies" and failed to "reorient financial flows towards genuinely climate-positive investments."
And it's not just climate activists: Also a group of experts advising the EU on the matter had announced how they are worried about "the environmental impacts that may result," for example the consequences of a nuclear accident. Building new nuclear plants would also take too long to contribute to the 2050 neutrality goals, they believe.
After being presented on February 2, the European Commission's taxonomy proposal will be reviewed by the 27 E.U. member states and by the European Parliament. As the E.U.'s executive opted for a delegated act, a type of fast-track legislative procedure, only a total of 20 E.U. countries, or a majority of E.U. lawmakers at the European Parliament, would be able to reject it.
Support Labour Heartlands
Help Us Sustain Ad-Free Journalism
Welcome to the Heartlands of Independent Journalism
At Labour Heartlands, we are committed to delivering independent news, views, and opinions. Our mission is to hold those in power accountable, and we can't do it without your support. As a non-profit independent organisation, we rely on our donors to keep our journalism ad-free and impactful.
Like everyone else, we're facing challenges, and we need your help to stay online and continue providing crucial journalism. Every contribution, no matter how small, goes a long way in helping us thrive. By becoming one of our donors, you become a vital part of our mission to uncover the truth and uphold the values of democracy.
While we maintain our independence from political affiliations, we stand united against corruption, injustice, and the erosion of free speech, truth and democracy. We believe in the power of accurate information in a democracy, and we consider facts non-negotiable.
Your support, no matter the amount, can make a significant impact. Together, we can make a difference and continue our journey toward a more informed and just society.
Thank you for supporting Labour Heartlands
Just click the donate button below