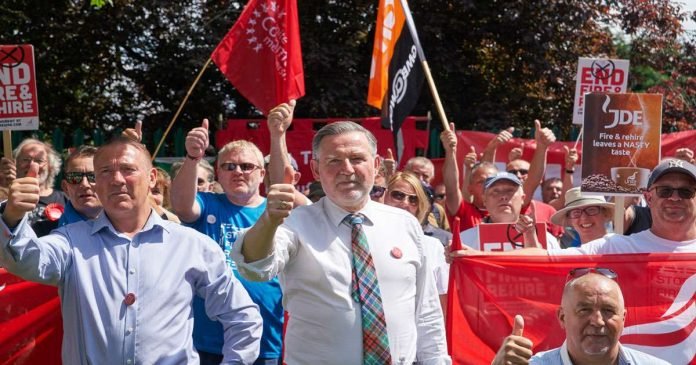 Government blocks bill to protect workers
The government has blocked a new law to curb businesses' ability to lay staff off and take them back on different – often worse – pay and terms.
The government has today (22 October 2021) blocked an attempt to pass a law that would prevent employers from using fire and rehire tactics to bully workers into lower paid jobs.
Introducing the Employment and Trade Union Rights (Dismissal and Re-engagement) Bill to its Second Reading in the House of Commons, Labour's Barry Gardiner said his bill would not ban fire and rehire due to the potential for "perverse consequences" such as mass redundancies when restructuring is essential within businesses.
Instead, it would require businesses to meaningfully consult with their workers and worker representatives when such restructuring is required in order to strike a mutually agreeable deal where new terms and conditions could enable a business to stay afloat through a crisis.
It was noted that nearly one in ten (9%) of workers responding to a Britain Thinks survey said they had been threatened with fire and rehire in the last nine months and that 70% of the companies using such tactics are not in fact at the precipice of collapse but still profit-making. Indeed, household names such as a Tesco, Sainsbury, Argos, British Airways and British Gas have all used fire and rehire tactics during the pandemic.
International comparisons, such as with Germany, were used to show how greater protections for workers also improved economic productivity, while fire and rehire was associated with a fall in worker morale and poorer economic outcomes as a result.
The practice – known as "fire-and-rehire" – has caused several industrial disputes.
Labour's Barry Gardiner said the government was "cowardly" for using Parliamentary tactics to stop his bill in its tracks.
Fire and rehire has become a widespread issue during the pandemic with major firms including British Gas, Weetabix, Sainbury's and British Airways all facing accusations of using the tactics to drive down workers pay and conditions in the past year.
As MPs got their first chance to debate the bill in parliament, Gardiner said politicians "can end this misery and must" but the government imposed a three-line whip to instruct Conservative MPs to vote against it.
MPs noted that after voting down a 'closure motion', which would have forced politicians to vote in support or opposition of the draft legislation, a significant proportion of the government side left the chambers.

This raised suspicions that they had been whipped to prevent the Bill from going to the vote in order to save the government the embarrassment of opposing action against such a highly unpopular practice.

The Employment and Trade Union Rights (Dismissal and Re-Engagement Bill) would have required employers to meaningfully consult with workers and worker representatives around changes to terms and conditions needed to prevent business collapse.

Barry Gardiner stressed that there was nothing in the Bill to outlaw the practice of renegotiating contracts in this manner, as this could have "perverse consequences" such as forcing troubled businesses to make mass redundancies.
"The human cost of these tactics is acknowledged by everyone and every party in this house."
Gardiner's bill – titled Employment and Trade Union Rights (Dismissal and Re-engagement) Bill – attempts to alter existing legislation to make it easier for workers and employers to negotiate terms without the threat of dismissal.
Instead, the Bill would stop employers from being able to use fire and rehire as a "sword of Damacles" held over their employees heads, forcing them to accept lower pay and conditions or lose their livelihoods entirely.
Speaking for almost an hour in his opening speech, Gardiner said: "This bill is about making Britain the best place to work. This bill is about levelling up. His bill is about treating people fairly.
"Fire and rehire is happening all over our country. We must act. Profitable companies are doing this to hard-working people.
Gardiner quoted Jacob Rees-Mogg in his bid to show that legislation is needed to tackle the issue but expressed his dismay at the government's opposition to the bill.
Gardiner said: "To quote the leader of the house: All companies operate best when their employees are operating with enthusiasm and these kind of tactics are very bad for morale in business. And as he famously said: "Fire and rehire is no way to do capitalism".
He added: "The tactic of filibustering to talk the bill out is cowardly
"Given all that ministers have said denigrating the practice of fire and rehire, it is remarkable that the government has imposed a three-line whip against it today. In politics, it's rare to find something that absolutely everyone agrees on.
"Everyone from Len McCluskey to the prime minister himself, everyone agrees that fire and rehire is wrong so why is the government determined to block this bill?"
In response, Conservative MP Laura Farris told Gardiner that there is disagreement on how fire and rehire is tackled.
While politicians on all sides of the House spoke against the use of fire and rehire to threaten workers, Tory MPs argued that primary legislation was not needed to prevent such behaviour and that updated ACAS guidance to businesses should be enough.
But No 10 said it wanted new guidance for companies, rather than a law.
A spokesman for Prime Minister Boris Johnson said: "Using threats of firing and rehiring is completely unacceptable as a negotiating tactic. We expect companies to treat their employees fairly.
"However, there is insufficient evidence to show legislation will stop the practice or will be effective."
Instead, the government says it will ask the arbitration service Acas to "produce more comprehensive clearer guidance to help all employers explore all the options before considering fire and rehire".
But after embarking on a "fact-finding exercise" into fire and rehire in June ACAS warned the practice could be used more frequently once Covid support schemes ended.
"I maintain a view that this bill actually poses risk for workers' rights. It exacerbates one of the deepest problems in industrial relations that has come about through this practice," said Farris.
She added: "We on this side of the house perhaps depart from you [Gardiner] in that we think there is strength and flexibility in existing employment law but we also think it could do with being robustly reinforced with financial penalties. We take this issue as seriously as you do and I am confident that we will deliver for workers rights."
While private member's bills are unlikely to make it into law without the backing of the government, Gardiner's bill retains support from trade unions.
Sharon Graham, the general secretary of Unite, which has intervened in disputes at Jacob Douwe Egberts and Go North West this year, said: "Workers want action, not more empty words. The prime minister has talked a good game on this issue. Now it is time for him to step up, to act and show workers that he means what he says."
The government ordered Conservative MPs to oppose the legislation.
But union chiefs said that amounted to siding with "bad" and "bullying" bosses.
The Labour Party ordered its MPs to support the bill, even though the party has said it would go further if it won power and ban fire-and-rehire completely.
Support Labour Heartlands
PLEASE HELP US KEEP GOING AD-FREE
This is a "Pay as You Feel" website.
Hey there! Thanks for stopping by. If you've enjoyed reading the articles on Labour Heartlands so far, We would be incredibly grateful if you could consider making a small donation. Labour Heathlands is not your typical news outlet. We are not here to simply regurgitate the daily news cycle, that's for the rest of them. Our focus is on delving deeper, uncovering the untold stories and shedding light on the issues that the mainstream media chooses to ignore.
Our unwavering commitment to journalistic integrity means that we are not influenced by any external forces. We are not beholden to PR companies, advertisers or press barons, and we refuse to let anyone dictate what we report on. Our editorial independence is sacrosanct, and our only allegiance is to the truth.
While we do not align ourselves with any particular political party, we stand firmly against corruption, injustice and the erosion of truth and the rule of law. We believe that accurate information is the lifeblood of a democracy and that facts are not up for debate.
Once again, thank you for your support – We truly couldn't do this without you!
PLEASE HELP US KEEP GOING AD-FREE