Maxwell's lawyers say the juror "told reporters that he had disclosed to the other members of the jury during deliberations that he was a victim of sexual abuse and further described his memory of those events".
Her lawyers have written to Judge Alison Nathan saying the issue "presents incontrovertible grounds for a new trial".
Christian Everdell, from Cohen and Gresser LLP, Maxwell's lawyers, added: "The juror told reporters that he disclosed to the other members of the jury during deliberations that he was a victim of sexual abuse and further described his memory of those events.
"According to the juror, his disclosure influenced the deliberations and convinced other members of the jury to convict Ms Maxwell."
The United States Attorney for the Southern District of New York has also written to Judge Nathan, saying the "government believes the court should conduct an inquiry".
But the defence, in a further letter, said the "government's request for a hearing is premature because based on undisputed, publicly available information, the court can and should order a new trial without any evidentiary hearing".
It added: "Ms Maxwell intends to request a new trial under Rule 33 because the 'interest of justice so requires'.
"Any submission will include all known undisputed remarks of the juror, including recorded statements, the relevant questionnaire, and other non-controverted facts.
"It is clear to Ms Maxwell that based on this record alone a new trial is required."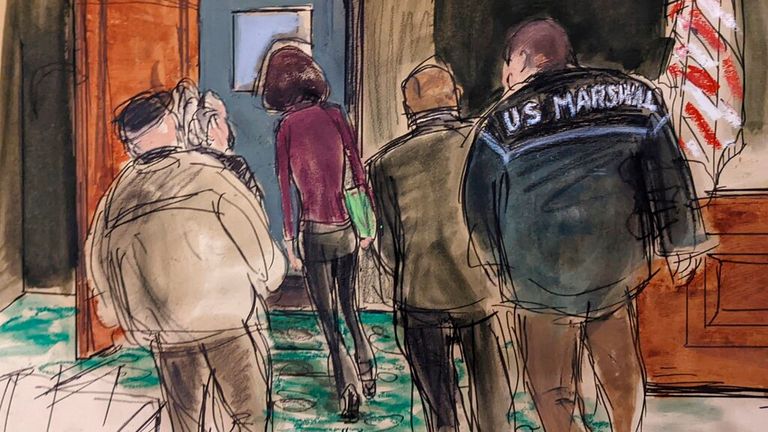 The juror, using his first and middle names, Scotty David, gave interviews saying he "flew through" the prospective juror questionnaire and does not recall being asked whether he had been a victim of sexual abuse.
Had he been asked, he "would have answered honestly", he added.
In interviews published on Wednesday by The Independent and the Daily Mail, the juror said during deliberations he told fellow jurors that, like some of Epstein's victims, he had been sexually abused as a child.
He said he convinced other jurors that a victim's imperfect memory of sex abuse does not mean it did not happen.
"I know what happened when I was sexually abused. I remember the colour of the carpet, the walls. Some of it can be replayed like a video," he said he told the jury, according to The Independent. "But I can't remember all the details, there are some things that run together."
In a letter to US District Judge Nathan, prosecutors said those reports "merit attention by the Court". The juror was identified only by his first and middle name in the articles.
The Department of Justice letter notes that while jurors were "free to discuss their jury service with anyone of their choosing", some of Scotty David's statements "merit attention by the court".
If continues: "The government proposes that the court schedule a hearing in approximately one month, along with an appropriate schedule for pre-hearing briefing regarding the applicable law and the scope of the hearing."
Support Labour Heartlands
PLEASE HELP US KEEP GOING AD-FREE
HELP US GROW.
This is a "Pay as You Feel" website.
This blog has no source of state, corporate or institutional finance whatsoever. It runs entirely on voluntary subscriptions from its readers – many of whom do not necessarily agree with every article, but welcome the alternative voice, insider information and debate.
You can have access to all of our online work for free. However if you want to support what we do, you could make a small donation to help us keep writing and staying ad-free. The choice is entirely yours.