Julian Assange to find out whether High Court will overturn a decision not to extradite him to the US.
The High court is set to rule Friday on whether WikiLeaks publisher and journalist Julian Assange can be extradited to the United States, an impending decision that led press freedom advocates and human rights campaigners to redouble their calls for his immediate release.
Assange, 50, is wanted in the US on allegations of a conspiracy to obtain and disclose national defence information. Charges that were immediately seen as a grave threat to press freedom given that they stemmed from Assange's publication of classified documents that exposed U.S. war crimes.
Julian Assange is regarded by many as a hero who uncovered war crimes and corruption. The embodiment of modern investigative journalism, dealing with huge amounts of leaked data provided by whistleblowers for publication in the public interest.
In July 2010, WikiLeaks, together with several media outlets, such as The Guardian, New York Times, published more than 90,000 US military documents related to the War in Afghanistan.
These included previously unreported details about civilian deaths, friendly-fire casualties, US air raids, al-Qaeda's role in the country, and nations providing support to Afghan leaders and the Taliban.
Among the most notorious material published by WikiLeaks is the "Collateral Murder" video, released in 2010. It depicts the infamous 2007 episode in Baghdad where US Apache helicopter personnel are recorded enthusiastically slaughtering a dozen Iraqis on the ground, including two Reuters journalists – a fitting hint, perhaps, as to the existential perils of journalistic efforts to document the truth.
In Assange's case, his crime is just that: telling the truth in contravention of an official narrative of heroic, world-saving interventions by the US military.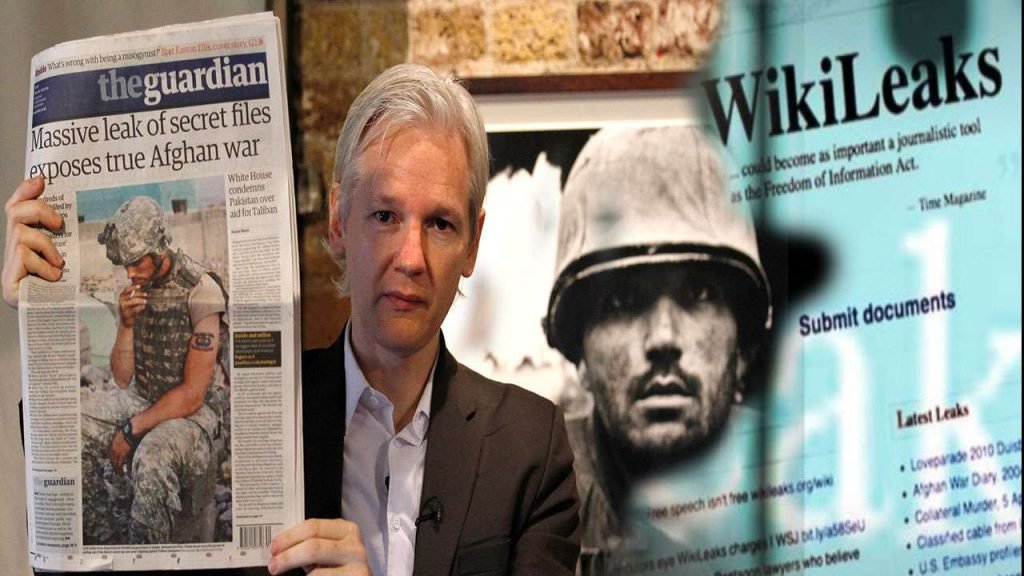 WikiLeaks shot to fame soon after the website released that 39-minute video.
The footage leaked by private Chelsea Manning led to global outrage, reigniting a debate over the US's occupation of Iraq and wider presence in the Middle East.
The July 2007 attack was made public with the video being shown over mainstream media, a move that angered the Pentagon so much, it had drawn up a report identifying the whistleblower website as a threat to national security. The US defence department was embarrassed when that confidential report appeared on the Wikileaks site alongside a slew of other military documents.
US authorities brought a High Court challenge against a January ruling by then-district judge Vanessa Baraitser that Assange should not be sent to the US, in which she cited a real and "oppressive" risk of suicide.
The Lord Chief Justice Lord Burnett, sitting with Lord Justice Holroyde, heard arguments from lawyers representing the US and those acting for Assange at a hearing in October.
The court was told that blocking Assange's removal to the US due to his mental health risks "rewarding fugitives for their flight".
James Lewis QC, for the US, said the district judge based her decision on Assange's "intellectual ability to circumvent suicide preventative measures", which risked becoming a "trump card" for anyone who wanted to oppose their extradition regardless of any resources the other state might have.
He told the court the district judge "entirely based her decision" on the risk Assange would be submitted to special administrative measures (SAMs) and detained at the ADX Florence Supermax jail, if extradited.
However, he said four "binding" diplomatic assurances had been made, including that it would consent to him being transferred to Australia to serve any prison sentence he may be given, which "fundamentally change the factual basis" of her judgment.
Mr Lewis argued the assurances could not have been given in advance, saying they were a "reactive" and "responsible" step in response to the district judge's findings.
He said they were a "solemn matter" and "are not dished out like smarties".
The US authorities have also argued Assange is well enough to be extradited, with Mr Lewis telling the court his mental illness "does not even come close" to being severe enough to prevent being sent to the US.
But lawyers representing Assange, who opposed the US's bid to overturn the block to his extradition, argued that the assurances over the WikiLeaks founder's potential treatment were "meaningless" and "vague".
In early January, roughly two weeks before President Joe Biden took office, a U.K. judge ruled against the U.S. extradition request, arguing the nation's carceral system is so brutal that it would endanger the WikiLeaks founder's life.
The Biden administration appealed the ruling a month later and promised the U.S. would not imprison Assange under harsh conditions if the court permits his extradition to face criminal charges.
But Amnesty International, among others, argues that U.S. assurances are hollow and not to be trusted.
"The U.S. made it very easy for us to oppose the extradition, because they gave with one hand and took away with the other," the group said earlier this year. "They say: we guarantee that he won't be held in a maximum-security facility and he will not be subjected to Special Administrative Measures and he will get healthcare."
"But if he does something that we don't like… we reserve the right to put him in a maximum-security facility, we reserve the right to offer him Special Administrative Measures. Those are not assurances at all," Amnesty added. "It is not that difficult to look at those assurances and say: these are inherently unreliable, it promises to do something and then reserves the right to break the promise."
"Freedom should be the only possible outcome for Assange," Kristinn Hrafnsson, the editor-in-chief of WikiLeaks, said Thursday.
Judgement in the US appeal against Julian Assange is tomorrow in London High Court. It's on the last day of the US Summit for Democracy and the same day two other journalists will formally get the Nobel Peace Prize. Freedom should be the only possible outcome for #Assange

— Kristinn Hrafnsson (@khrafnsson) December 9, 2021
Ignoring pleas from high-profile human rights organisations such as the ACLU, Amnesty International, and the Committee to Protect Journalists, the Biden administration has thus far refused to drop its predecessor's efforts to extradite Assange, who is currently languishing in a high-security prison in southeast London.
"We fully believe that Assange has been targeted for his contributions to journalism, as WikiLeaks' publication of thousands of leaked classified documents—the basis of the U.S. charges—informed extensive public interest reporting by media around the world, exposing war crimes and human rights violations," Rebecca Vincent, director of international campaigns for Reporters Without Borders wrote in a recent op-ed for Deutsche Welle.
"We continue to call for the charges against Assange to be dropped, and for him to be immediately released and certainly not extradited to the U.S.," Vincent added. "Assange's extradition and prosecution would have severe and long-lasting implications for journalism and press freedom around the world; the impact simply cannot be understated."
Speaking to the Evening Standard last month, Stella Moris—Assange's fiancé—stressed that the U.S. attempt to prosecute Assange is extremely dangerous "because it sets a precedent in relation to press freedoms."
"It's completely an insane proposition that has huge implications for press freedom and will just encourage others," said Moris, who added that "if Julian dies in a U.K. prison, I think it's catastrophic for the U.K.'s credibility because the U.K. would be primarily responsible."
"They hold the key to his cell," she continued. "They can stop this anytime. The problem is the perception that this is a judicial matter, when this is actually a political case."
Support Labour Heartlands
Help Us Sustain Ad-Free Journalism
Sorry, I Need To Put Out the Begging Bowl
Independent Journalism Needs You
Our unwavering dedication is to provide you with unbiased news, diverse perspectives, and insightful opinions. We're on a mission to ensure that those in positions of power are held accountable for their actions, but we can't do it alone. Labour Heartlands is primarily funded by me, Paul Knaggs, and by the generous contributions of readers like you. Your donations keep us going and help us uphold the principles of independent journalism. Join us in our quest for truth, transparency, and accountability – donate today and be a part of our mission!
Like everyone else, we're facing challenges, and we need your help to stay online and continue providing crucial journalism. Every contribution, no matter how small, goes a long way in helping us thrive. By becoming one of our donors, you become a vital part of our mission to uncover the truth and uphold the values of democracy.
While we maintain our independence from political affiliations, we stand united against corruption, injustice, and the erosion of free speech, truth and democracy. We believe in the power of accurate information in a democracy, and we consider facts non-negotiable.
Your support, no matter the amount, can make a significant impact. Together, we can make a difference and continue our journey toward a more informed and just society.
Thank you for supporting Labour Heartlands
Just click the donate button below