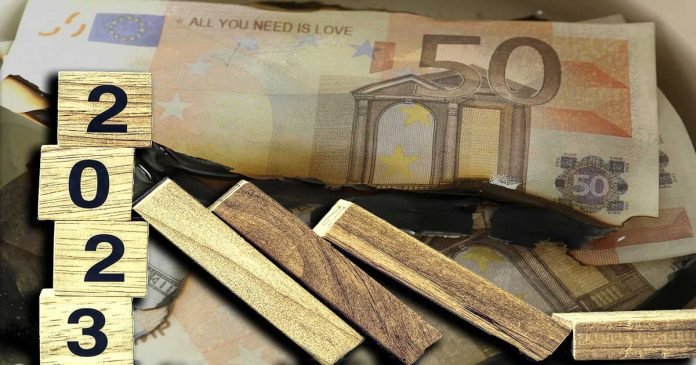 There is no let-up anywhere, the greedy oligarchs have led us all into a recession.
A eurozone recession is looming the only question is, Just how bad will it be?
Europe is sliding into recession as persistently high inflation and economic uncertainty stifle spending and energy blackouts loom.
"Evidence for a recession is accumulating," said Commerzbank economist Christoph Weil following the PMI survey release. In addition to skyrocketing prices hitting spending and production, "uncertainty about future gas supplies is making companies more cautious, which argues for less investment."
The European Central Bank now expects a technical recession this winter, defined as two consecutive quarters of negative growth.
Inflation keeps rising, reaching double digits in Germany for the first time since joining the euro area.
The rise in prices prompted the ECB to hike rates by 125 basis points already, and promising more in coming months.
"We are well aware that those decisions that we make on interest rates in order to fight inflation have an impact on those who borrow and those who lend," ECB President Christine Lagarde said Monday, adding: "Yes there will be consequences of different sorts but the purpose is price stability."
"The ECB is basically thinks it's normalizing policy, but in the current circumstance, it's actually amplifying a downturn," said Alex Brazier, deputy head at BlackRock Investment Institute.
All that economic hardship is set to feed political tension and opposition to sanctions against Russia, spooking politicians that difficult months lay ahead.
"We may be well be heading into one of the most challenging winters in generations," EU Economy Commissioner Paolo Gentiloni said.
The eurozone and most EU countries will head to an economic recession in the last quarter of 2022, according to the European Commission's autumn economic forecast.
"The economic situation has deteriorated markedly and we are heading into two quarters of contraction," said EU economy commissioner Paolo Gentiloni at a press conference.
The EU's executive revised up its inflation forecast from July, predicting that prices would peak at year-end and remain high in 2023. Inflation will average 9.3% in the EU and 8.5% in the eurozone for 2022, Brussels said.
"The EU is among the most exposed advanced economies (to high prices), due to its geographical proximity to the war and heavy reliance on gas imports from Russia," the European Commission said in a statement.
"The energy crisis is eroding households' purchasing power and weighing on production."
While prices are expected to come down in 2023, inflation is still predicted to be at 7% in the EU and 6.1% in the eurozone, before decreasing to 3% in the EU and 2.6% in the euro area in 2024.
The EU forecast was based on the assumption that geopolitical tensions such as the war in Ukraine would neither normalise nor escalate and that sanctions against Russia would remain in place. But, Gentiloni said, "the impact of adopted or planned fiscal energy measures adds uncertainty to the forecast for energy inflation."
Average inflation for 2022 was highest in the Baltics, where it was forecast to be 19.3% in Estonia, 18.9% in Lithuania, and 16.9% in Latvia this year.
European Commission Economic Outlook
EU labour markets are expected to react to the slowing economy but "remain resilient", the EU said, with employment growth expected to be at 1.8% before "coming to a standstill in 2023".
Unemployment rates in the EU were projected to be at 6.2% in 2022, 6.5% in 2023, and 6.4% in 2024.
"The labour market is still very strong, the strongest labour market in decades," said Gentiloni, adding that labour shortages are expected to abate.
GDP growth is expected to be stronger than the EU first predicted, at around 3.3% in the European Union due to the easing of COVID-19 measures.
But that GDP growth will be around just 0.3% in the EU and euro area in 2023, the European Commission predicted.
The new percentages were revised up from the European Commission's last economic outlook, which predicted that inflation would reach an average of 7.6% in the eurozone this year and 8.3% in the EU.
The European Central Bank has meanwhile raised interest rates three times this year to tackle the rising prices.
The bank could continue to raise interest rates, which impacts commercial banks, meaning that mortgages and credit cards would become more expensive.
The central bank's governing council said at the end of last month that inflation remained "far too high and will stay above the target for an extended period."
Inflation in the eurozone reached a record high of 10.7% in October, according to Eurostat's flash estimate at the end of the month.
The increase was fuelled by energy prices which Eurostat estimated were 41.9% higher than in the same month last year. Prices for food, alcohol and tobacco were up by 13.1% compared to last year.
There have been multiple strike movements in EU countries demanding higher wages due to the record inflation.
Support Labour Heartlands
PLEASE HELP US KEEP GOING AD-FREE
HELP US GROW.
This is a "Pay as You Feel" website.
This blog has no source of state, corporate or institutional finance whatsoever. It runs entirely on voluntary subscriptions from its readers – many of whom do not necessarily agree with every article, but welcome the alternative voice, insider information and debate.
You can have access to all of our online work for free. However if you want to support what we do, you could make a small donation to help us keep writing and staying ad-free. The choice is entirely yours.