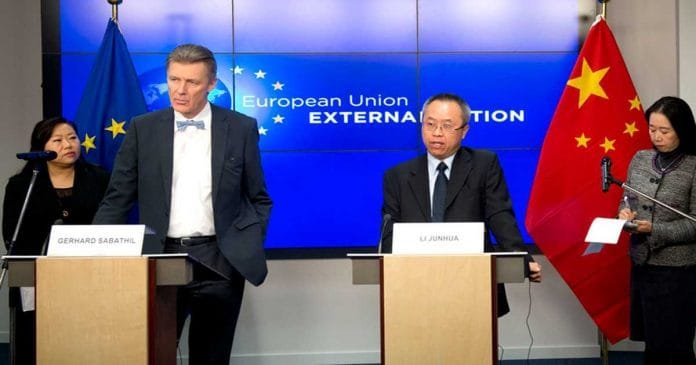 Three suspects are under investigation including a former EU diplomat and two lobbyists.
It's the first case in recent years to bring concrete allegations of spying by China against Germany and the European Union.
News of an investigation into a former senior EU diplomat suspected of spying for China is sending shockwaves through Brussels' closely interlinked circles of lobbyists, officials and politicians.
While no one has been charged in the probe taking place in Germany and Belgium, officials and lobbyists in the EU capital are already discussing the potential impact of the bombshell revelation that an EU veteran employed by a lobbying firm could have been passing sensitive information to Beijing.
The former EU ambassador suspected by German prosecutors of spying for China was Gerhard Sabathil, according to EU officials talking to US newspaper the Washington Post on condition of anonymity.
The dual German-Hungarian national had served as the EU envoy to South Korea, Germany, Iceland, and Norway prior to going to work for Eutop, a mid-sized lobbying firm with offices in Brussels, Berlin, and Munich, in 2017, where he was still listed as a "managing director" on its website on Friday (17 January).
The former German diplomat who worked in the EU's institutions is under investigation along with two lobbyists on suspicion of spying for the Chinese government.
Nine homes and offices in Brussels, Berlin, Baden-Württemberg and Bavaria have reportedly been raided by police on behalf of the German federal prosecutor's office.
The investigation, led by Germany's attorney general, Peter Frank, is examining the activities of the diplomat since he moved into lobbying two years ago, diplomat who works for a lobbying firm is now under suspicion of spying for China, Der Spiegel
A spokesman for the federal prosecutor's office confirmed the investigation "into suspected espionage" to news agency AFP.
Prosecutors did not provide further details on the case, except to say that none of the suspects had been arrested.
Two of the suspects are accused of "sharing private commercial information with the Chinese Ministry for State Security," according to news magazine Der Spiegel, which first reported on the raids.
The third suspect in the case indicated "a willingness to do so," the magazine reported.
The German suspect Gerhard Sabathil worked at the European Commission in Brussels and later served as an EU ambassador in several countries. In 2017, the suspect left to begin work at a "well-known lobbying firm" in Germany.
Sabathil was recalled from his ambassadorial stint in Seoul in 2016, just a year into his posting, after his security clearance was revoked, according to The Washington Post. Before that, he was director for East Asia and the Pacific at the Brussels headquarters of the European External Action Service, the diplomatic corps of the EU.
He was also affiliated with the College of Europe's postgraduate institute of European studies, whose main campus is in Bruges, Belgium. His profile page at the college reads: "Even though this profile continues to exist, this person is no longer working at the College of Europe."
The work history of Sabathil, who was previously ambassador to Norway and Iceland and led the EU representative office in Germany, matches the details published by Germany's Der Spiegel magazine, which first reported on the investigation, without disclosing any names of suspects.
Gerhard Sabathil the former diplomat is believed to have started spying for China in 2017 and recruiting the other two suspects, Der Spiegel reported.
If the allegations are confirmed, it would be one of the few cases to bring concrete evidence of China spying against Germany and the EU.
As Germany and others in Europe look to update their digital infrastructure and build up 5G networks, they face increasing pressure from the US to exclude Chinese technology giant Huawei.
rs/stb (AFP, dpa, Reuters)
Support Labour Heartlands
PLEASE HELP US KEEP GOING AD-FREE
HELP US GROW.
This is a "Pay as You Feel" website.
This blog has no source of state, corporate or institutional finance whatsoever. It runs entirely on voluntary subscriptions from its readers – many of whom do not necessarily agree with every article, but welcome the alternative voice, insider information and debate.
You can have access to all of our online work for free. However if you want to support what we do, you could make a small donation to help us keep writing and staying ad-free. The choice is entirely yours.