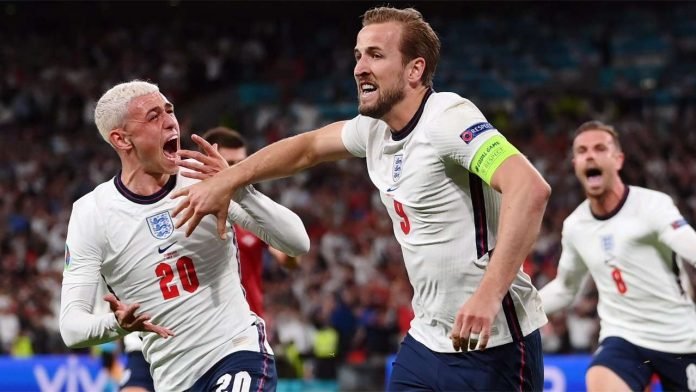 Congratulations to the England football team.
Harry Kane's extra-time goal gave England a 2-1 win over a shattered Denmark on Wednesday and took them through to the Euro 2020 final against Italy, their first major tournament final since the 1966 World Cup.
England and Denmark both found the back of the net in the first half, with Denmark midfielder Mikkel Damsgaard scoring in the 30th minute. England equalised when Denmark captain Simon Kjær scored an own-goal while trying to stop a cross to Raheem Sterling.
But a goalless second half, during which possession was mostly dominated by England, took the match into extra time.
Kane scored the follow-up after Kasper Schmeichel had saved his controversial penalty award in the 104th minute in front of almost 65,000 fans at Wembley.
Gareth Southgate's team has had a remarkable run at this year's European Championships, conceding only one goal in five games and putting four past Ukraine in the quarter final last week.
Prior to this year, England has reached the semi-finals of the European Championships in 1968 and 1996 when it lost in a heartbreaking penalty shootout to Germany.
In that clash, it was Southgate, then a young midfielder, who missed a penalty and doomed his side to defeat. 25 years later, it is Southgate that has taken his young team – which represents a new generation of English footballing talent – to the final.
For Denmark, which was hoping for its first international trophy since 1992, it marks the end to an equally extraordinary run in this year's Euros, which saw them score a total of 12 goals.
Denmark has scored in every game since their opening-night encounter with Finland, and fans had turned out in force at Wembley.
The final will be held at Wembley on July 11.
Support Labour Heartlands
WAIT! BEFORE YOU GO
PLEASE HELP US KEEP GOING AD-FREE
This is a "Pay as You Feel" website.
Your support for Labour Heartlands is greatly appreciated. As an independent nonprofit news outlet, we rely on our members to hold the powerful accountable. Our kind of reporting is essential to democracy, but it is not easy, cheap, or profitable.
To continue providing impactful journalism, we need your help. It's getting really hard for us all. Becoming one of our donors. It's simple and doesn't have to cost a lot. With as little as £2, £3, or £5 a month, you can support the journalism you rely on.
While we do not align ourselves with any particular political party, we stand firmly against corruption, injustice, and the erosion of truth and the rule of law. We believe that accurate information is the lifeblood of a democracy and that facts are not up for debate.
Your contribution, no matter how small, goes a long way in helping us continue our mission. Together, we can make a difference.
Thank you, The Labour Heartlands Team
PLEASE HELP US KEEP GOING AD-FREE