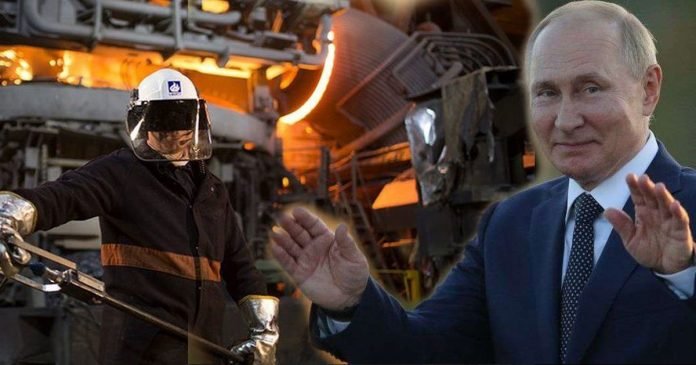 Energy prices: Steel boss says government offers no solution
The natural gas market has entered uncharted territory. The movements in the price of gas on Wednesday had been, in the words of one analyst, "unprecedented since the year dot of gas liberalisation in Europe". In record swings, Dutch wholesale gas, a European benchmark, soared by 30% within one period of three or four hours from an already eye-watering level.
These are chilling numbers for European governments with winter stretching ahead, and when the EU sneezes, the UK, heavily reliant on imports from across the Channel, also catches a cold.
The shortage was caused by a confluence of events around the world, as economies emerged power-hungry from their pandemic slowdowns. At the centre of the storm is Russia. While it supplies only 1% of UK gas, Russia is the biggest supplier to Europe, accounting for roughly 40% of all EU gas. And a squeeze on European gas volumes leads to price hikes in the UK and beyond.
There is no doubt that Russia did not deliver as high a volume of gas to north-west Europe this summer compared to pre-Covid years.
From September to October, north-west Europe volumes dropped by about 17%, according to Tom Marzec-Manser, the lead European gas analyst at ICIS LNG Analytics.
Russia President Vladimir Putin appeared to calm the market after gas prices had risen by 37% in 24 hours to trade at 400p per therm.
Europe has placed itself at the mercy of Putin.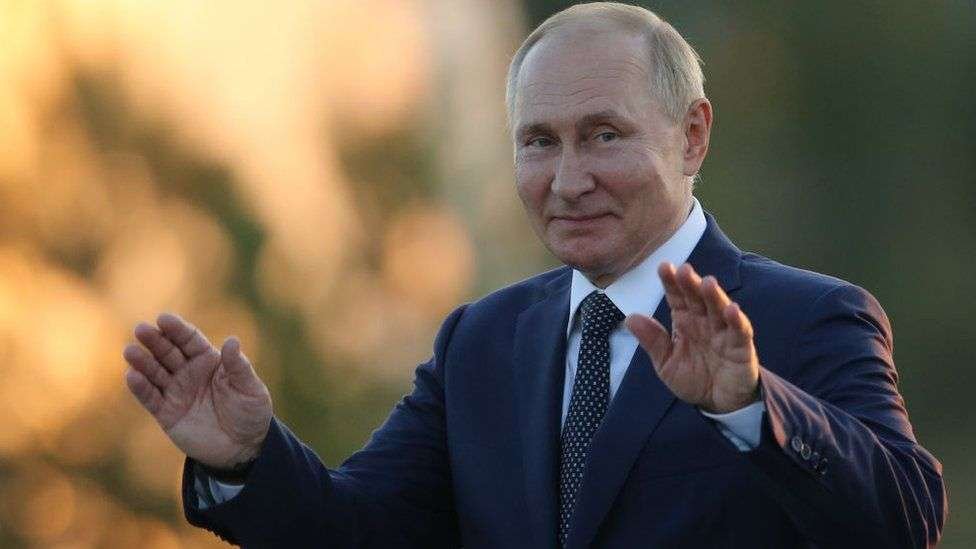 UK gas was 60p per therm at the start of the year, but high global demand and reduced supply have driven prices up.
The high cost of wholesale gas has seen several UK energy firms collapse and halted production across industries.
Following Mr Putin's comments on supplies, gas prices dropped to about 257p a therm later on Wednesday.
Susannah Streeter, senior investment and markets analyst at Hargreaves Lansdown, said the changing gas prices underlined the "volatility in the market and the nervousness amongst investors about low stockpiles of gas across Europe".
"When Putin's promises help calm the storm of rising prices which was pummelling financial markets, it's clear investors are desperate for any gust of good news blowing in," she said.
The surge in prices led to Energy Intensive Users Group, which represents steel, chemical and fertiliser firms, calling on the government to help keep businesses and industries running.
Industry leaders said surging costs had already resulted in steel production halting "at times of peak demand".
Last month, US-owned CF Industries shut two UK sites that produce 60% of the country's commercial carbon dioxide supplies because of the rise in gas prices, before the government stepped in to meet its operating costs for its Teesside plant for three weeks.
The government has failed to find solutions to halt soaring energy prices, UK Steel boss Gareth Stace has said.
He was speaking after leaders of energy-intensive industries met with Business Secretary Kwasi Kwarteng.
"We can't wait until Christmas and beyond. Or even a few weeks. We need action now, it needs to be swift, decisive action," Mr Stace said.
The government said it was exploring ways to manage high energy costs.
Gas prices have risen 250% since January, pushing up costs dramatically.
Mr Stace told the BBC that Mr Kwarteng had listened but had provided "no immediate solutions or guarantees".
The UK Steel director general said he was "baffled" because governments in the rest of Europe had stepped in to support industry, although they faced lower energy costs than in the UK.
Representatives from energy-intensive sectors including paper, glass, cement, lime, ceramics, chemicals and steel were at Friday's talks with the business secretary.
The Energy Intensive Users Group (EIUG) said it hoped the government would find ways to support those sectors.
Mr Kwarteng told the business representatives he would continue to work with them to tackle the problem.
His department said the government would assess the options put forward by the industry, with his spokesperson saying: "We recognise the recent increase in global gas prices will be a cause of concern for businesses in the UK.
"We are in regular contact with Ofgem and business groups to explore ways to manage the impact of rising global prices."
Mr Kwarteng also stressed government confidence in the security of gas supplies this winter.
After the meeting, EIUG chair Richard Leese said the government had made "positive first steps to develop practical solutions".
"EIUG will work with government to avoid threats both to the production of essential domestic and industrial products, as well an enormous range of supply chains critical to our economy," he said.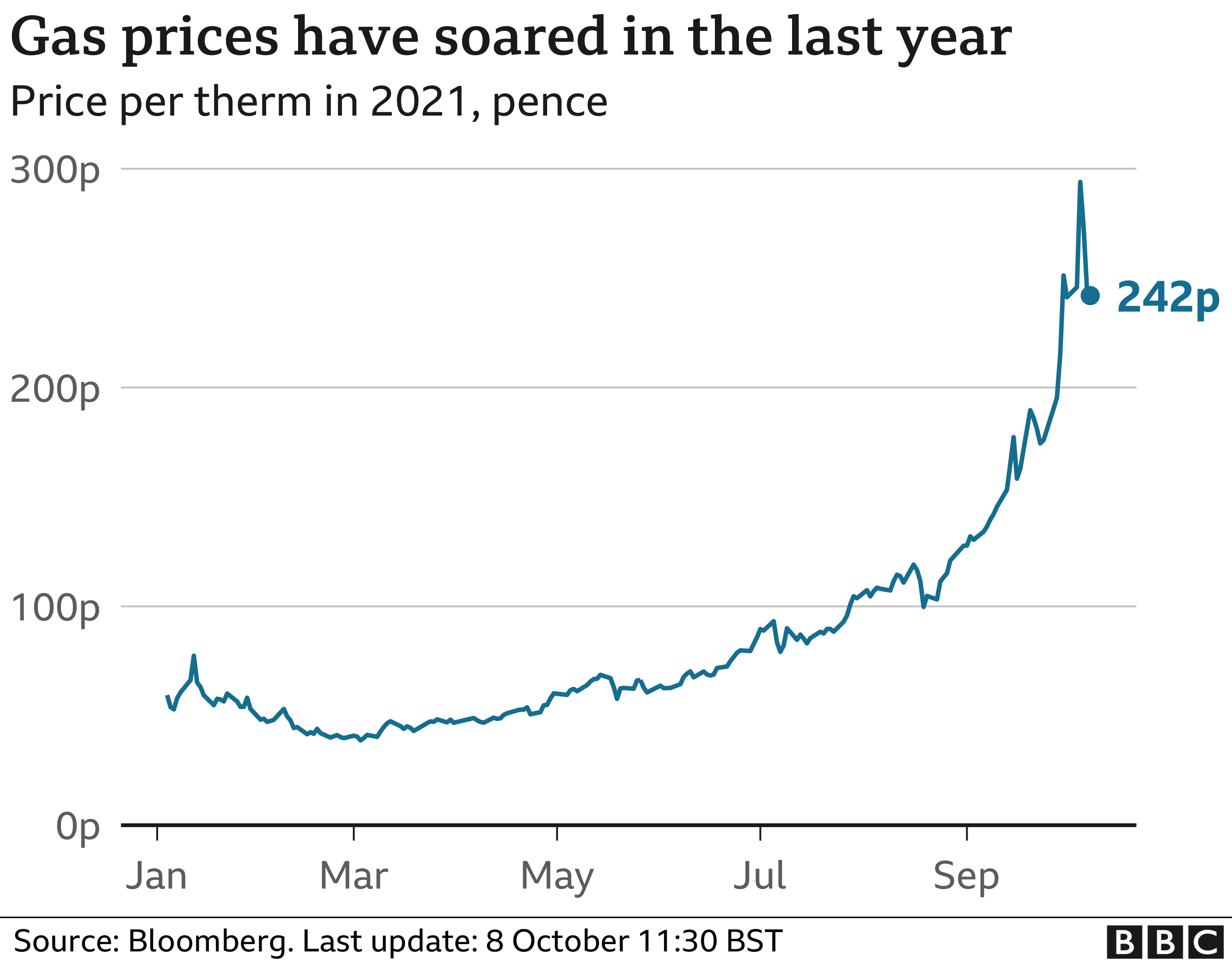 Andrew Large, director-general at the Confederation of Paper Industries, said there were "serious" risks factories could stop operating as a result of the gas prices being too high.
There have already been stoppages at fertiliser and steel plants due to high energy costs.
However, he said the business secretary appeared to share industry's desire to avoid any potential supply chain disruption.
On Thursday Mr Kwarteng said the government's strategy to shift to "clean" power sources by 2035, including wind, solar and nuclear, would reduce reliance on fossil fuels.
"The volatility of the gas price has shown we do need to plan strategically and net zero helps us do that," he said.
Speaking before the meeting, Mr Stace had said if the government failed to act it could "strangle steel production" in the UK.
A crisis in steel production as a result of high energy prices would affect the wider economy, he added, saying the government should consider taking additional action in the short term.
"We're pausing production already in terms of some steel producers in the UK…. and it's going to happen more often unless something is done, or the energy market corrects itself and I don't think that will happen any time soon."
He said the government should address the disparity in energy costs for UK steel makers who he said were paying 50-80% more for electricity than German producers.
Other countries, such as Italy and Portugal, had "committed billions of euros" to address the rising cost of gas, he added.
"If the government does nothing then tomorrow, there'll be a steel crisis, and given in terms of what impact that could have on jobs, then that wouldn't be good, not only for the steel sector, for those regions where steel is, but for the UK economy as a whole," he said.
The price of wholesale gas has soared since the start of the year. And the UK has lower levels of gas stored than other European countries, which could help cushion price volatility.
Support Labour Heartlands
Help Us Sustain Ad-Free Journalism
Welcome to the Heartlands of Independent Journalism
At Labour Heartlands, we are committed to delivering independent news, views, and opinions. Our mission is to hold those in power accountable, and we can't do it without your support. As a non-profit independent organisation, we rely on our donors to keep our journalism ad-free and impactful.
Like everyone else, we're facing challenges, and we need your help to stay online and continue providing crucial journalism. Every contribution, no matter how small, goes a long way in helping us thrive. By becoming one of our donors, you become a vital part of our mission to uncover the truth and uphold the values of democracy.
While we maintain our independence from political affiliations, we stand united against corruption, injustice, and the erosion of free speech, truth and democracy. We believe in the power of accurate information in a democracy, and we consider facts non-negotiable.
Your support, no matter the amount, can make a significant impact. Together, we can make a difference and continue our journey toward a more informed and just society.
Thank you for supporting Labour Heartlands
Just click the donate button below