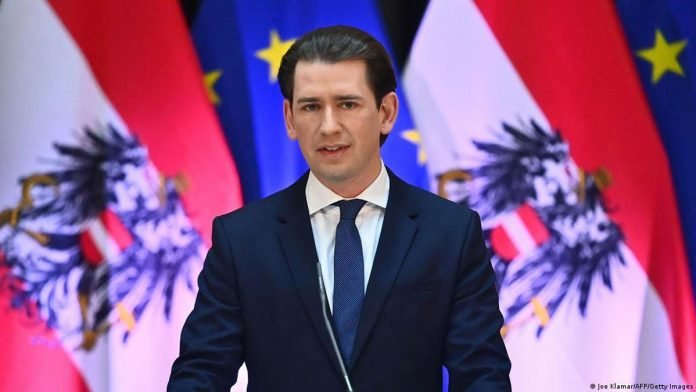 Austrian Chancellor Sebastian Kurz has announced he is stepping down after being accused of corruption.
Austrian Chancellor Kurz denies claims he used government money to ensure positive coverage in a tabloid newspaper.
Kurz and his close associates are accused of trying to secure his rise to the leadership of his party and the country with the help of manipulated polls and friendly reports in the media, financed with public money. Kurz, who became the right-wing 'The Austrian People's Party' leader and then chancellor in 2017.
The corruption allegations relate to the period between 2016 and 2018, when finance ministry funds were suspected to have been used to manipulate opinion polls in favour of the ÖVP that were then published in a newspaper.
While no newspaper was named by prosecutors, the tabloid daily Oesterreich put out a statement on Wednesday denying media reports it had taken taxpayers' money for advertising in exchange for publishing the favourable polls.
Mr Kurz, nine other individuals, and three organisations, have been placed under investigation "on suspicion of breach of trust … corruption … and bribery … partly with different levels of involvement," the Prosecutors' Office for Economic Affairs and Corruption said in a statement on Wednesday.
Earlier in the day, prosecutors carried out raids at the chancellery, the finance ministry and homes and offices of senior aides to the chancellor.
Mr Kurz has called the allegations against him "baseless".
He also denies wrongdoing in a separate investigation he was placed under in May over allegations that he made false statements to a parliamentary commission.
The allegations this week took his coalition government to the brink of collapse after its junior partner, the Greens, said Mr Kurz was no longer fit to be chancellor.
Kurz denies any wrongdoing and says the allegations are "false", adding that he is stepping down to "prevent chaos and ensure stability".
Kurz said that he plans to step down in an effort to defuse a government crisis triggered by prosecutors' announcement that he is a target of a corruption investigation.
Kurz, 35, said he has proposed that Foreign Minister Alexander Schallenberg replace him. But Kurz himself will remain in frontline politics: he said he will become the head of his conservative Austrian People's Party's parliamentary group.
Kurz's party had closed ranks behind him after the prosecutors' announcement on Wednesday. But its junior coalition partner, the Greens, said Friday that Kurz couldn't remain as chancellor and demanded that his party nominate an "irreproachable person" to replace him.
The Greens began talks with opposition parties, who were threatening to bring a vote of no confidence against the chancellor next week.
Greens leader and Vice-Chancellor Werner Kogler welcomed Mr Kurz's resignation and indicated he would be willing to work with Mr Schallenberg, saying they had a "very constructive" relationship.
"What's required now is stability. To resolve the impasse I want to step aside to prevent chaos," Mr Kurz said as he announced his resignation.
He said he would remain leader of his party, and continue to sit in parliament.
"First and foremost, however, I will of course use the opportunity to disprove the allegations against me," he added.
Kurz said he will keep his party's leadership as well as becoming its parliamentary group leader.
Kurz's first coalition with the far-right Freedom Party collapsed in 2019. The chancellor pulled the plug after a video surfaced showing the Freedom Party's leader at the time, Vice Chancellor Heinz-Christian Strache, appearing to offer favors to a purported Russian investor.
Support Labour Heartlands
PLEASE HELP US KEEP GOING AD-FREE
This is a "Pay as You Feel" website.
Hey there! Thanks for stopping by. If you've enjoyed reading the articles on Labour Heartlands so far, We would be incredibly grateful if you could consider making a small donation. Labour Heathlands is not your typical news outlet. We are not here to simply regurgitate the daily news cycle, that's for the rest of them. Our focus is on delving deeper, uncovering the untold stories and shedding light on the issues that the mainstream media chooses to ignore.
Our unwavering commitment to journalistic integrity means that we are not influenced by any external forces. We are not beholden to PR companies, advertisers or press barons, and we refuse to let anyone dictate what we report on. Our editorial independence is sacrosanct, and our only allegiance is to the truth.
While we do not align ourselves with any particular political party, we stand firmly against corruption, injustice and the erosion of truth and the rule of law. We believe that accurate information is the lifeblood of a democracy and that facts are not up for debate.
Once again, thank you for your support – We truly couldn't do this without you!
PLEASE HELP US KEEP GOING AD-FREE