The Italian city of Bergamo, one of the worst-hit by the coronavirus outbreak, is having to transport its dead out of the city as its crematorium is struggling to cope. 
Army vehicles have been brought in to move dozens of coffins from Bergamo to other regions, according to Ansa news agency.
The wealthy city, northeast of Milan in Italy's Lombardy region, has recorded at least 93 coronavirus-related deaths as cases continue to grow relentlessly each day.
The mayor of Bergamo, Giorgio Gori, said the true number of related deaths could be higher as many people with COVID-19 symptoms had died before being tested.
"The crematorium of Bergamo, working at full capacity, 24 hours a day, can cremate 25 dead", said a spokesperson for the local authority.
"It is clear that it could not stand up to the numbers of the past few days."
Meanwhile, the local newspaper's daily obituary section has increased from two or three pages to 10.
Coffins are now being taken to crematoriums in Modena, Acqui Terme, Domodossola, Parma, Piacenza and several other cities.
Once the bodies have been cremated, the ashes will be brought back to Bergamo.
CFB, the area's largest funeral director, has carried out almost 600 burials or cremations since 1 March.
"In a normal month we would do about 120," said Antonio Ricciardi, the president of CFB. "A generation has died in just over two weeks. We've never seen anything like this and it just makes you cry."
There are about 80 funeral companies across Bergamo, each receiving dozens of calls an hour. A shortage of coffins as providers struggle to keep up with demand and funeral workers becoming infected with the virus are also hampering preparations.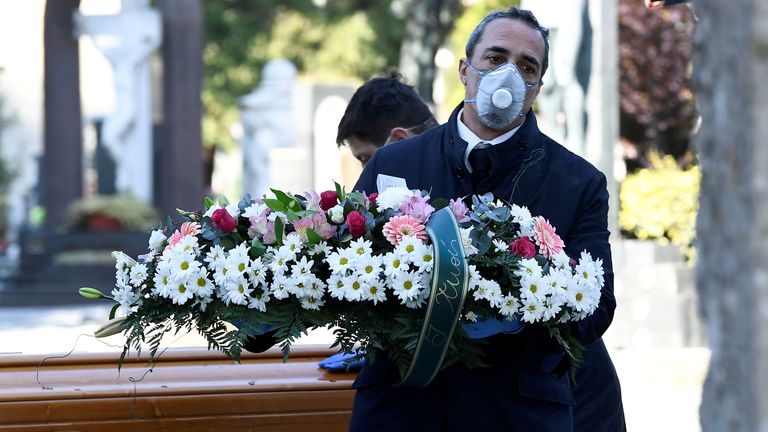 Reuters journalists witnessed two funerals per hour, over a period of six hours, on Monday.
Many of the deceased were unable to have funerals as the demand is too high, and instead they were taken to a chapel inside a church within the cemetery.
Coffins have already filled up two hospital mortuaries and a cemetery morgue.
Relatives have been allowed to enter the cemetery to pay their respects, but only in limited numbers and with the recommended amount of distance between each other to prevent the spread of the virus.
#covid19uk #Coronavirus #COVID-19
Support Labour Heartlands
PLEASE HELP US KEEP GOING AD-FREE
HELP US GROW.
This is a "Pay as You Feel" website.
This blog has no source of state, corporate or institutional finance whatsoever. It runs entirely on voluntary subscriptions from its readers – many of whom do not necessarily agree with every article, but welcome the alternative voice, insider information and debate.
You can have access to all of our online work for free. However if you want to support what we do, you could make a small donation to help us keep writing and staying ad-free. The choice is entirely yours.