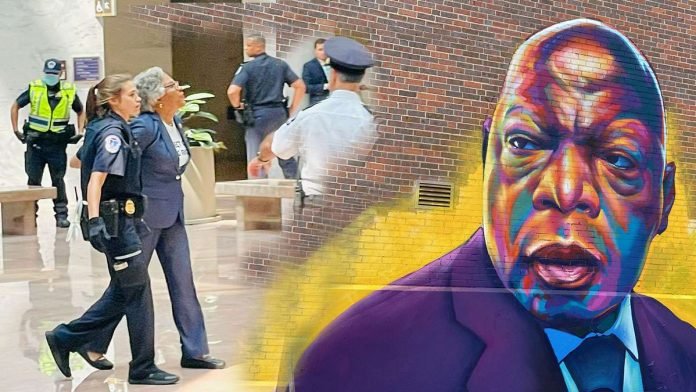 Police arrested Congressional Black Caucus chair, Joyce Beatty, on Thursday afternoon after she led pro-voting rights protesters into a Senate office building.
Beatty, the chair of the Congressional Black Caucus, participated in a small rally alongside 12 activists outside the Supreme Court building before marching to Hart, singing songs including "We Shall Overcome" and "This Little Light of Mine."After a warning from police to clear the area, Beatty was the first person arrested. Other members of the group were also arrested.
Officers moved in as Beatty, 71, and a handful of other activists, including Women's March co-founders Linda Sarsour and Tamika Mallory, chanted, 'Fight for justice,' and, 'End the filibuster.'
Capitol Police later said they had arrested nine people for 'demonstrating in a prohibited area on Capitol Grounds.'
The Ohio Democrat shared photos of herself being zip-tied on her Twitter account with the caption, "Let the people vote. Fight for justice," subsequently tweeting, "#GoodTrouble," a reference to the late Rep. John Lewis, a Georgia Democrat who served as a civil rights icon for his 60-plus years of social activism.
It comes as voting rights disputes divide the country between left and right: Republicans are devising tighter restrictions, with ID requirements and limited postal, while former President Trump continues to blame fraud for his defeat, while Democrats see an attempt to suppress turnout and make it harder for minorities to vote.   
We will not be turned around. We will keep walking. We will fight for freedom. We will fight for our right to vote! pic.twitter.com/uyJHXEy8Y0

— Joyce Beatty (@RepBeatty) July 15, 2021
Beatty laid out her stance in a string of tweets before she was arrested.
'Black women are demanding OUR right to vote! We're marching to the Senate to send a strong message,' she posted before setting off.
"I stand in solidarity with the Black women and allies across the country in defence of our constitutional right to vote," Beatty said in a statement posted to her Twitter account after her arrest.
"We have come too far and fought too hard to see everything systematically dismantled and restricted by those who wish to silence us. Be assured that this is just the beginning.
This is Our Power, Our Message."Thursday's rally was part of an event called "Speak Out: Call to Action Day on Capitol Hill," according to a release from Beatty's office ahead of the protest.
Some of the demonstrators were wearing shirts saying, "Protect Our Voting Rights" and "Black Voters Matter." Once they had entered Hart through the magnetometers and marched about halfway around the atrium, they stopped and chanted in favour of passing the For the People Act — a sweeping elections bill that Democrats hope will counter GOP efforts to curb voting rights in the states following the 2020 election.
Support Labour Heartlands
PLEASE HELP US KEEP GOING AD-FREE
This is a "Pay as You Feel" website.
Hey there! Thanks for stopping by. If you've enjoyed reading the articles on Labour Heartlands so far, We would be incredibly grateful if you could consider making a small donation. Labour Heathlands is not your typical news outlet. We are not here to simply regurgitate the daily news cycle, that's for the rest of them. Our focus is on delving deeper, uncovering the untold stories and shedding light on the issues that the mainstream media chooses to ignore.
Our unwavering commitment to journalistic integrity means that we are not influenced by any external forces. We are not beholden to PR companies, advertisers or press barons, and we refuse to let anyone dictate what we report on. Our editorial independence is sacrosanct, and our only allegiance is to the truth.
While we do not align ourselves with any particular political party, we stand firmly against corruption, injustice and the erosion of truth and the rule of law. We believe that accurate information is the lifeblood of a democracy and that facts are not up for debate.
Once again, thank you for your support – We truly couldn't do this without you!
PLEASE HELP US KEEP GOING AD-FREE