Twenty-two officers have been injured and police cars smashed up during "significant disorder" following an illegal street party in Brixton overnight.
This cannot be acceptable behaviour in 21st century Britain
Footage on social media showed a line of police retreating from crowds of people running at them with makeshift weapons on Overton Road near the Angell Town estate in Brixton.
Police said they were called by concerned residents to the illegal street party but were met by a "hostile" crowd.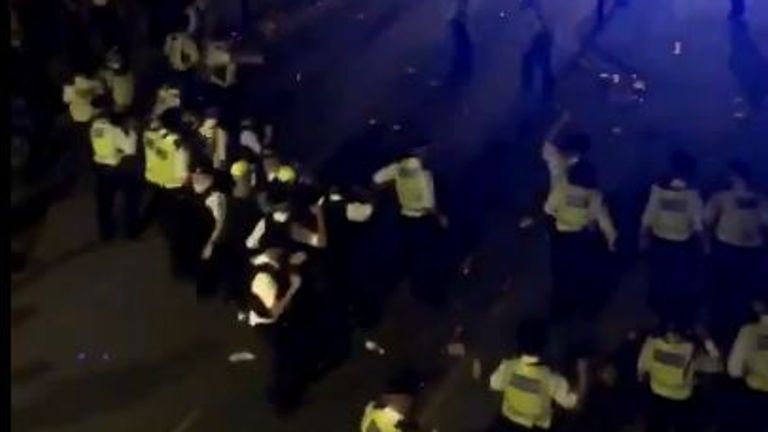 Police were called to Overton Road after reports of an unlicensed music event and were attacked as they attempted to disperse the crowd.
Video of the chaos also showed bottles being thrown at officers as they were chased from the area and the Prime Minister has condemned the "appalling scenes".
Two young men could be seen stomping on the bonnet and windshield of a Met Police vehicle as bystanders cheered them on.
Another man is seen brandishing an improvised weapon in front of a line of riot police as he shouts at them to "back up".
In another clip, one member of the public can be seen bleeding from the face.
One woman said: "They've finished the car. My Lord the police have abandoned their own car."
While another shocked onlooker said repeatedly: "The police are getting run out of here."
One woman who witnessed the scene condemned it as "disgusting and sickening" in light of current lockdown rules.
She tweeted: "They are out of control and you want to continue to ease lockdown? How were they allowed to have a BLOCK PARTY that had hundreds of people and it didn't get locked off?"
Four people have been arrested for assault and public order offences and remain in police custody.
Officers in riot gear attended the scene but were forced away as the crowd goaded them and hurled missiles.
Police have been involved in clashes with protesters on occasions during the past month, including during a far-right rally outside Parliament and to a lesser extent at Black Lives Matter demonstrations around the capital.
"Our officers work incredibly hard to engage and explain the public health message and regulations to prevent such gatherings occurring," Basic Command Unit Commander Colin Wingrove said in a police statement on Thursday. "The violence shown towards officers is totally unacceptable and we will not tolerate it in any form."
#angelltown pic.twitter.com/MsKpzdV8bo

— StevieCoelho☆ (@Bert_Buni) June 25, 2020
One officer said his team had been hit by bottles and missiles and subsequently made a tactical withdraw from the area.
He added: "Everyone of us wanted to kit up and go back in , due to injured officers unable to do so. Proud of all officers there last night. Very Hostile crowd."
In total, 22 officers were hurt, with two requiring hospital treatment for non-serious injuries.
BCU Commander Colin Wingrove, said:"Our role is to protect the public and ensure guidelines are adhered to in order to prevent the spread of Covid-19 protecting the NHS and save lives.
"Last night we received numerous concerns from residents complaining about a large gathering, noise, anti-social behaviour and violence and officers responded to those concerns.
"These gatherings are unlawful, as well as posing a risk to public health and against coronavirus restrictions.
"The violence shown towards officers is totally unacceptable and we will not tolerate it in any form.
"An investigation into the incident is now taking place and those involved will be brought to justice."
London mayor Sadiq Khan said: "I'm in touch with the Met about the completely unacceptable events in #Brixton overnight.
"Violence against the police will not be tolerated.
"Large gatherings during Covid-19 are deeply irresponsible and risk others' lives."
A spokesman for the Prime Minister said: "These are appalling scenes, violence against police will not be tolerated.
"Anyone who assaults the police or any emergency worker should feel the full force of the law.
"We will shortly be launching a consultation on doubling the maximum sentence that could be given for assaulting a police officer or emergency worker."
Support Labour Heartlands
Help Us Sustain Ad-Free Journalism
Welcome to the Heartlands of Independent Journalism
At Labour Heartlands, we are committed to delivering independent news, views, and opinions. Our mission is to hold those in power accountable, and we can't do it without your support. As a non-profit independent organisation, we rely on our donors to keep our journalism ad-free and impactful.
Like everyone else, we're facing challenges, and we need your help to stay online and continue providing crucial journalism. Every contribution, no matter how small, goes a long way in helping us thrive. By becoming one of our donors, you become a vital part of our mission to uncover the truth and uphold the values of democracy.
While we maintain our independence from political affiliations, we stand united against corruption, injustice, and the erosion of free speech, truth and democracy. We believe in the power of accurate information in a democracy, and we consider facts non-negotiable.
Your support, no matter the amount, can make a significant impact. Together, we can make a difference and continue our journey toward a more informed and just society.
Thank you for supporting Labour Heartlands
Just click the donate button below