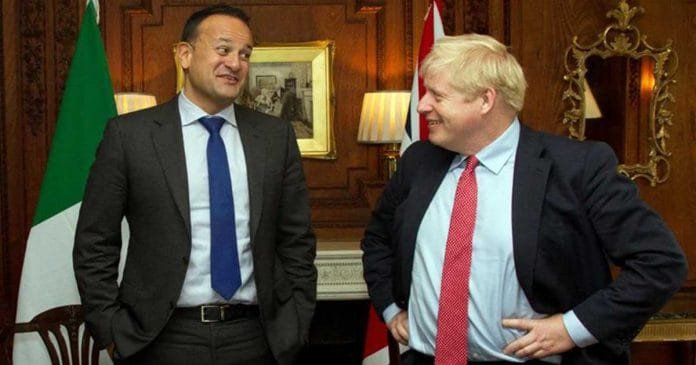 A Brexit deal could be clinched by the end of October to allow the United Kingdom to leave the European Union in an orderly fashion, Irish Prime Minister Leo Varadkar said after what he called a very positive meeting with Boris Johnson.
After Brexit descended into a public row between London and Brussels earlier this week, Johnson, the British prime minister, met Varadkar at Thornton Manor in Cheshire on Thursday in a last ditch bid to avert an acrimonious divorce or another delay.
The outcome seemed to be a total reversal of the bad feelings and negative build up seen earlier in the week.
Striking a positive tone at Liverpool airport, Varadkar said the main issues remain ensuring that any long-term agreement has the consent of the people of Northern Ireland and ensuring no customs border on the island of Ireland.
Varadkar said on Thursday. :
"I had a very good meeting with the prime minister … very positive and very promising," "I do see a pathway to an agreement in coming weeks."
"I think it is possible for us to come to an agreement, to have a treaty agreed, to allow the UK to leave the EU in an orderly fashion and to have that done by the end of October but there's many a slip between cup and lip and lots of things that are not in my control," he said.
"What I would hope that what's happened today would be sufficient to allow negotiations to resume in Brussels."
In a joint statement, the two leaders said they "could see a pathway to a possible deal".
When asked how long the "pathway" to a deal was, Varadkar said: "In terms of how long it will take, I can't predict that with any certainty, but I think all sides would like there to be an agreement next week at the council if possible.
"Obviously, there's a further deadline after that which is the 31st of October, so I would say a short pathway rather than a long one, but it's impossible to predict that for sure."
Johnson and Varadkar said they had discussed consent and customs.
Though Ireland is only about an eighth of the size of the United Kingdom's $2.8 trillion economy, Dublin is backed by the rest of the EU whose economy – minus the United Kingdom – is worth $15.9 trillion.
While Ireland would be very badly affected by a no-deal Brexit, the relative importance of Ireland in the negotiations up-ends centuries of history in which it has had a much weaker hand than London, both before and after winning independence from Britain.
The EU's two most powerful leaders, Germany's Merkel and French President Emmanuel Macron, will meet at the Elysee Palace on Sunday ahead of next week's summit.
"We want to reduce the negative effects, even if there is a disorderly Brexit, in both countries," Merkel said.
Macron said on Thursday Britain would have to pay the price should it decide to proceed with a position over Brexit that is unacceptable for the other 27 EU countries.
"If they don't want to make any move or make something which is not accepted, they will have to take the responsibility," he said.
Support Labour Heartlands
PLEASE HELP US KEEP GOING AD-FREE
HELP US GROW.
This is a "Pay as You Feel" website.
This blog has no source of state, corporate or institutional finance whatsoever. It runs entirely on voluntary subscriptions from its readers – many of whom do not necessarily agree with every article, but welcome the alternative voice, insider information and debate.
You can have access to all of our online work for free. However if you want to support what we do, you could make a small donation to help us keep writing and staying ad-free. The choice is entirely yours.