Cash buys influence, it's just just a matter of price.
The most commonly stated purpose of campaign reform is to limit the corrupting influence of money in politics. It has become conventional wisdom that campaign contributions are bribes and that elective offices are for sale to the highest bidder.
Anneliese Dodds has declared that the public will take a "very, very dim view" of a secretive club for the most generous Conservative Party donors that has reportedly granted them access to the highest level of government.
The Financial Times revealed last week that the exclusive group developed by Tory Party co-chair Ben Elliot, known as the "advisory board", held regular meetings and calls for its members with Boris Johnson and Rishi Sunak.
On Friday, the Financial Times revealed that the board held regular meetings and calls with Johnson and chancellor Rishi Sunak. Some members of the club, which was developed by the Tory co-chair Ben Elliot, have given at least £250,000 to the Conservatives. According to one donor, the discussions have been used by some of the donors involved in the group to call for public spending cuts and lower taxes.
Anneliese Dodds, Labour party chair, has now written to Amanda Milling, co-chair of the Conservative party, calling on the party to explain the workings of the board and publish a list of government ministers who were involved with the group alongside the names of the donors. "It is in the public interest for you to clarify the workings of this so-called 'Advisory Board' and Mr Elliot's role in offering a powerful elite exclusive access to the prime minister and chancellor — purely because of their status as Tory party donors," Dodds wrote in the letter. "The Conservative party needs to come clean on what access this group had, what they used that access to lobby for, and why it appears that there is one rule for high-ranking Conservatives and another rule for everyone else."
The Tories say the party's fundraising efforts have no bearing on government policy. "Government policy is in no way influenced by the donations the party receives. They are entirely separate," a spokesman said in response to the FT's original story about the Advisory Board on Friday.
They don't care, ethics don't come into it!
It's about how much a donor pays and what they get for their money, including a free lunch.
Labour are no different just cheaper!
It was also revealed in the Financial Times that Sir Keir Starmer is trying to persuade wealthy donors, including the founder of the outsourcing company Capita, to donate money in an effort to repair the Labour Party's finances as staff threaten strike action.
The Labour leader has spoken to a member of the Sainsbury family and to a billionaire property developer. Others who are being asked for donations include an heiress to the Tetra Pak fortune, the granddaughter of the founder of River Island, and the former executive chairman of Capita.
It seems both main political parties are now moving in the same direction. Labour has been offering cash for audiences since Starmer won the leadership competition in 2020 with the revival of Tony Blair's 'Thousand Club' now renamed the Rose Network. It gives rich Party donors access to online meetings with Labour MPs and frontbenchers, the more you pay the more access you get.
Members of the Rose Network Chair's Circle must give an annual donation of at least £5,000 to join. It states they then will play an active role in changing the lives of people across the country by helping elect a Labour Government.
The rewards for this elitist funding club not only allow access but include special treatment including invites to Breakfast and lunches and along with a 4-day conference pass and special privileges.
The Labour website states: "As a Rose Network member, you'll be invited to a programme of events, including live webinar discussions with key politicians, throughout the year, to network with others in the Labour movement and to have meaningful discussions on policy, ideas, and the big issues facing the country."
It has recently been reported that Tory donors have spent half a million on £10k tickets for Zoom call with Boris Johnson. With Labour donors been charged 5k a year for the same access to Labour MPs, when it comes down to it, political access for ordinary members has been outpriced their voices are less valued and mostly unheard.
A Labour Party group with links to Keir Starmer is being investigated for failing to declare financial backers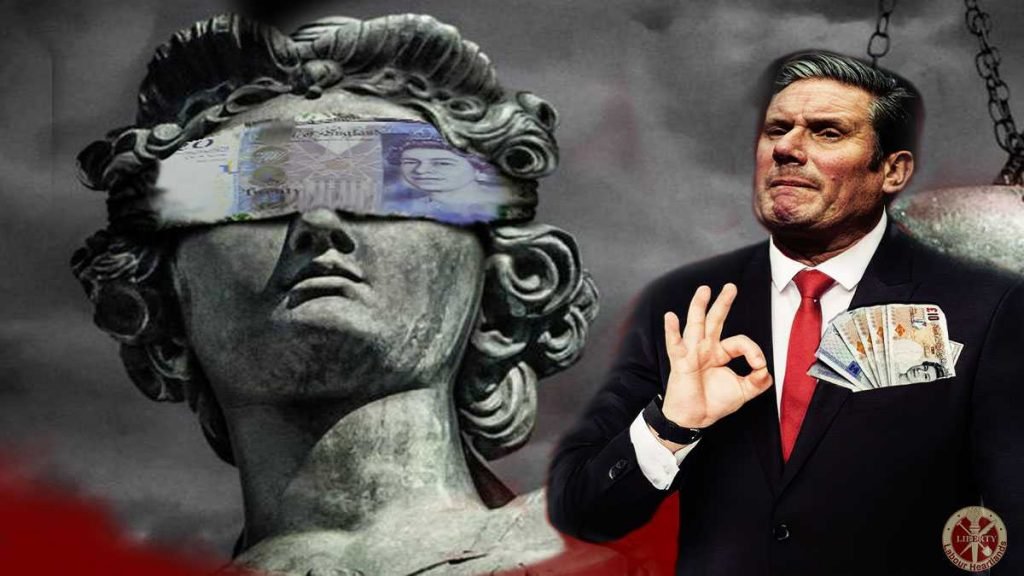 An influential Labour Party group with close links to Keir Starmer is under investigation by the UK's Electoral Commission after allegedly failing to declare over £800,000 in donations within the time required under law, Insider can reveal.
The investigation into Labour Together, which counts among its current directors' the Shadow Foreign Secretary Lisa Nandy MP and Shadow Secretary of State for Communities and Local Government Steve Reed MP, was opened in December 2020.
The investigation into Labour Together, which counts among its current directors' the Shadow Foreign Secretary Lisa Nandy MP and Shadow Secretary of State for Communities and Local Government Steve Reed MP, was opened in December 2020.
Labour together claim to be a network of committed Labour Party members, supporters and politicians. Some of the MPs who are helping to co-ordinate projects include Jon Cruddas, Lisa Nandy, Steve Reed, Shabana Mahmood, Jim McMahon, Bridget Phillipson, Wes Streeting, Marsha de Cordova, Alex Norris, Thangam Debbonaire, Darren Jones, Holly Lynch, James Frith, David Lammy and Jack Dromey.
A former managing director of Labour Together is Morgan McSweeney, who is now Sir Keir Starmer's chief of staff. Companies House records for the company behind Labour Together show McSweeney was secretary from July 2017 to April 2020, when Starmer became leader of the Labour Party.
It does not matter which way you cut it Left or right, it's only the amounts that differ, money is buying privilege within our political system.
We have seen millions donated by Russian Oligarchs
The Russian report didn't show a smoking gun on the EU referendum but what it did show, we have all been sold out or to rephrase that MPs have been bought out.
It's quite telling the headline is 'Russian interference in U.K. politics' and not 'British government turns a blind eye to Russian oligarchs to launder the proceeds of crime through the London economy'
It's another one of those things we aren't allowed to talk about even though it's the main finding of that report. Not nebulous 'Russia' i.e. the state but the relationship of the oligarchs and their dirty money to successive governments…
The report found that the U.K. is the world centre for money laundering. That this has involved the collusion of successive governments. This is the true face of 'the city' in which we are told our entire economy should depend.
For broad Russian influence in the UK. To a certain extent, this cannot be untangled and the priority now must be to mitigate the risk and ensure that, where hostile activity is uncovered, the tools exist to tackle it at source. Read more.
Russian influence in the UK is 'the new normal'
In a section on Russian expatriates, the report refers to Britain "welcoming oligarchs with open arms". However, it says the UK government's building of links with major Russian companies has been counter-productive, "in that it offered ideal mechanisms by which illicit finance could be recycled through what has been referred to as the London 'laundromat'".
The report says:
The extent to which Russian expatriates are using their access to UK businesses and politicians to exert influence in the UK is ***: it is widely recognised that Russian intelligence and business are completely intertwined. The Government must ***, take the necessary measures to counter the threat and challenge the impunity of Putin-linked elites. Legislation is a key step and is addressed later in this Report.
Links between Russian elite and UK politics
Members of the Russian elite closely linked to Vladimir Putin are involved in charitable and political organisations in the UK, putting them in a position to help the Kremlin influence operations, the report says.
"Several members of the Russian elite who are closely linked to Putin are identified as being involved with charitable and/or political organisations in the UK, having donated to political parties, with a public profile which positions them to assist Russian influence operations.
A Conservative party spokesperson said: "Donations are properly and transparently declared to the Electoral Commission, published by them, and comply fully with the law.
"Fundraising is a legitimate part of the democratic process. The alternative is more taxpayer-funding of political campaigning, which would mean less money for frontline services like schools, police and hospitals."
Johnson was recently criticised for defying the House of Lords appointments commission by giving a peerage to Peter Cruddas, a former Conservative co-treasurer involved in a previous cash-for-access scandal.
Cruddas resigned as Conservative co-treasurer in 2012 after the Sunday Times claimed he was offering access to the prime minister for up to £250,000. A year later Cruddas won £180,000 in damages in a libel action, although that was subsequently reduced to £50,000 after aspects of the original allegations were upheld when the paper appealed.
Political donations corrupt democracy!
He who pays the piper calls the tune.
We have seen during the covid crisis the rewards political donations have had on the decision making when huge contracts worth millions in public money have been awarded for no other reason than being a Tory donor or friend.
Corporations don't give their money away for nothing. There is an understanding (rarely made explicit) that large campaign donations buy political access and favourable consideration in policy development and legislation. Why else would a corporation, which is bound by law to pursue profits, make these donations?
Interestingly, many businesses give exactly the same amount of money to both sides of the narrow political divide.
Donating equally to both sides is clearly not about helping one side win. It's an implied threat: "if you don't treat us well we'll give you less and they'll be ahead." When both major parties have the same policy on an issue, it effectively removes that issue from democratic scrutiny.
This is the aim of many political donations from businesses who stand to lose from policy changes that would be popular with the electorate. Only areas of difference between contenders end up being discussion points during elections, the rest is passed over in silence.
There is an argument for public funding of political parties only made stronger by the extent of cronyism and donation rewarding we have seen during the covid crisis.
We have seen what party donors cost the public, they don't come cheap.
Support Labour Heartlands
Help Us Sustain Ad-Free Journalism
Sorry, I Need To Put Out the Begging Bowl
Independent Journalism Needs You
Our unwavering dedication is to provide you with unbiased news, diverse perspectives, and insightful opinions. We're on a mission to ensure that those in positions of power are held accountable for their actions, but we can't do it alone. Labour Heartlands is primarily funded by me, Paul Knaggs, and by the generous contributions of readers like you. Your donations keep us going and help us uphold the principles of independent journalism. Join us in our quest for truth, transparency, and accountability – donate today and be a part of our mission!
Like everyone else, we're facing challenges, and we need your help to stay online and continue providing crucial journalism. Every contribution, no matter how small, goes a long way in helping us thrive. By becoming one of our donors, you become a vital part of our mission to uncover the truth and uphold the values of democracy.
While we maintain our independence from political affiliations, we stand united against corruption, injustice, and the erosion of free speech, truth and democracy. We believe in the power of accurate information in a democracy, and we consider facts non-negotiable.
Your support, no matter the amount, can make a significant impact. Together, we can make a difference and continue our journey toward a more informed and just society.
Thank you for supporting Labour Heartlands
Just click the donate button below