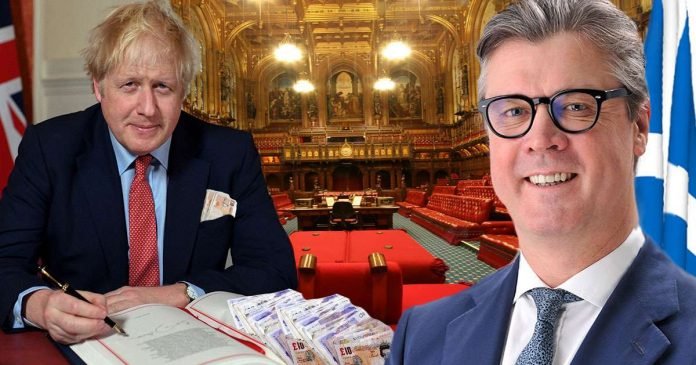 Unelected millionaire given peerage and Scottish ministerial role by Boris Johnson
A Conservative party donor who failed to win election to Holyrood in May is to be made a Scotland Office minister.
Businessman Malcolm Offord will be given a peerage to allow him to take up the UK government role.
The appointment led to Boris Johnson been accused of "rampant cronyism" after it emerged that a major Conservative Party donor was made a peer and a junior government minister on Thursday – months after he failed to become an MSP in the Holyrood elections in May.
Financier Malcolm Offord, who has gifted £147,500 to the Tories, was appointed parliamentary under secretary of state at the Scotland Office, led by Scotland secretary Alister Jack. Since he is not an elected official, Mr Offord had to be given a lifetime peerage to assume the role.
The move has angered some politicians in Scotland, with one SNP MP, Stewart Hosie, describing it as showing "contempt for democracy".
Malcolm Offord, who was dogged by accusations of "cronyism" during the candidate selection process for the Scottish Conservatives before the 2021 election, will take up the position of Parliamentary Under Secretary of State at the Scotland Office.
The founder of private equity firm Badenoch and Co. replaces the Banff and Buchan MP, David Duguid, who was sacked during the recent Cabinet reshuffle.
The appointment was condemned by the SNP. The party's Cabinet Office spokesperson, Stewart Hosie MP, said: "The stench of rampant cronyism surrounding this Tory government grows day by day. There are already serious questions facing the Tories over the use of millions of pounds of taxpayers' money for vanity projects and Covid contracts, but to now hand out roles and peerages to party donors shows contempt for democracy."
In December last year, of 54 people ennobled by Johnson, 13 had either funded the Tories or had an employment or personal connection to Johnson.
Among those made peers in December were Johnson's own brother, Jo, and his friend Evgeny Lebedev, the Russian-born newspaper owner who formerly hosted the PM in his Perugia mansion. Johnson's former chief strategic adviser, Edward Lister, was also made a peer, as were a series of well-known Brexiters, including the former England cricketer Ian Botham.
Also on Thursday, Downing Street announced that Stephen Parkinson, a former Tory staffer and candidate, lobbyist and campaign manager for Vote Leave, who was made a peer in 2019, had been given another government job. Already a whip in the Lords, he has been made a junior minister in the Department for Digital, Culture, Media and Sport.
The latest crop of peerages have taken the total size of the Lords to more than 830, despite a cross-party agreement three years ago that numbers should over time be reduced to 600.
The former Speaker of the upper house, Lord Fowler, has been among critics of its expanded size, saying there was in particular a need to reduce the number of "passengers" who contributed little.
Taxpayers' money
A Downing Street spokesperson said: "Malcolm Offord has a successful business career and brings experience of public life and politics in Scotland.
"The prime minister looks forward to working with the minister in the role to promote the interests of Scotland as we build back better from the pandemic."
Welcoming the appointment, Mr Jack said: "At this critical time, as we recover from the pandemic, Mr Offord will bring to bear a wealth of valuable business experience.
"I very much look forward to working with Malcolm over the coming months and years, as we invest in Scotland to grow our economy and create jobs."
The SNP's Cabinet Office spokesman Stewart Hosie claimed Mr Offord's appointment through a seat in the House of Lords was an example of "the sleaze at the heart of the UK government".
He said: "There are already serious questions facing the Tories over the use of millions of pounds of taxpayers' money for vanity projects and Covid contracts, but to now hand out roles and peerages to party donors shows contempt for democracy.
"Boris Johnson has clearly failed to appoint someone within his own ranks and has now had to go searching for a financial associate to help counter the growing support for independence."
It comes amid fresh allegations, by the Institute for Government (IfG) think-tank, that certain government departments are failing to live up to transparency commitments around who they are meeting with.
Analysis of data between July 2015 and March 2021 found the Foreign Office, Ministry of Justice and the Home Office to be the worst performers, according to IfG, which added Priti Patel's department had published the required data on senior officials' meetings in just three of 23 quarters between the 2015 election and March 2021.
Support Labour Heartlands
PLEASE HELP US KEEP GOING AD-FREE
This is a "Pay as You Feel" website.
Hey there! Thanks for stopping by. If you've enjoyed reading the articles on Labour Heartlands so far, We would be incredibly grateful if you could consider making a small donation. Labour Heathlands is not your typical news outlet. We are not here to simply regurgitate the daily news cycle, that's for the rest of them. Our focus is on delving deeper, uncovering the untold stories and shedding light on the issues that the mainstream media chooses to ignore.
Our unwavering commitment to journalistic integrity means that we are not influenced by any external forces. We are not beholden to PR companies, advertisers or press barons, and we refuse to let anyone dictate what we report on. Our editorial independence is sacrosanct, and our only allegiance is to the truth.
While we do not align ourselves with any particular political party, we stand firmly against corruption, injustice and the erosion of truth and the rule of law. We believe that accurate information is the lifeblood of a democracy and that facts are not up for debate.
Once again, thank you for your support – We truly couldn't do this without you!
PLEASE HELP US KEEP GOING AD-FREE