At least 400 people hurt in blast taken to area hospital, nurse says
Around 400 injured people have been taken to the emergency unit of the Hotel Dieu hospital after a blast rocked Beirut on Tuesday, a registered nurse on duty at the facility told CNN. 
The severity of the injuries was not immediately clear.
It is not yet clear what caused the explosion in the port area of the city. Video posted online showed a large mushroom cloud and destroyed buildings.
Hospitals are said to be overwhelmed by casualties.
It comes at a sensitive time with the country's economic collapse reigniting old tensions.
Tensions are also high ahead of the verdict in a trial over the killing of ex-PM Rafik Hariri in 2005. A UN tribunal is due to issue its verdict in the trial of four suspects in the murder by car bomb of Hariri on Friday.
Massive damage reported in Beirut, Lebanon, following a large explosion https://t.co/yq6sIAzq5Y

— Labour Heartlands (@Labourheartland) August 4, 2020
Lebanon's health minister, Hamad Hasan, has spoken of many injuries and extensive damage.
Reuters news agency quotes sources as saying 10 bodies have been pulled from the wreckage.
The cause of the explosion is still not known, but some reports suggest it may have been an accident. Lebanon's National News Agency reported a fire breaking out at what it called an explosives depot at the port.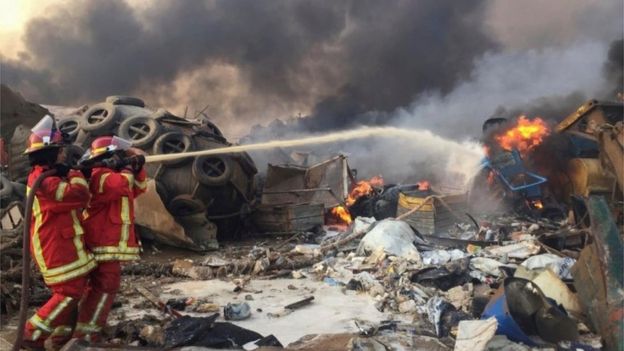 Local media showed people trapped beneath rubble. A witness described the first explosion as deafening. Video footage showed wrecked cars and blast-damaged buildings.
The latest reports come amid political tension in Lebanon, with street demonstrations against the government's handling the worst economic crisis since the 1975-1990 civil war.
There has also been tension on the border with Israel, which said last week that it had thwarted an attempt by Hezbollah to infiltrate Israeli territory.
Shock and anxiety
By Sebastian Usher, BBC Arab affairs analyst
The videos and images not just of the massive cloud of smoke erupting in Beirut but the damage and devastation it's caused kilometres away have triggered a new wave of shock and anxiety in Lebanon, which is already teetering on the brink of a catastrophic economic collapse.
Just hours before the blast, anti-government protesters had been scuffling with the security forces outside the ministry of energy, demanding yet again accountability from the country's leaders.
There have been grave warnings of hunger in the streets or a reigniting of sectarian conflict if the economy worsens.
And the blast will remind many of the bomb that killed Rafik Hariri. The Lebanese will be hoping that this latest blast will remain a human tragedy – an accident – and not a premeditated act.
The explosion could be felt 250k away
The Independent Scientific Organisation and provider of real-time earthquake info said:
"We received a number of reports from Cyprus which seem related to this explosion, reporting noise and rattling windows," EMSC tweeted.
Several social media users also wrote on Twitter they felt the explosion in their homes in Cyprus.  
We received a number of reports from #Cyprus (250km away) which seem related to this explosion, reporting noise and rattling windows https://t.co/321lyaaDHz

— EMSC (@LastQuake) August 4, 2020
"The explosion was felt in Limassol, Cyprus, our windows shaked (sic)," Elias Mavrokefalos tweeted. "I checked to see if we were being bombed," another Limassol resident tweeted. Another person said she also heard the explosion and felt a "light tremor" in the city of Nicosia.
Cyprus' Foreign Minister Nikos Christodoulides also tweeted that he's in "communication with the Lebanese government and have informed of Cyprus' immediate readiness to assist Lebanon."
Support Labour Heartlands
PLEASE HELP US KEEP GOING AD-FREE
HELP US GROW.
This is a "Pay as You Feel" website.
This blog has no source of state, corporate or institutional finance whatsoever. It runs entirely on voluntary subscriptions from its readers – many of whom do not necessarily agree with every article, but welcome the alternative voice, insider information and debate.
You can have access to all of our online work for free. However if you want to support what we do, you could make a small donation to help us keep writing and staying ad-free. The choice is entirely yours.