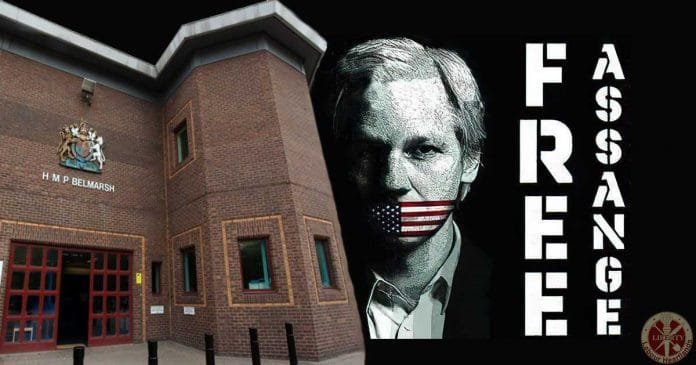 Prisoners' revolt and pressure from legal team and campaigners forces Belmarsh to move Assange out of solitary.
Assange's forced isolation and lack of access to proper medical care in Belmarsh prison has been heavily criticised by the UN expert on torture, as well as by dozens of medical professionals who have demanded that he be transferred to a proper teaching hospital for examination.
Prison authorities have removed Julian Assange from solitary confinement in what has been described as a "huge" and "important" victory by Joseph Farrell, WikiLeaks's Ambassador and section editor. The "dramatic climb-down" by Belmarsh prison authorities followed intense pressure both from his lawyers and from a group of fellow prisoners who petitioned the governor "on three occasions insisting that the treatment of Assange was unjust and unfair".
"Assange was moved to a different prison wing, albeit one with only 40 inmates", Farell explains in a video statement released via the Don't Extradite Assange Campaign Twitter account, on the afternoon of 24 January 2020. This followed meetings between "prisoners, lawyers and the Belmarsh authorities", he added.
Assange, who founded the WikiLeaks transparency organisation, remains in Belmarsh maximum security prison as he challenges his potential extradition to the US. He faces charges relating to his role in publishing classified US documents which revealed alleged war crimes committed by US forces in Iraq. Assange's prosecution has been described as a dangerous assault on press freedom and democracy, by the likes of intellectual Noam Chomsky, whistleblower Daniel Ellsberg, award winning journalists John Pilger and Chris Hedges, and the International Federation of Journalists.
Farrell says that there remain "serious concerns" regarding Assange's treatment in Belmarsh. "He is still being denied adequate access to his lawyers" and campaigners continue to insist that Assange should not be in jail at all, least of all in Belmarsh high security prison".
Prisoners' revolt and pressure from legal team and campaigners forces Belmarsh to move Assange out of solitary. WikiLeaks statement: pic.twitter.com/9Af9y3zC93

— Don't Extradite Assange (@DEAcampaign) January 24, 2020

WikiLeaks's editor-in-chef Kristinn Hrafnsson announced on 23 January 2020, outside of Westminster Magistrates' Court that the US government is now claiming that constitutionally guaranteed protections for speech and the press don't apply to foreign journalists. A contention which has drawn severe criticism from journalists and constitutional lawyers, especially as the US government is seeking to apply its criminal laws extra-territorially against journalists and publishers. Assange is being kept in Belmarsh prison despite completing his 50 week sentence for absconding while on bail when he sought and obtained asylum from the Ecuadorian embassy.
More than 50 US, UK, Australian & Canadian academics, human rights activists and lawyers have signed an open letter published in the Independent, calling on the US & UK to immediately release Julian Assange and Chelsea Manning from prison:
'All of us are in danger': John Pilger delivers warning from Julian Assange
Assange and Manning must be released
Over the past decade, Julian Assange and WikiLeaks have revealed human rights abuses and a string of instances of corporate, government and intelligence agency corruption. As scholars and citizens concerned with the protection of whistleblowers and a free press, with the ability to hold government to account for such abuses we call for the immediate release of Julian Assange and Chelsea Manning from prison.
We reiterate the concerns of the United Nations special rapporteurs regarding the ongoing mistreatment of Mr Assange and Ms Manning by the US and UK authorities, and affirm the statement of the UN Working Group on Arbitrary Detention that "the right of Mr Assange to personal liberty should be restored".
Professor Iain Munro of Newcastle University organized the effort. He spoke to Courage about what spurred him to action:
I've been interested in the work of WikiLeaks for a number of years both as an academic and as a concerned citizen. The media reporting about WikiLeaks has been very poor, especially in recent years. I became particularly concerned when Chelsea Manning was arrested again and Julian Assange was taken forcibly from the Ecuadorian Embassy and arrested.
A few weeks ago I organised a public event about Whistleblowing, Human Rights and the Media at which some prominent whistleblowers and supporters talked about the continuing mistreatment of whistleblowers. At that event John Kiriakou, Craig Murray, Robert Tibbo and Andrew Fowler spoke out in protest at the treatment of Julian Assange. Shortly after the event I was contacted by Professor Janet Grant and we decided that given the poor media coverage of Assange's situation, we would try to contact concerned scholars and activists to voice their open support of Julian Assange.
Munro added that the UN torture expert's report, calling for an end to Assange's "collective persecution," galvanised him as well:
Mr Nils Melzer, Special Rapporteur on torture and other cruel, inhuman or degrading treatment or punishment; is part of what is known as the Special Procedures of the Human Rights Council. Special Procedures, the largest body of independent experts in the UN Human Rights system, is the general name of the Council's independent fact-finding and monitoring mechanisms that address either specific country situations or thematic issues in all parts of the world. Special Procedures' experts work on a voluntary basis; they are not UN staff and do not receive a salary for their work. They are independent from any government or organisation and serve in their individual capacity.
The letter was signed by dozens of professors from the UK and Australia, whistleblowers including John Kiriakou and Katharine Gun, lawyers including Renata Avila and Jesselyn Radack, and many more:
Who's in the fight!
The only social force that can and will free Assange is the international working class. Assange is rightly viewed by millions of workers, students and young people around the world as a hero for revealing the truth about US war crimes, spying and mass murder.
The defence of Julian Assange, Chelsea Manning and all other class war prisoners must become a central demand in the resurgent struggles of the working class all over the world.
The WSWS, the International Committee of the Fourth International and the Socialist Equality Parties around the world are fighting to mobilise the broadest opposition to Assange's threatened extradition to the US and for his complete freedom. We urge our readers to contact us to get involved in this crucial fight!
#freejulianassange
Support Labour Heartlands
This is a "Pay as You Feel" website. You can have access to all of our online work for free. However if you want to support what we do, you could make a small donation to help us keep writing. The choice is entirely yours.
HELP US GROW BY SUPPORTING US
HELP US GROW.
The future can be ours - but only if we work together to make it happen. We've been fighting to make the Labour Heartlands a better, more fairer and equal place for over two years now. With a dedicated team and the commitment from our generous supporters giving small regular donations each month, more if they can afford it, we're winning. But there is still so much to do. We're ambitious, but we can only continue to make positive change and shape our country if more of our supporters join us on this journey. If you believe in the issues we fight for please take action and join Labour Heartlands grassroots think-and-do-tank today. It will make all the difference. And then we can make all the difference for everyone.
Not funded by millionaires or advertisers.
Labour Heartlands funded by the people.