The Ukrainian president accused the Netherlands' Mark Rutte of staying "silent" on Ukraine's potential EU membership
This weeks long read…
Zelensky told Dutch broadcaster NOS on Friday that the Netherlands' Prime Minister Mark Rutte needs to clarify whether Ukraine has a future in the European Union. Rutte is one of several top EU politicians to have cast doubt on a fast accession to the bloc for Ukraine.
Rutte spoke to Zelensky by phone on Thursday, two weeks after he virtually addressed the Ukrainian parliament in Kyiv. Rutte expressed his support for Ukraine in its conflict with Russia but did not offer any indication as to whether Kyiv's application for EU membership would be accepted in the near future.
"I said very openly to him: If you think there is no place for us in the EU, then you should say so clearly," Zelensky told NOS. "You really help us and I am very grateful for that," he recalled telling Rutte, "but as far as the EU is concerned, you stayed silent on all the things we wanted to hear."
"EU membership is a sign of strength in the fight we are waging against Russia at home," he declared.
Rutte has previously cautioned that to fast-track EU membership for Ukraine – as European Commission President Ursula von der Leyen has suggested would happen – would be unfair to long-term candidate states such as Turkey and Montenegro. Addressing Dutch lawmakers earlier this month, Rutte said that Ukraine would need to implement many reforms before being considered a viable candidate and that candidacy is at present "very far away" for Kyiv.
Zelensky has said:
"This war of Russia against Ukraine was planned as a prelude to a blow to a united Europe. Greater unification is a powerful response," he told a conference via video link on May 5, as he asked for formal candidacy for membership.
Candidacy opens the door to formal membership negotiations, a process that involves the adoption of established EU law and the fulfilment of other conditions, known as accession criteria.
France's European Affairs Minister Clement Beaune also stated earlier this month that Ukraine could take "15 or 20 years" to join the European bloc, while German Foreign Minister Annalena Baerbock warned in March that "joining the EU is not something that can be done in a few months." French President Emmanuel Macron has proposed inviting Ukraine into a so-called "European political community" as a stopgap measure, something that Zelensky has outright rejected.
There is no such thing as a fast track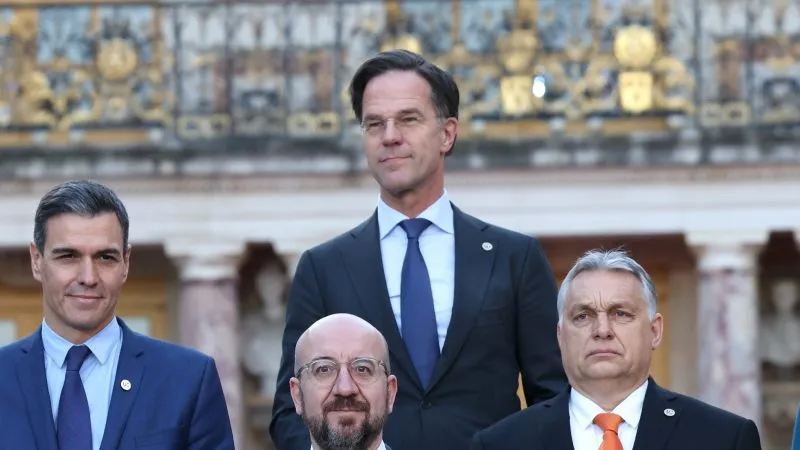 During a meeting in March on Ukraine's ascension into the EU at Versailles, French President Emmanuel Macron, who over the past years has been very reluctant on the enlargement of the bloc, had spoken about the "need to send a strong signal at this time to Ukraine and the Ukrainians" but "be vigilant".
"Can we open an accession procedure today with a country at war? I don't think so. Should we close the door and say never? That would be unfair. Can we forget about the balance of the region? We must be careful," he had told reporters before the summit in March.
Ukraine has been pursuing a path toward EU integration since the coup against Russia-leaning President Viktor Yanukovych in 2014 when he rejected EU and NATO membership sparking the flame of civil war in Ukraine.
In 2014 Ukraine said no to the EU eight years later the country is still in turmoil.
Oliver Stone: Ukraine on Fire

Oliver Stone's Ukraine on Fire Across its eastern border is Russia and to its west-Europe. For centuries, it has been at the center of a tug-of-war between powers seeking to control its rich lands and access to the Black Sea. The people of Ukraine just like the working class all over the world seek emancipation from the powers that would use them for their own gains. 2014's Maidan Massacre triggered a bloody uprising that ousted president Viktor Yanukovych and painted Russia as the perpetrator by Western media. But was it? "Ukraine on Fire" by Igor Lopatonok provides a historical perspective for the deep divisions in the region which lead to the 2004 Orange Revolution, 2014 uprisings after their refusal to join the EU afterwards the violent overthrow of democratically elected Yanukovych. Covered by Western media as a people's revolution, it was in fact a coup d'état scripted and staged by nationalist groups and the U.S. State Department. Investigative journalist Robert Parry reveals how U.S.-funded political NGOs and media companies have emerged since the 80s replacing the CIA in promoting America's geopolitical agenda abroad.

Posted by Labour Heartlands on Friday, 25 February 2022
The crunch came when Viktor Yanukovych decided Ukraine's future was not as part of the EU.
Ukraine's pro-European trajectory was abruptly halted in November 2013, when a planned association agreement with the EU was scuttled just days before it was scheduled to be signed. The accord would have more closely integrated political and economic ties between the EU
Relations between the European Union (EU) and Ukraine were shaped through the: Ukraine–European Union Association Agreement and the Deep and Comprehensive Free Trade Area (DCFTA). It stated Ukraine is a priority partner within the Eastern Partnership and the European Neighbourhood Policy (ENP). The EU and Ukraine are seeking an increasingly close relationship with each other, going beyond cooperation, to gradual economic integration and deepening of political cooperation.
The association agreement was initiated in 2012, but the Ukrainian government suspended preparations for signing the association agreement on 21 November 2013, during the presidency of pro-Russian Viktor Yanukovych, who attended the EU summit in Vilnius on 28–29 November 2013 where the association agreement was originally planned to be signed but it was not. The Ukrainian government refused to sigh.
The decision not to sign the association agreement led to the pro-EU Euromaidan movement.
In November 2013 a wave of large scale protests (known as Euromaidan) erupted in response to President Yanukovych's refusal to sign a political association and free trade agreement with the European Union at a meeting of the Eastern Partnership in Vilnius, Lithuania.
Protests continued for months. In February 2014 clashes between the protestors and the riot police became violent, and resulted in the deaths of nearly 130 people, including 18 police officers. On February 21, an agreement between President Yanukovych and the leaders of the parliamentary opposition was signed that called for early elections and the formation of an interim unity government.
After rejecting the Ukrainian-European Association Agreement, Yanukovych was ousted from office in the 2014 Ukrainian Revolution.
The following day, Yanukovych fled from the capital ahead of an impeachment vote and in fear of his life. He currently lives in exile in Russia.
Corruption
Ukraine's track record of corruption is seen as a major stumbling block to EU membership.
During the interview with NOS Zelensky was confronted about corruption in Ukraine. it was stated one of the reasons that a number of EU countries, including the Netherlands, are against accelerated membership is the persistent corruption problem in Ukraine. Ukraine ranks 122 on the list of least corrupt countries.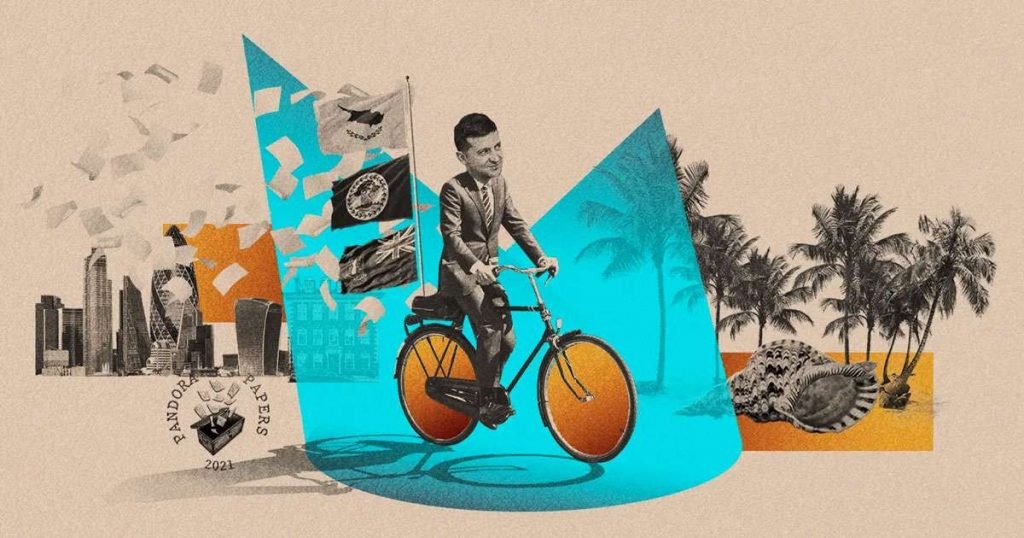 Zelensky reacted annoyed to questions about corruption saying: he has his doubts about these kinds of reports. "The Russian Federation claims that we are Nazis and they base that on those 'official reports'."
Speaking to NOS, Zelensky, who along with key members of his inner circle was revealed in the Panama Papers to hold an extensive web of offshore assets and properties, dismissed these concerns.
"How do you know that there is corruption in Ukraine?" he asked interviewer Marielle Tweebeeke. "Do you live here?" When confronted with the fact that these allegations of corruption have been spelled out in "official reports," Zelensky countered: "What makes them official?"
"Yes, there are problems," Zelensky conceded. "You have them in many countries. You also have them in many EU countries. There are reforms that we still need and want to implement."
Zelensky rode to power on pledges to clean up the Eastern European country, but the Pandora Papers reveal he and his close circle were the beneficiaries of a network of offshore companies, including some that owned expensive London property.
The documents show that Zelensky and his partners in a television production company, Kvartal 95, set up a network of offshore firms dating back to at least 2012, the year the company began making regular content for TV stations owned by Ihor Kolomoisky, an oligarch dogged by allegations of multi-billion-dollar fraud, coincidently before becoming part of Ukraine's armed forces, Ihor Kolomoisky funded The Azov Battalion Ihor Kolomoisky is an energy magnate billionaire and then-governor of the Dnipropetrovska region.
In addition to Azov, Kolomoisky funded other volunteer battalions such as the Dnipro 1 and Dnipro 2, Aidar and Donbas units.
Azov received early funding and assistance from another oligarch: Serhiy Taruta, the billionaire governor of Donetsk region.
The offshores were also used by Zelensky associates to purchase and own three prime properties in the center of London.
The documents also show that just before he was elected, he gifted his stake in a key offshore company, the British Virgin Islands-registered Maltex Multicapital Corp., to his business partner — soon to be his top presidential aide. And in spite of giving up his shares, the documents show that an arrangement was soon made that would allow the offshore to keep paying dividends to a company that now belongs to his wife.
Pandora Papers Key Findings
Ukrainian President Volodymyr Zelensky and his partners in comedy production owned a network of offshore companies related to their business based in the British Virgin Islands, Cyprus, and Belize.
Zelensky's current chief aide, Serhiy Shefir, as well as the head of the country's Security Service, were part of the offshore network.
Offshore companies were used by Shefir and another business partner to buy pricey London real estate.
Around the time of his 2019 election, Zelensky handed his shares in a key offshore company over to Shefir, but the two appear to have made an arrangement for Zelensky's family to continue receiving money from the offshore.
"Ukraine's history of corruption is used by many countries as a reason to withhold EU membership. Many Ukrainians, including President Zelensky during this interview, think that this is unfair. Zelensky calls the accusations unjust because, according to him, there are countries in the EU has corruption issues. Zelensky says a country is treated more harshly if it wants to join the EU than if a country is part of it."
"Yet there are also many Ukrainians who believe that Zelensky has not done enough about corruption problems in his country, even though it was one of his promises when he became president. Zelensky was also criticized for his alleged ties to oligarchs: according to some, he was selective. in his approach to corruption and he was not always strict."
"In the interview, he interprets the Eurobarometer poll in a way that is of course pleasing to him. He omits the last part of the statement."
The Ukrainian president also points out that 62 percent of the Dutch population supports Ukrainian EU membership in a Eurobarometer poll. That percentage is slightly higher among the entire EU population.
Zelensky believes that politicians should therefore also support membership. "Politicians are elected by the people." Incidentally, the statement in the poll was: Ukraine should join the EU if the country is ready.
However, the tenuous government of Mark Rutte may not be so certain as Zelensky when it comes to polls conducted by the EU and its Eurobarometer polling.
Dutch referendum 2016 on Ukraine-European Union treaty.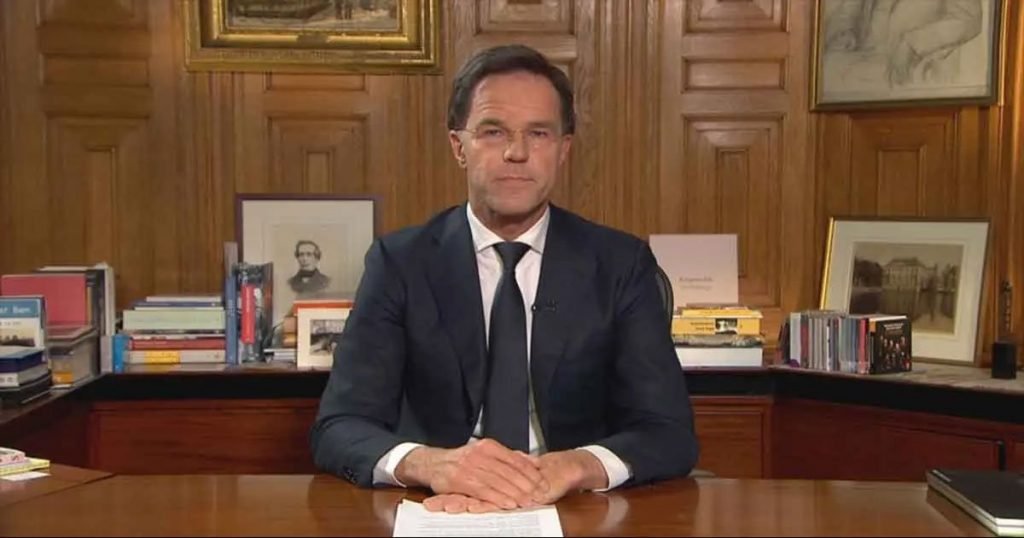 In 2016 while the UK debate leading up to Brexit the Dutch held a referendum on a Ukraine-European Union treaty.
Dutch voters have overwhelmingly rejected a Ukraine-European Union treaty on closer political and economic ties, in a rebuke to their government and to the European Union establishment.
Of the EU's 28 members, the Netherlands is the last government to ratify the deal. 
The treaty, which had already been signed by Dutch Prime Minister Mark Rutte's government and approved by all other European Union nations as well as Ukraine, took effect provisionally in January 2016.
But that didn't stop Dutch voters from rejecting the deal by a 64-36 margin in a national referendum. In another sign of antipathy, only 32 percent of voters went to the polls, fewer than in other recent elections and barely enough for the result to be considered valid.
Voters said they were voicing their opposition not only to the treaty itself but also to European policymakers on matters ranging from the migrant crisis to economic policy, not long before Britain's June vote on whether to stay in the EU.
Although the Dutch referendum was non-binding, Rutte acknowledged it was politically impossible for his unpopular government to continue ratifying the treaty in its current form.
That unpopularity has continued right through to the present day held together by a coalition of convenience.
In 2021 the then Prime Minister Mark Rutte government resigned over its response to a child welfare benefits scandal bringing about a general election.
Around 10,000 families in the Netherlands were told to repay tens of thousands of euros of subsidies after being wrongly accused of child welfare fraud.
After the election four Dutch parties reached a coalition deal, bringing an end to the country's longest talks to form a government and paving the way for Mark Rutte to serve a fourth term as prime minister.
Mark Rutte may wish to avoid another embarrassment by not daring to put the question twice to the Dutch people after all the polls on the EU referendum don't tend to turn out the way they are supposed to.
Zelensky is convinced that his country will also soon be ready for a permanent membership of the EU. He rejects objections that fighting corruption and other reforms will take years or even decades. "I heard from many countries inside and outside the EU that Putin would occupy Ukraine in three days. In many phone calls, I was told that I would be dead in three days."
"I often heard: leave Kyiv with your family right now. You are a strong man, but your place is not in Ukraine. I heard all kinds of things, but I believe in facts. The fact is that we are here in Kyiv."
Unfortunately, the fact is even in the EU there is a thing called the Rule of Law, no matter how hard the propaganda machine works it cannot completely change history. The Ukraine that existed before the 24th of February 2022 is far different to the one Zelensky would like us all to believe existed.
For many, it is an impossible suggestion for the EU to fast track Ukraine, a country that when not at war with Russia is in the midst of its own civil war a Proxy war for the US. For the wise, any talks of ascension should come only after talks of peace.
Support Labour Heartlands
Help Us Sustain Ad-Free Journalism
Sorry, I Need To Put Out the Begging Bowl
Independent Journalism Needs You
Our unwavering dedication is to provide you with unbiased news, diverse perspectives, and insightful opinions. We're on a mission to ensure that those in positions of power are held accountable for their actions, but we can't do it alone. Labour Heartlands is primarily funded by me, Paul Knaggs, and by the generous contributions of readers like you. Your donations keep us going and help us uphold the principles of independent journalism. Join us in our quest for truth, transparency, and accountability – donate today and be a part of our mission!
Like everyone else, we're facing challenges, and we need your help to stay online and continue providing crucial journalism. Every contribution, no matter how small, goes a long way in helping us thrive. By becoming one of our donors, you become a vital part of our mission to uncover the truth and uphold the values of democracy.
While we maintain our independence from political affiliations, we stand united against corruption, injustice, and the erosion of free speech, truth and democracy. We believe in the power of accurate information in a democracy, and we consider facts non-negotiable.
Your support, no matter the amount, can make a significant impact. Together, we can make a difference and continue our journey toward a more informed and just society.
Thank you for supporting Labour Heartlands
Just click the donate button below