The small-town takeout store worker who won over New Zealand — and the world
Who is Jacinda Ardern
Jacinda Ardern has won a second term as New Zealand's Prime Minister. It wasn't so long ago that Jacinda Ardern was behind the counter, taking orders at the nautical-themed takeaway joint. Now, the 40-year-old New Zealand Prime Minister is one of the world's most recognizable leaders.
Throughout her three-year term, she's attracted headlines — for being an unusually young Prime Minister, for giving birth while leading a country, for her empathetic handling of the Christchurch mosque attacks, and lately, for her swift, effective action against the coronavirus pandemic.
That's given her an outsized profile for the leader of a country of 5 million people. She's graced the covers of Vogue and Time magazine and hosted American TV personality Stephen Colbert at her suburban Auckland home. Last year, she topped a survey of most trustworthy politicians — in Australia.
Born in 1980 to Mormon parents, Ardern spent the first years of her life in Murupara, a small, economically depressed forestry town in New Zealand's Bay of Plenty. Ardern said in her maiden speech to parliament that her passion for social justice was sparked by what she saw in Murupara. Unemployment was widespread and some turned to suicide. The girl who babysat her and her sister "turned yellow from hepatitis," a virus more common in developing countries.
In the 1980s, Ardern's family moved 160 kilometres (100 miles) away to Morrinsville, where her grandfathers had dug drains and farmed. Ardern's father worked as the town's police officer and her mother as a cook at the local school. As a 14-year-old, Ardern landed after-school shifts at the Golden Kiwi fish and chip shop. "She was always a very good talker," said Morrinsville farmer John Walsh, as he waited one chilly Friday night for takeaways outside the shop, where he used to be served by the young Ardern.
It was her aptitude for speaking that scored Ardern her first political victory as a schoolgirl in the 1990s.
Ardern was the student representative for the board of trustees at Morrinsville College, a small high school with colourful murals and a large grassy field dedicated to rugby, New Zealand's national sport. In that role, she managed to convince the board to change the uniform rules so that girls could wear shorts — "ghastly corduroy trousers," as Ardern's former social studies teacher Gregor Fountain remembers them — not just skirts. "My recollection is that we were ahead of our times," said John Inger, who became principal of Morrinsville College while Ardern was at school, and who is still the principal more than two decades later. "No doubt in a very conservative rural community like ours that would have raised a few eyebrows."
Inger remembers the teenage Ardern as intelligent, articulate, cheerful, and persuasive, with a strong sense of social justice. She was a keen debater, a frequent speech competition winner, and a member of the school's Amnesty International group, which advocated for human rights. When pushed on whether there was anything she was bad at, Inger reluctantly points to her lack of sporting ability — but even then, she gave it a go, he says.
Unlike many of her peers, she didn't drink, Inger says. She was well respected and "walked around with a big smile on her face all the time," he says. "She had no enemies that I'm aware of." Fountain agrees: "At school, she was popular but not like the total cool kid. There were cooler, trendier people."
When Ardern left high school, she graduated with the second-highest grades in her year. The real tell for what was to come was in her high school yearbook, where classmates voted on each others' likely futures. In the Morrinsville College 1998 yearbook, there's a prophetic phrase written in Comic Sans: "Most likely to become Prime Minister … Jacinda Ardern."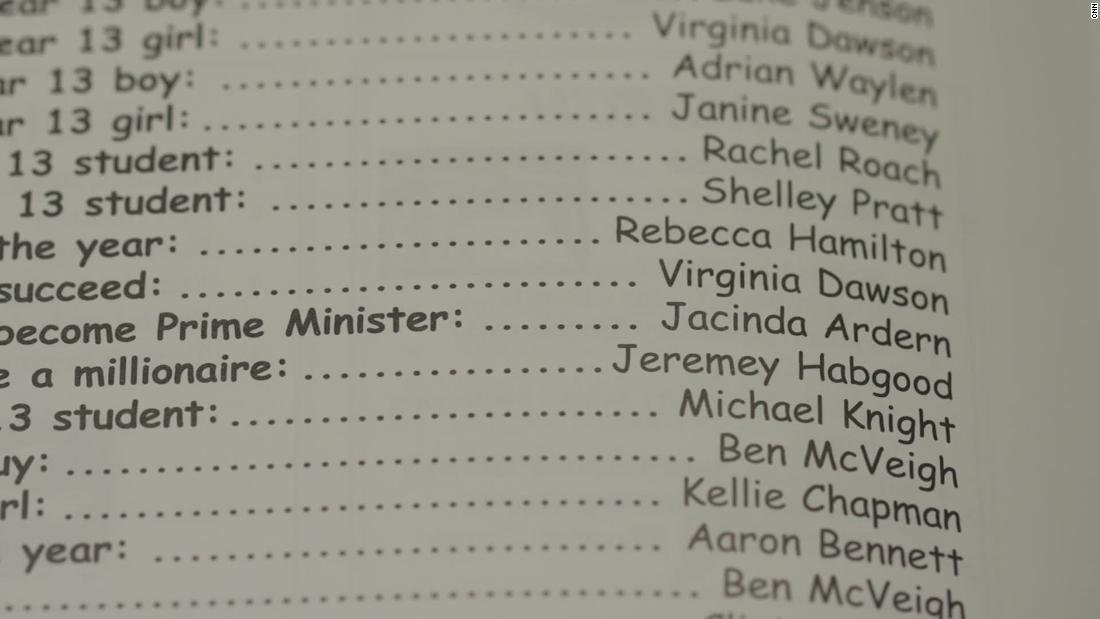 After keeping the message simple saying "I am not done yet," Ardern talked about providing more homes, increasing the minimum wage, and "the need to fulfil our refugee obligations".
That was enough give Jacinda Ardern a second term as New Zealand's Prime Minister.
With all votes tallied, Ms Ardern's centre-left Labour Party won 49.1%, bringing a projected 64 seats and a rare outright parliamentary majority.
The opposition centre-right National Party won 26.8% in Saturday's poll – just 35 seats in the 120-seat assembly.
The poll was originally to be held in September but was postponed by a month after a renewed Covid-19 outbreak.
Ms Ardern, 40, told her supporters after the victory: "New Zealand has shown the Labour Party its greatest support in almost 50 years. We will not take your support for granted. And I can promise you we will be a party that governs for every New Zealander."
Taken from the original CNN article LINK
Support Labour Heartlands
PLEASE HELP US KEEP GOING AD-FREE
HELP US GROW.
This is a "Pay as You Feel" website.
This blog has no source of state, corporate or institutional finance whatsoever. It runs entirely on voluntary subscriptions from its readers – many of whom do not necessarily agree with every article, but welcome the alternative voice, insider information and debate.
You can have access to all of our online work for free. However if you want to support what we do, you could make a small donation to help us keep writing and staying ad-free. The choice is entirely yours.