A Palestinian-American journalist has been shot dead while reporting for Al Jazeera on a raid by Israeli forces in the occupied West Bank city of Jenin.
The Qatar-based network said Sherine Abu Aqleh, 51, was shot "deliberately" and "in cold blood" by Israeli troops. Her producer was also shot and wounded.
Israel's prime minister had the audacity to suggest it was "likely" they were shot by Palestinian gunmen during an exchange of fire.
It comes amid a surge in violence between Israel and the Palestinians.
The Palestinian president said he held the Israeli government fully responsible for what he described as a "crime of execution".
Wearing a press vest, Shireen Abu Akleh was shot in the head during her coverage of the incursion and was transferred to Ibn Sina hospital, where she was pronounced dead.
Another journalist, Ali Asmoadi, an Al Jazeera producer, was wounded by a gunshot and is in a stable condition.
My sweet girl. I can't believe this. What justice is there in this world? There's none as long as you live under Israel's military rule. They will say they will investigate. What does it matter? She's gone. pic.twitter.com/5Tq0tSvXYt

— Dalia • דליה • داليا (@DaliaHatuqa) May 11, 2022
Middle East Eye contributor Shatha Hanaysha said she and a group of six journalists, including Abu Akleh, were together when they came under fire from Israeli snipers.
The group of journalists, who were there to cover the raid, came under fire at the main entrance to Jenin refugee camp, near the main roundabout.
There was a gunfight in the alleyways of the camp, but this area is far from the roundabout – fighters don't go there, because there is no cover – and far from the house of the person Israeli forces wanted to arrest.
Another Palestinian journalist, Al Jazeera producer Ali Samoudi, was shot in the back and was in a stable condition in hospital, the health ministry added.
"We were going to film the Israeli army operation and suddenly they shot us without asking us to leave or stop filming," Al Jazeera cited Mr Samoudi as saying. "The first bullet hit me and the second bullet hit Sherine.
"There was no Palestinian military resistance at all at the scene," he added.
Al-Samoudi and other journalists at the scene said there were no Palestinian fighters present when the journalists were shot, directly disputing an Israeli statement referencing the possibility that it was Palestinian fire.
Al Jazeera said multiple eyewitnesses confirmed Abu Akleh was shot shortly after arriving in Jenin refugee camp and that there had been no fighting in the area.
The Israeli army confirmed that it had conducted an operation early on Wednesday in the Jenin refugee camp, a stronghold of Palestinian armed groups in the northern West Bank.
It said that there was an exchange of fire between its troops and Palestinian fighters and that it is investigating whether "journalists were wounded, possibly by Palestinian gunfire".
The Israeli military and Israel's US embassy tweeted a video of Palestinian gunmen in Jenin firing down an alley, suggesting they were responsible. However Israeli NGO B'Tselem visited the scene where that footage was taken, and said it was impossible for Abu Akleh to have been hit from there.
Al Jazeera television accused Israeli forces of deliberately killing its journalist in the West Bank.
Al Jazeera Media Network condemned the "blatant murder" of Abu Akleh, calling it a "heinous crime, through which it is intended to prevent the media from fulfilling its message".
"We hold the Israeli government and the occupation forces responsible for the killing of the late colleague Shireen," Al Jazeera said in a statement, urging the international community to hold the Israeli occupation forces accountable for their "intentional targeting and killing" of Abu Akleh.
Israeli military spokesperson Ran Kochav told Army Radio that "even if soldiers shot at – or, God forbid, hurt – someone who was not involved, this happened in battle, during a firefight, where this Palestinian is with the shooters. So this thing can happen."
Jackie Walker pointed out in a Tweet: Yasser Murtaja, Ahmed Abu Hussein, Basil Faraj, Fadel Shana, Imad Abu Zahra, Issam Tillawi, James Miller, Khaled Reyadh Hamad, Mahmoud al-Kumi & Nazih Darwazeh. All wore clothing identifying themselves as press. All shot by IDF… imagine if Russia did this.
Sherine's body has been carried through the streets of Jenin, draped in a Palestinian flag and covered with her press flak jacket. Reporters and photographers packed in around the procession – having to cover the death of one of their own.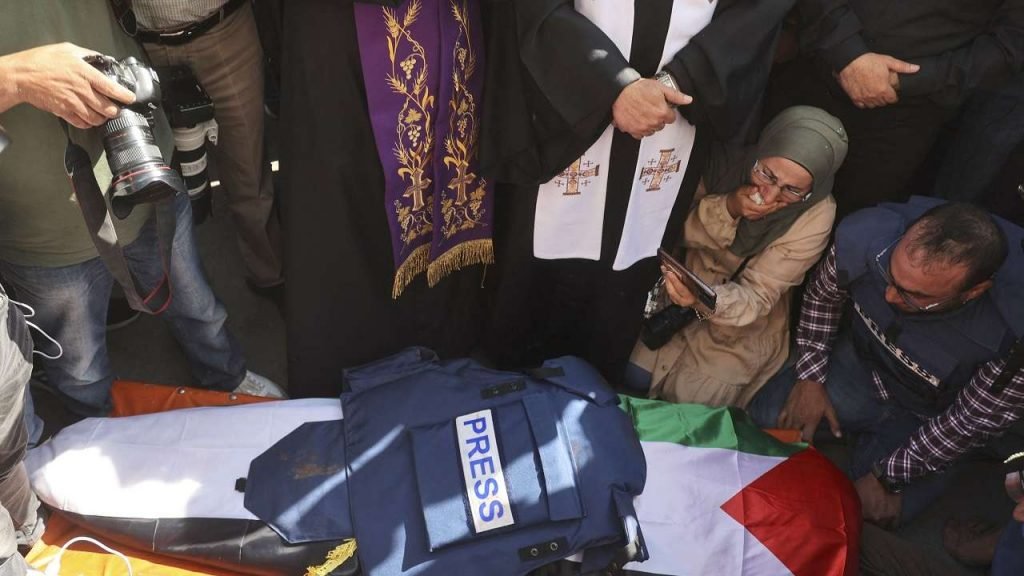 The US Ambassador to Israel, Tom Nides, on Wednesday called for an investigation into the death of a veteran Al Jazeera journalist in the occupied West Bank.
"Very sad to learn of the death of American and Palestinian journalist Shireen Abu Akleh of Al Jazeera," Nides said on Twitter.
Very sad to learn of the death of American and Palestinian journalist Shireen Abu Akleh of @AJArabic @AJEnglish. I encourage a thorough investigation into the circumstances of her death and the injury of at least one other journalist today in Jenin.

— Ambassador Tom Nides (@USAmbIsrael) May 11, 2022
"I encourage a thorough investigation into the circumstances of her death and the injury of at least one other journalist today in Jenin," he added.
Abu Akleh was born in Jerusalem, in 1971, with a BA in journalism and media from Yarmouk University in Jordan.
Support Labour Heartlands
PLEASE HELP US KEEP GOING AD-FREE
This is a "Pay as You Feel" website.
Hey there! Thanks for stopping by. If you've enjoyed reading the articles on Labour Heartlands so far, We would be incredibly grateful if you could consider making a small donation. Labour Heathlands is not your typical news outlet. We are not here to simply regurgitate the daily news cycle, that's for the rest of them. Our focus is on delving deeper, uncovering the untold stories and shedding light on the issues that the mainstream media chooses to ignore.
Our unwavering commitment to journalistic integrity means that we are not influenced by any external forces. We are not beholden to PR companies, advertisers or press barons, and we refuse to let anyone dictate what we report on. Our editorial independence is sacrosanct, and our only allegiance is to the truth.
While we do not align ourselves with any particular political party, we stand firmly against corruption, injustice and the erosion of truth and the rule of law. We believe that accurate information is the lifeblood of a democracy and that facts are not up for debate.
Once again, thank you for your support – We truly couldn't do this without you!
PLEASE HELP US KEEP GOING AD-FREE