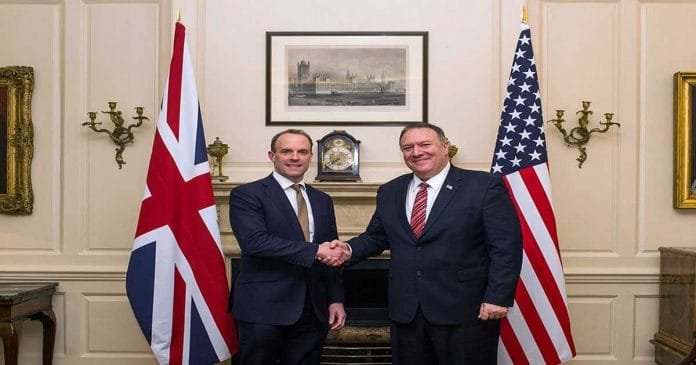 U.S. Secretary of State Mike Pompeo endorsed Britain's role on Thursday in a privileged system for sharing U.S. intelligence, playing down a rift over London's decision to allow a Chinese firm to help build its new mobile phone network.
On a highly symbolic visit to Britain the day before its exit from the European Union, Pompeo said the "Five Eyes" intelligence sharing network was "strong", and would remain in place despite Britain's decision this week not to exclude Huawei from supplying 5G telecoms equipment.
He also said Britain would be "at the front of the line" for a post-Brexit trade deal with the United States, taking a swipe at President Donald Trump's predecessor Barack Obama who had tried to persuade British voters not to back Brexit.
Washington has applied strong pressure on countries to exclude Huawei, the world's largest maker of telecoms equipment, from mobile networks. The United States argues that the firm's technology could provide "back doors" for Chinese eavesdropping. Huawei denies that its equipment poses a security threat.
Britain decided this week that it would allow Huawei equipment to be used in building a new network, although not in the most sensitive areas. That decision appeared to risk angering Washington just days before London aims to open negotiations on a new post-Brexit trade relationship.
But, while remaining firm in his criticism of Huawei, Pompeo emphasised the strength of U.S.-British ties and said he was "very confident that our two nations will find a way to work together to resolve this difference".
Washington has long suggested it could limit intelligence sharing with countries that fail to exclude Huawei. The United States and Britain share intelligence through the "Five Eyes" group which also includes Australia, Canada and New Zealand.
"With respect to information and the Five Eyes relationship, that relationship is deep, it is strong, it will remain," Pompeo said. "All the elements of the five eyes will work together on this to ensure that the systems are sufficiently secure."
"We will never permit American national security information to go across a network that we don't have trust and confidence in, that's the standard," he said.
Pompeo spoke optimistically about the prospects of a post-Brexit trade deal under Trump, who supported Britain's decision to quit the EU at a time when the Obama administration was calling on British voters to back staying in.
"The previous administration took a view that if the United Kingdom made this decision they'd be at the back of the line — we intend to put the United Kingdom at the front of the line," Pompeo said.
Speaking alongside British Foreign Secretary Dominic Raab, Pompeo described China's ruling Communist Party as "the central threat of our times". The United States and its allies must "ensure that the next century is governed by these Western democratic principles", he added.
Describing the threat from Huawei, he told reporters: "When you allow the information of your citizens or the national security information of your citizens to transit a network that the Chinese Communist Party has a legal mandate to obtain, it creates risk."
E.U. Recommends Limiting, but Not Banning, Huawei in 5G Rollout
The bloc's experts suggested members limit and monitor the involvement of "high-risk" vendors as they invest in next-generation mobile communications infrastructure.
The European Commission decided to allow 5G companies to deal with union members, provided they follow a set of risk-mitigating measures, simply called an EU toolbox. This means companies like Huawei and ZTE will be free to deliver 5G network equipment to each of the 27 members if the country's governing body is okay with the progress a company has done towards network security and transparency.
The decition is said to be an important step in "what must be a continuous effort in the EU's collective work to better protect the critical infrastructures", added Margaritis Schinas, European Commissioner for Promoting the European Way of Life. The 30-page guideline mirrors a lot of decisions the United Kingdom has made separately since it is leaving the union by the end of the week.
More interestingly, this decision directly contrasts with what the United States is trying to do – a blanket ban on all trades between American companies and the Chinese manufacturer. Speaking of Huawei, the company released a short statement, saying this decision "allows Europe to have a more secure and faster 5G network".
Support Labour Heartlands
Help Us Sustain Ad-Free Journalism
Sorry, I Need To Put Out the Begging Bowl
Independent Journalism Needs You
Our unwavering dedication is to provide you with unbiased news, diverse perspectives, and insightful opinions. We're on a mission to ensure that those in positions of power are held accountable for their actions, but we can't do it alone. Labour Heartlands is primarily funded by me, Paul Knaggs, and by the generous contributions of readers like you. Your donations keep us going and help us uphold the principles of independent journalism. Join us in our quest for truth, transparency, and accountability – donate today and be a part of our mission!
Like everyone else, we're facing challenges, and we need your help to stay online and continue providing crucial journalism. Every contribution, no matter how small, goes a long way in helping us thrive. By becoming one of our donors, you become a vital part of our mission to uncover the truth and uphold the values of democracy.
While we maintain our independence from political affiliations, we stand united against corruption, injustice, and the erosion of free speech, truth and democracy. We believe in the power of accurate information in a democracy, and we consider facts non-negotiable.
Your support, no matter the amount, can make a significant impact. Together, we can make a difference and continue our journey toward a more informed and just society.
Thank you for supporting Labour Heartlands
Just click the donate button below