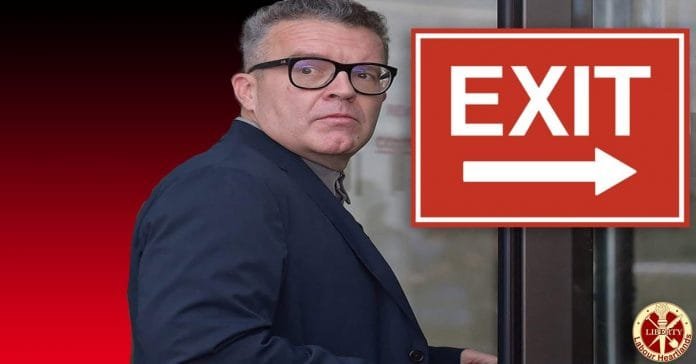 A motion to remove Tom Watson as Deputy leader was launched with a bid to abolish the post of deputy leader.
Jon Lansman, founder of the pro-Corbyn campaign group Momentum, tabled a last-minute motion at the party's ruling national executive committee (NEC) on Friday night, calling for Watson's job to be scrapped.
"We just can't afford to go into an election with a deputy leader set on wrecking Labour's chances."
"We just can't afford to go into an election with a deputy leader set on wrecking Labour's chances."
A Momentum source said: "No one person is more important than beating Boris Johnson, ending austerity and tackling the climate emergency.
"Labour members overwhelmingly want a deputy leadership election, but our outdated rulebook won't let it happen. You need 20% of Labour MPs to trigger an election, and they just won't let the members have a fair and open election."
Chair Wendy Nichols ruled the motion out of order. Members of the National Executive Committee (NEC) voted 17-10 to rule it back in, but it needed a two-thirds majority.
Now it is on the agenda for a crucial NEC meeting at 10am tomorrow – and will need only a simple 50% majority to pass.
If it passes, it would then be sent to the floor of this weekend's annual conference in Brighton for a final vote.
The move sets up a dramatic showdown and could see Tom Watson dislodged from power within days after four years of on-and-off battles with parts of the left.
Neither Tom Watson nor Jeremy Corbyn were at tonight's NEC – meaning they both face an electric meeting tomorrow in Brighton that will decide the deputy's future.
Watson as become very unpopular with the grassroots membership. Watson is seen to be a divisive figure who works to undermine the leadership while attacking anyone and everyone on the Left.
He as been depicted as Witchfinder general referring to his self appointed role in the ongoing anti semitism controversy surrounding the Labour Party.
His disjointed attacks on the leadership and Labour Party policy came to an head last week when he undermined Labour Policy and called for a second referendum before a general election.
One source said Mr Lansman accused Mr Watson of "disloyalty" over Europe at tonight's NEC showdown.
A source close to Mr Lansman denied he used the word, saying he had never personally attacked the Labour deputy.
But they confirmed Mr Lansman tabled the motion and spoke out against Tom Watson "undermining" Shadow Brexit Secretary Sir Keir Starmer with his announcement.
Tom Watson was front and center in orchestrating a petition by some Labour MPs and Peers to have Chris Williamson resuspended. In a dramatic turn around Chris williamson was resuspended it was also rumored at the time williamson would have been a challenger for Watson's job as deputy leader if admitted back to the Party.
Watson is also accepting donations of thousands of pounds from a businessman who also finances opponents of the Labour leadership
Tom Watson criticised for taking money from Change UK funder Sir David Garrard
He accepted £10,000 from retired property developer Sir David Garrard on April 12.
Mr Watson said the donation was to "support my office as deputy leader of the Labour Party."
However, Mr Garrard also dished out £10,000 to Joan Ryan on March 21 — a month after she abandoned Labour to help form The Independent Group (TIG), now known as Change UK.
Ms Ryan — who cited "demonisation and delegitimisation" of Israel as a reason for her defection — received another donation, of £8,000, from the businessman on April 3.
At the same time, Mr Garrard has also been bankrolling another Labour defector, Ian Austin, who quit the party around the same time as Ms Ryan but did not join TIG.
Mr Austin, who is now sits in Parliament as an independent, received £10,000 from Mr Garrard on April 4.
When they quit Labour, both MPs blamed leader Jeremy Corbyn's alleged "failure to tackle anti-semitism" as a factor in the decision.
Mr Watson has also claimed the Labour leadership is not doing enough to eliminate anti-semitism from the party.
He, Ms Ryan and Mr Austin are all supporters of Labour Friends of Israel, according to the lobby group's website — despite two of them no longer being Labour MPs. Ms Ryan even continues to chair the group.
It is not the first time that Mr Watson has taken money from Mr Garrard, having pocketed £15,000 from the businessman last September.
Glyn Secker from Jewish Voice for Labour said:
"It is clear that this deputy leader of our party, someone who was elected to office and then appointed to this post as an ally of Corbyn, has revealed his traitorous nature.
"Jewish Voice for Labour has consistently condemned the tiny but nevertheless vile incidents of anti-semitism in the Labour Party, but equally consistently has called out the megaphone campaign by Watson and his allies to smear Corbyn and the whole party as anti-semitic as one driven by political hostility to the programme of radical reform.
"From his party office, he has engineered a pincer movement on the leadership, complimenting the TIGs by maintaining a base with [Corbyn opponent] Margaret Hodge inside the party.
"The common sources of funding says it all. By his vitriolic attacks on Corbyn, he has already brought the party into disrepute.
"NO WONDER MOTIONS FROM BRANCHES CALLING FOR HIS DISMISSAL ARE MULTIPLYING."
#SackTomWatson
Support Labour Heartlands
PLEASE HELP US KEEP GOING AD-FREE
HELP US GROW.
This is a "Pay as You Feel" website.
This blog has no source of state, corporate or institutional finance whatsoever. It runs entirely on voluntary subscriptions from its readers – many of whom do not necessarily agree with every article, but welcome the alternative voice, insider information and debate.
You can have access to all of our online work for free. However if you want to support what we do, you could make a small donation to help us keep writing and staying ad-free. The choice is entirely yours.