The FBU released the first in a series of videos criticising Sir Keir Starmer and Lisa Nanny, starting with one that highlights the participation of their failed 2016 'coup'.
The party-affiliated, left-wing FBU, which nominated Long-Bailey for the leadership and Richard Burgon for the vacant deputy post, has made three ads in support of their favoured contenders.
The first, was released, focusing on the leadership challenge against Jeremy Corbyn in 2016 that was precipitated by mass frontbench resignations. Rebecca Long-Bailey stepped up to become a shadow cabinet member at the time.
"We've got a carefully coordinated coup planned to create the most damage. What an utter disgrace these people are," general secretary Matt Wrack is heard saying in the FBU video, which shows a speech of his at a 2016 pro-Corbyn rally.
Displaying the resignation letters of Starmer and Nandy, Wrack asserts: "There are questions that both Keir Starmer and Lisa Nandy have to answer. They both participated in that attempt to force Corbyn from office and thereby undermine the decision that Labour Party members took."
While Starmer served in Corbyn's Shadow Cabinet along with Long-Bailey, he also resigned from it in 2016 as part of a collective effort to displace the party leader. A failed coup and his continued attempts to undermine Corbyn has led some to question his commitment to the party's direction of travel in recent years.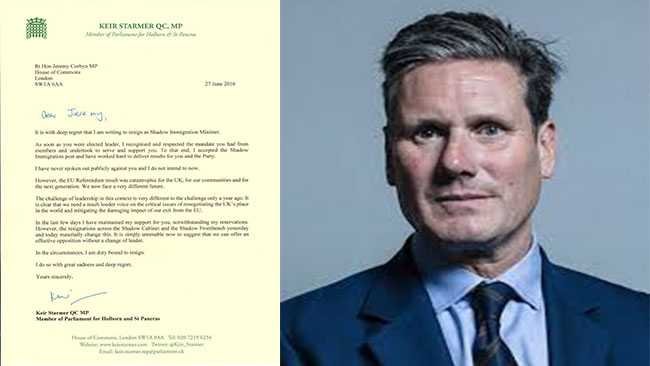 The FBU leader has been critical of Starmer over recent days. He wrote an article for Tribune on Sunday that accused the frontrunner of being "prepared to row back" on Labour's pledge to repeal all anti-trade union laws.
Describing Starmer's apparent position as "alarming" in contrast to that of Long-Bailey – who has vowed to repeal laws untouched by New Labour as well as the Trade Union Act 2016 – Wrack wrote that "Labour must build on, not step back from, a worker-led agenda".
When I started work as a firefighter in 1983, there was far greater security in employment, with huge swathes of the UK workforce still unionised. The Thatcherite right argued that in collectively fighting for better pay and conditions, unions interfered with the operation of market forces and ultimately threatened profits.
That's what drove Thatcher's onslaught against the unions; a long campaign which introduced whole series of laws designed to shackle our movement, alongside well planned attacks on key groups of unionised workers; most infamously the battle against the miners in 1984/85.
And this strategy, alongside de-industrialisation, had an impact. Today there are 6.9 million unionised workers, almost half of the 13.2 million in 1979. The prospect of shifting the balance of power from capital to labour can sometimes seem further away than it has ever been.
When people picture a trade unionist, they think of someone of around my age, in their fifties – and, to be frank, they're not far from the truth. A recent study found that 77% of unionised workers were over the age of 35, while just 4% were aged between 16 and 24.
But it needn't be this way. The Labour Party has seen a huge influx of young members under Jeremy Corbyn's leadership, inspired by Labour's radical socialist platform.
Labour won the youth vote in almost every seat in the country at the last election – there is a generation who know that another world is possible. Yet these newly enthused left-wing voters aren't, for the most part, joining trade unions.
Rebecca Long-Bailey has made clear that membership of her Labour Party will go hand-in-hand with membership of a union. She recognises that it was Labour's shift away from so-called centrism that brought many people, young and old, back home to the Labour Party.
That shift has made Labour, once again, a party of and for trade unions. But it is a shift that is not guaranteed. That's why this leadership election is so important.
My union, the Fire Brigades Union, re-affiliated to Labour in 2015 because we knew that Labour was finally a party that would stand with us on a picket line and Rebecca is the only candidate who has vowed to stand with unions in disputes. We should ask all the candidates in this election the old question, "Which side are you on?"
Labour's 2019 manifesto could have reinvigorated the trade union movement, unshackling workers by repealing anti-union laws and empowering workers to defend themselves in the workplace. Labour finally recognised that the stifling of our unions did not begin with the 2016 Trade Union Act.
There are decades of anti-trade union laws that the New Labour government failed to address – and Becky is the only candidate who has pledged to overturn this unjust system. It is alarming that Keir Starmer, the other leading candidate in the leadership campaign, seems prepared to row back on this commitment from Labour's 2019 manifesto, agreed at both Labour Conference and the TUC. Trade unionists should not sit by while this happens.
Rebecca Long-Bailey is already building on Labour's workers' rights agenda, working with trade unions on proposals like a right to switch off, releasing people from the perennial pressure of having to work out of hours for free. Labour must build on, not step back from, a worker-led agenda.
The two videos set to follow will focus on the green industrial revolution and open selections. Both the FBU and Long-Bailey have been strong proponents of the two policies, which are central to the Salford MP's leadership campaign.
Keep Left
In January, the executive council of the FBU "resoundingly" voted in favour of endorsing Long-Bailey for the leadership. Wrack's statement cited her work on Labour's 2030 decarbonisation target in particular.
The Labour-affiliated Fire Brigades Union (FBU) decided to nominate both left-wing candidates Rebecca Long-Bailey and Richard Burgon for the leadership and deputy leadership posts.
The FBU wrote to all contenders before its executive council meeting, with each being asked for their views on the fire and rescue service, the Grenfell inquiry, repealing anti-trade union laws, ending the blockade of Gaza, and internal party democracy.
Announcing the decision, general secretary Matt Wrack said: "Our executive council has resoundingly voted to endorse Rebecca Long-Bailey as the leader Labour needs to take on this viciously right-wing, anti-worker Tory government.
"The fire and rescue service has been decimated by a decade of austerity, but restrictive anti-union laws have seriously impeded our ability to fight back. We need a Labour leader that will rebuild our fire service and put empowering workers at the heart of their agenda.
"I was locked in Labour's longest-ever composite meeting with Rebecca – and her vision for a green industrial revolution was clear. Climate change is an industrial issue for firefighters – and we're proud to have worked with Rebecca to secure Labour's 2030 target for net-zero carbon emissions.
"There can be no going back to the so-called centrism of New Labour – we never again want to see our party turn its back on workers, public ownership, and its own members.
"We will be actively campaigning for Rebecca. Only she has what it takes to transform the country, win back Labour's heartlands, and put power back in the hands of working-class people."
Backing Burgon, Wrack added: "After much discussion and deliberation, the FBU's executive council has decided to nominate Richard Burgon to be the next deputy leader of the Labour Party.
"Richard is a socialist and a longstanding ally of the FBU. We recognise that he is not the only candidate on the ballot that fits these criteria; Angela Rayner has also been a long-time ally and friend of our union.
"We carefully considered the policy positions of each candidate and their alignment with the FBU's interests, as well as a range of factors including, crucially, which candidates have already qualified for the ballot of Labour members.
"Labour members and supporters should have a choice from the widest possible range of candidates – and we're glad that Richard will join Angela on the ballot."
"We look forward to the next video in the series from the FBU"
#Richard4Deputy #LabourLeadership #RLB4Leader

Support Labour Heartlands
PLEASE HELP US KEEP GOING AD-FREE
This is a "Pay as You Feel" website.
Hey there! Thanks for stopping by. If you've enjoyed reading the articles on Labour Heartlands so far, We would be incredibly grateful if you could consider making a small donation. Labour Heathlands is not your typical news outlet. We are not here to simply regurgitate the daily news cycle, that's for the rest of them. Our focus is on delving deeper, uncovering the untold stories and shedding light on the issues that the mainstream media chooses to ignore.
Our unwavering commitment to journalistic integrity means that we are not influenced by any external forces. We are not beholden to PR companies, advertisers or press barons, and we refuse to let anyone dictate what we report on. Our editorial independence is sacrosanct, and our only allegiance is to the truth.
While we do not align ourselves with any particular political party, we stand firmly against corruption, injustice and the erosion of truth and the rule of law. We believe that accurate information is the lifeblood of a democracy and that facts are not up for debate.
Once again, thank you for your support – We truly couldn't do this without you!
PLEASE HELP US KEEP GOING AD-FREE