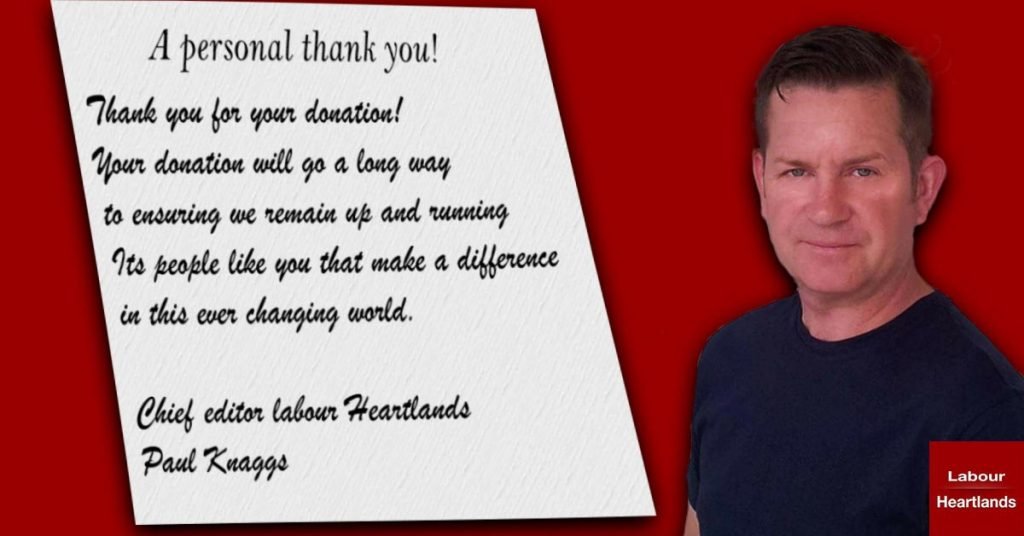 Personal Thank You.
Dear Donor,
Your donation has been instrumental in ensuring the continuity of our mission. I cannot overstate how much it means to me personally.
In these trying times, your generous donation has not gone unnoticed. I, on behalf of Labour Heartlands, would like to extend my deepest appreciation for your support. Your contribution, made through Tagme Ltd, a non-profit method of collecting donations, is invaluable in ensuring our continued operation.
As we navigate the challenges posed by the ongoing cost of living crisis, your donations have become the lifeblood of our operation. People like you provide the foundation for meaningful change in this tumultuous world.
I must confess that our path has been far from easy. I have steadfastly refused to peddle the propaganda of corporate interests, nor have I allowed the site to be manipulated by the machinations of billionaire oligarchs turning down offers of corporate sponsors and advertisements. As a political website, we stand alone, unaided, and unsupported. We rely on you, our fellow citizens, to sustain us.
Our monthly expenses are extensive, encompassing a range of vital services such as hosting, subscriptions, marketing, and media. As of now, our writers are not remunerated and everything we do is solely on a voluntary basis.
Yet despite these trials, our faith remains unshaken. We remain resolute in our commitment to a people-funded, independent service that can provide a voice to the voiceless, without bowing to the whims of corporatism.
Our ultimate goal is to become a people-funded and maintained service, free from the influence of corporatism, so that we can give a voice to the voiceless. Your donation has brought us one step closer to realising this vision, and we are truly grateful.
Finally, I would like to extend a personal invitation to all of you. If there are any issues or campaigns that you believe we should cover, please feel free to reach out to us. My personal email is Paul@labourheartlands.com
With warm regards,
Paul Knaggs
THANK YOU