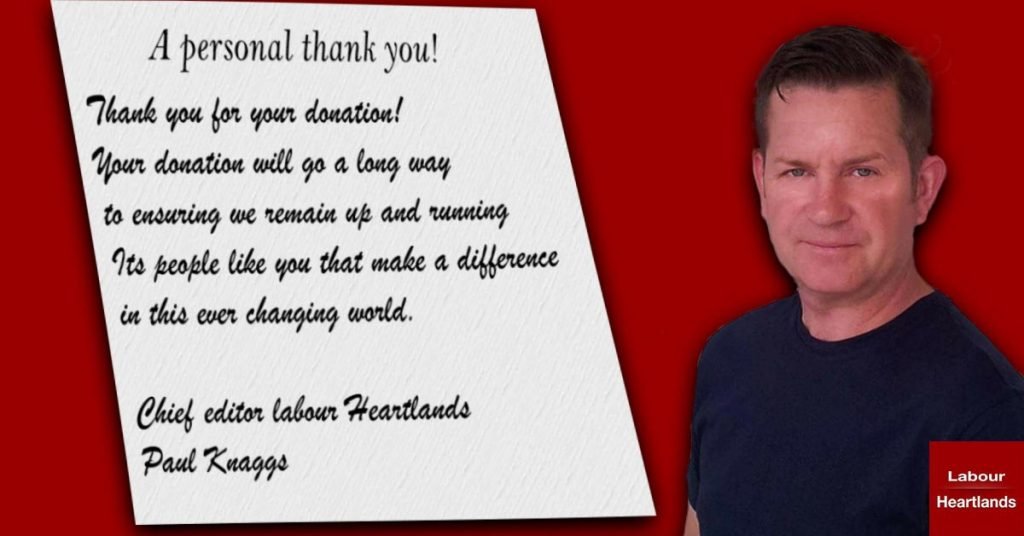 Personal Thank You.
We are all finding it extremely difficult in these times and I would like you to know how much your donation means.
Your invoice will show as Tagme Ltd a none profit making method of collecting your donation.
Coronavirus has had a massive impact on everyone and the contribution you have just made is even more appreciated.
Your donation will go a long way to ensuring we remain up and running. its people like you that make a difference in this ever changing world, thank you. chief editor Founder Labour Heartlands. -Paul Knaggs
THANK YOU
We like to take the time to thank everybody personally for donating and their help in keeping us running and growing. it means a great deal to us to receive donations. We really hope to build and be a force for social change and democracy.
We refuse to use adverts for revenue, we are not sponsored or endorsed by big business, corporations or billionaire oligarchs, we have no resources and no backing. We rely on you to keep going. Our monthly expenses include hosting services, specialist website subscriptions and services, photo media subscriptions, newswire services and marketing. We currently are unable to issue any payment to writers everything we do is done on a voluntary base.
It is our hope that we will one day be able to be a people funded and maintained service who are uniquely positioned to give a voice to the voiceless without any influence from corporatism. Your donation as helped ensure the continuation of our work. Thank you.
If you have any issues or campaigns you would like us to cover feel free to contact us so we can look at helping you.
My personal email is Paul@paulk147.sg-host.com Once again thank you.