11 Labour MPs have been forced to pull their signatures from a Stop the War statement that criticised both Russia and NATO after being warned to do so by the chief whip.
Diane Abbott, John McDonnell, Richard Burgon, Ian Lavery, Beth Winter, Zarah Sultana, Bell Ribeiro-Addy, Apsana Begum, Mick Whitley, Tahir Ali and Ian Mearns had all signed the statement
The statement from February 18th was also signed by Labour Unions chair and ASLEF train drivers' union general secretary Mick Whelan, plus independent MPs Corbyn and Claudia Webbe, none of whom have removed their names.
Momentum co-chair Andrew Scattergood said the MPs' "steadfast commitment to the Ukrainian people and against Russia's invasion is beyond question" and it "beggars belief" that the leadership "focuses on a week-old statement in an attempt to wage factional warfare against them while a real war wages on against the Ukrainian people".
The declaration stated that "Russia and Ukraine should reach a diplomatic settlement of the tensions between them" and that NATO should "call a halt to its eastward expansion". It also refuted "the idea that NATO is a defensive alliance".
It criticised the British government for sending arms to Ukraine and for having "talked up the threat of war continually". Keir Starmer has been strongly supportive of the UK government supporting Ukraine via military equipment and training.
Despite Putin's assault on Ukraine, the letter calls for a "diplomatic" solution, and adds STW "believes NATO should call a halt to its eastward expansion and commit to a new security deal for Europe which meets the needs of all states and peoples".
Of course, it was very disappointing that MPs with a conscience were forced to back down. Starmer's position has been much tougher than his predecessor Tony Blair who took the UK into an illegal war when faced with Labour MPs that had a conscience and could not stomach such treachery to the working classes.
A man of integrity.
We all remember when the late Robin Cook, the then leader of the Commons and a former foreign secretary, resigned from the government in protest over the prime minister's stance on Iraq.
Mr Cook said in a statement: "It is 20 years ago that I first joined Labour's shadow cabinet. It is with regret I have today resigned from its cabinet. I can't accept collective responsibility for the decision to commit Britain now to military action in Iraq without international agreement or domestic support."
On resigning Clare Short wrote, "As you know, I thought the run-up to the conflict in Iraq was mishandled, but I agreed to stay in the Government to help support the reconstruction effort for the people of Iraq. I am afraid that the assurances you gave me about the need for a U.N. mandate to establish a legitimate Iraqi government have been breached."
A few months later she called on Blair to resign, charging he mislead the British people over the war in Iraq. Clare Short gained headlines again last year when she accused British intelligence agents of spying on U.N. Secretary General Kofi Annan in the run up to the Iraq war. She said she had read transcripts of private conversations of Annan.
Along with Margaret Beckett, Andy Reed, who had already quit over Iraq, Blair was also met with a rebellion by 122 Labour backbenchers, all of whom voted for a motion saying the case for war on Iraq was "not proven", of cause we still went to war but at least there was resistance to that tradgady.
At the time Labour had a majority government. Not one was threatened with having the whip removed.
The statement was not over complicated, it called for talks, not war.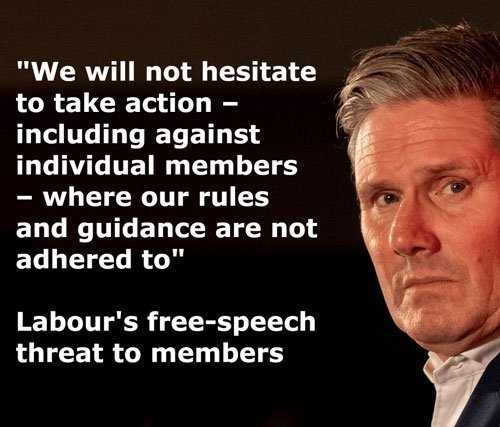 STOP THE WAR STATEMENT ON THE CRISIS OVER UKRAINE
---
Stop the War opposes any war over Ukraine, and believes the crisis should be settled on a basis which recognises the right of the Ukrainian people to self-determination and addresses Russia's security concerns.
Our focus is on the policies of the British government which have poured oil on the fire throughout this episode. In taking this position we do not endorse the nature or conduct of either the Russian or Ukrainian regimes.
The British government has talked up the threat of war continually, to the point where the Ukraine government has asked it to stop.
Unlike the French and German governments, it has advanced no proposals for a diplomatic solution to the crisis, and has contributed only sabre-rattling.
Indeed, Defence Secretary Ben Wallace has even accused those seeking a peaceful settlement of preparing "another Munich."
Instead, the British government has sent arms to Ukraine and deployed further troops to Eastern Europe, moves which serve no purpose other than inflaming tensions and indicating disdain for Russian concerns.
It has also declared that Ukraine has a "sovereign right" to join NATO, when no such right exists to join it or any other military alliance.
Britain needs to change its policy, and start working for peace, not confrontation.
Stop the War believes that Russia and Ukraine should reach a diplomatic settlement of the tensions between them, on the basis of the Minsk-2 agreement already signed by both states.
It believes NATO should call a halt to its eastward expansion and commit to a new security deal for Europe which meets the needs of all states and peoples.
We refute the idea that NATO is a defensive alliance, and believe its record in Afghanistan, Yugoslavia and Libya over the last generation, not to mention the US-British attack on Iraq, clearly proves otherwise.
We support all efforts to reach new arms control agreements in Europe and to move towards nuclear disarmament across the continent.
We urge the entire anti-war movement to unite on the basis of challenging the British government's aggressive posturing and direct its campaigning to that end above all.
---
Add your name to the stop the war statement
Support Labour Heartlands
Help Us Sustain Ad-Free Journalism
Sorry, I Need To Put Out the Begging Bowl
Independent Journalism Needs You
Our unwavering dedication is to provide you with unbiased news, diverse perspectives, and insightful opinions. We're on a mission to ensure that those in positions of power are held accountable for their actions, but we can't do it alone. Labour Heartlands is primarily funded by me, Paul Knaggs, and by the generous contributions of readers like you. Your donations keep us going and help us uphold the principles of independent journalism. Join us in our quest for truth, transparency, and accountability – donate today and be a part of our mission!
Like everyone else, we're facing challenges, and we need your help to stay online and continue providing crucial journalism. Every contribution, no matter how small, goes a long way in helping us thrive. By becoming one of our donors, you become a vital part of our mission to uncover the truth and uphold the values of democracy.
While we maintain our independence from political affiliations, we stand united against corruption, injustice, and the erosion of free speech, truth and democracy. We believe in the power of accurate information in a democracy, and we consider facts non-negotiable.
Your support, no matter the amount, can make a significant impact. Together, we can make a difference and continue our journey toward a more informed and just society.
Thank you for supporting Labour Heartlands
Just click the donate button below