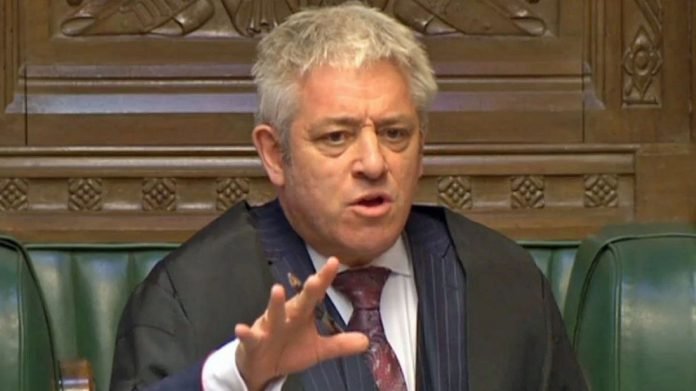 Commons Speaker John Bercow has told MPs he believes there is an "arguable case that a contempt has been committed" by the Government over Brexit legal advice.
Mr Bercow made the comments in response to demands from Labour, the DUP and four other opposition parties, which had complained that the summary legal advice released on Monday did not comply with a Commons resolution agreed on November 13.
He said: "The letter that I received from the members mentioned at the start of this statement asks me to give precedence to a motion relating to privilege in relation to the failure of ministers to comply with the terms of the resolution of the House of the 13 November.
"I have considered the matter carefully and I am satisfied that there is an arguable case that a contempt has been committed.
"I'm therefore giving precedence for a motion to be tabled tonight before the House rises and to be taken as first business tomorrow."
Mr Bercow said it was "entirely for the House to decide on that motion".
A debate and vote will take place as soon as the Commons sits on Tuesday.
MPs passed a motion two weeks ago that ordered ministers to provide "any legal advice in full" on Theresa May's deal.
At the time, Commons Speaker John Bercow confirmed the motion should take effect adding: "It is not just an expression of opinion".
But the government insist they will only publish a "summary" of the legal advice.
Earlier today a cross-party alliance wrote Mr Bercow, asking him to consider launching contempt proceedings against the Government for failing to release the Attorney General's full legal advice on the Brexit deal as ordered by Parliament.
Attorney General Geoffrey Cox fielded questions from MPs in Parliament this afternoon and promised to answer whatever they asked but refused to publish the legal advice.
He said "there is nothing to see here" and that publishing the advice would be "contrary to the public interest." Read more:
Support Labour Heartlands
This is a "Pay as You Feel" website. You can have access to all of our online work for free. However if you want to support what we do, you could make a small donation to help us keep writing and staying ad-free. The choice is entirely yours.
PLEASE HELP US KEEP GOING AD-FREE
HELP US GROW.
The future can be ours - but only if we work together to make it happen. We've been fighting to make the Labour Heartlands a better, more fairer and equal place for over two years now. With a dedicated team and the commitment from our generous supporters giving small regular donations each month, more if they can afford it, we're winning. But there is still so much to do. We're ambitious, but we can only continue to make positive change and shape our country if more of our supporters join us on this journey. If you believe in the issues we fight for please take action and join Labour Heartlands grassroots think-and-do-tank today. It will make all the difference. And then we can make all the difference for everyone.
Not funded by millionaires or advertisers.
Labour Heartlands funded by the people.