A half-century ago, Dr Martin Luther King, Jr. addressed the stilted rhetoric used to talk about public spending to promote the social good, he addressed what could only be seen as the inequality in the use of public spending.
Here we are 53 years later and the fastest spreading political doctoring is that very same 'socialism for the rich'. Behind the Coronavirus that has cut short so many lives the treasury doors have been flung wide open for the rich. Disaster capitalism has profiteered from yet another crisis while the poor have been left to cope and plead for all including the basics.
Dr King talked about welfare for the poor and subsidies for the rich. Nowhere has it been more pronounced than during the covid crisis that separation in the use of words and the act of bailouts for the rich.
The latest Oxfam report shows that the 1,000 richest people on the planet have recouped their COVID-19 losses within just nine months, but it could take more than a decade for the world's poorest to recover from the economic impacts of the pandemic.
Rupert Neate from the Observer reported: Ten of the richest people in the world have boosted their already vast wealth by more than $400bn (£296bn) since the coronavirus pandemic began as their businesses were boosted by lockdowns and financial crises across the globe.
The extra wealth accumulated by the 10 men – approximately $450bn, using Forbes figures – over the past ten months is more than the £284bn the British government is estimated to have spent on tackling the pandemic and the economic damage it has wrought on its 66 million people.
In a related report, the campaign group Americans for Tax Fairness estimates the collective wealth of America's 651 billionaires has risen by $1.1tn over the same period. Frank Clemente of Americans for Tax Fairness said:
"Their pandemic profits are so immense that America's billionaires could pay for a major Covid relief bill and still not lose a dime of their pre-virus riches. Their wealth growth is so great that they alone could provide a $3,000 stimulus payment to every man, woman and child in the country, and still be richer than they were nine months ago."
While the poor have been in the main left to struggle, fighting for small mercies like Free school meals led by 'not the opposition' but by a premier league footballer Marcus Rashford, or keeping the one-off universal credit boost, a £20 increase that has been a lifeline for millions of people who have needed to top up their income or rely on universal credit payments in order to get by.
The masses have struggled mentally, physically and most of all economically throughout this pandemic.
For the working poor, life has been made so much harder. The furlough scheme has undoubtedly saved millions of jobs, it has also not taken into account the losses some people are experiencing, new pay data highlights a fundamental flaw in the scheme: there's no protection to stop workers being paid less than the minimum wage.
Under the furlough scheme, employees are paid at least 80 per cent of their wages, with the option for employers to top this up to full pay if they want to.
While some employers are choosing to do this, too many aren't.
And this 20 percent drop in pay is pushing already low paid workers below the minimum wage. Working families furloughed and only receiving 80% of their wage are still expected to pay 100% of their rent and household bills, food as not become cheaper on the contrary food as increased in price again more often than not through profiteering.
A decision by many employers not to top up furlough pay has contributed to 2,043,000 employees being paid less than the national minimum wage (NMW), according to the Office for National Statistics (ONS).
The Low and high pay in the UK: 2020 report stated: "Approximately half of employees who were furloughed under the [coronavirus job retention scheme] did not have pay topped up by employers beyond the 80 per cent provided by the scheme."
Based on a snapshot of data from April last year, it also found jobs paying the lowest hourly rate were more than five times more likely than other roles to be furloughed with reduced pay.
Poverty is too complex to be answered with a one-size-fits-all approach, and if there is any place that illustrates it is in the distribution of public money in government efforts to give economic relief from this pandemic.
The sheer cronyism and blatant disregard of scrutiny is appalling and has had no real opposition except from a few morally conscious MPs such as Dan Carden and Zarah Sultana stating the "wealthy few" who have "cashed in" on the coronavirus pandemic.
In a speech which echoed her maiden speech, seeing the new MP go viral earlier this year, Zarah Sultana has criticised a "chumocracy" which saw companies with political contacts being more likely to be handed PPE contracts earlier this year.
After National Audit Office published its findings, Ms Sultana, in a debate on the subject in parliament, said the experience of the coronavirus pandemic has been "quite different" for most people.
She said: "For the vast majority of the country, this pandemic has been an utter misery.
"It has been eight long months of loneliness, hardship and bereavement. "For a wealthy few, however, it has been something quite different.
"For them, it has been an opportunity to cash in on connections, and boy, have they cashed in."
The debate, brought about by Liverpool MP Dan Carden, discussed the NAO report on government procurement during the pandemic.
Dan Carden Labour MP hit the point in a tweet saying:
"The whole thing stinks. This Government's incompetence, its cronyism, its ideological obsession with outsourcing and rip-off privatisation has undermined our NHS and put lives at risk. Time to kick the profiteers out of the system and put local public health teams in charge."
The whole thing stinks.

This Government's incompetence, its cronyism, its ideological obsession with outsourcing and rip-off privatisation has undermined our NHS and put lives at risk.

Time to kick the profiteers out of the system and put local public health teams in charge. pic.twitter.com/ivqRy4WgOe

— Dan Carden MP (@DanCardenMP) October 14, 2020
But it has to be said, where is the condemnation from Sir Keir Starmer? Why is he not calling for a public enquiry into spending and the blatant cronyism of this pandemic?
The Inequality Virus
Oxfam's studies have found that the coronavirus pandemic has the potential to lead to an increase in inequality in almost every country at once, the first time this has happened since records began. The virus has exposed, fed off and increased existing inequalities of wealth, gender and race.
Over two million people have died, and hundreds of millions of people are being forced into poverty while many of the richest – individuals and corporations – are thriving.
Billionaire fortunes returned to their pre-pandemic highs in just nine months, while recovery for the world's poorest people could take over a decade.
The crisis has exposed our collective frailty and the inability of our deeply unequal economy to work for all. Yet it has also shown us the vital importance of government action to protect our health and livelihoods.
Transformative policies that seemed unthinkable before the crisis have suddenly been shown to be possible. There can be no return to where we were before. Instead, citizens and governments must act on the urgency to create a more equal and sustainable world.
The report shows that COVID-19 has the potential to increase economic inequality in almost every country at once, the first time this has happened since records began over a century ago. Rising inequality means it could take at least 14 times longer for the number of people living in poverty to return to pre-pandemic levels than it took for the fortunes of the top 1,000, mostly White male, billionaires to bounce back.
A new global survey of 295 economists from 79 countries, commissioned by Oxfam, reveals that 87 percent of respondents, including Jeffrey Sachs, Jayati Ghosh and Gabriel Zucman, expect an 'increase' or a 'major increase' in income inequality in their country as a result of the pandemic.
Oxfam's report shows how the rigged economic system is enabling a super-rich elite to amass wealth in the middle of the worst recession since the Great Depression while billions of people are struggling to make ends meet. It reveals how the pandemic is deepening long-standing economic, racial and gender divides.
The recession is over for the richest. The world's ten richest men have seen their combined wealth increase by half a trillion dollars since the pandemic began —more than enough to pay for a COVID-19 vaccine for everyone and to ensure no one is pushed into poverty by the pandemic. At the same time, the pandemic has ushered in the worst job crisis in over 90 years with hundreds of millions of people now underemployed or out of work.
Women are hardest hit, yet again. Globally, women are overrepresented in the low-paid precarious professions that have been hardest hit by the pandemic. If women were represented at the same rate as men in these sectors, 112 million women would no longer be at high risk of losing their incomes or jobs. Women also make up roughly 70 percent of the global health and social care workforce − essential but often poorly paid jobs that put them at greater risk from COVID-19.
Inequality is costing lives. Afro-descendants in Brazil are 40 percent more likely to die of COVID-19 than White people, while nearly 22,000 Black and Hispanic people in the United States would still be alive if they experienced the same COVID-19 mortality rates as their White counterparts. Infection and mortality rates are higher in poorer areas of countries such as France, India, and Spain while England's poorest regions experience mortality rates double that of the richest areas.
Fairer economies are the key to a rapid economic recovery from COVID-19. A temporary tax on excess profits made by the 32 global corporations that have gained the most during the pandemic could have raised $104 billion in 2020. This is enough to provide unemployment benefits for all workers and financial support for all children and elderly people in low- and middle-income countries.
Gabriela Bucher, Executive Director of Oxfam International, said:
"We stand to witness the greatest rise in inequality since records began. The deep divide between the rich and poor is proving as deadly as the virus."
"Rigged economies are funnelling wealth to a rich elite who are riding out the pandemic in luxury, while those on the frontline of the pandemic —shop assistants, healthcare workers, and market vendors— are struggling to pay the bills and put food on the table.
"Women and marginalized racial and ethnic groups are bearing the brunt of this crisis. They are more likely to be pushed into poverty, more likely to go hungry, and more likely to be excluded from healthcare."
Billionaires fortunes rebounded as stock markets recovered despite continued recession in the real economy. Their total wealth hit $11.95 trillion in December 2020, equivalent to G20 governments' total COVID-19 recovery spending. The road to recovery will be much longer for people who were already struggling pre-COVID-19. When the virus struck over half of workers in poor countries were living in poverty, and three-quarters of workers globally had no access to social protections like sick pay or unemployment benefits.
"Extreme inequality is not inevitable, but a policy choice. Governments around the world must seize this opportunity to build more equal, more inclusive economies that end poverty and protect the planet," added Bucher.
"The fight against inequality must be at the heart of economic rescue and recovery efforts. Governments must ensure everyone has access to a COVID-19 vaccine and financial support if they lose their job. They must invest in public services and low carbon sectors to create millions of new jobs and ensure everyone has access to a decent education, health, and social care, and they must ensure the richest individuals and corporations contribute their fair share of tax to pay for it.
"These measures must not be band-aid solutions for desperate times but a 'new normal' in economies that work for the benefit of all people, not just the privileged few."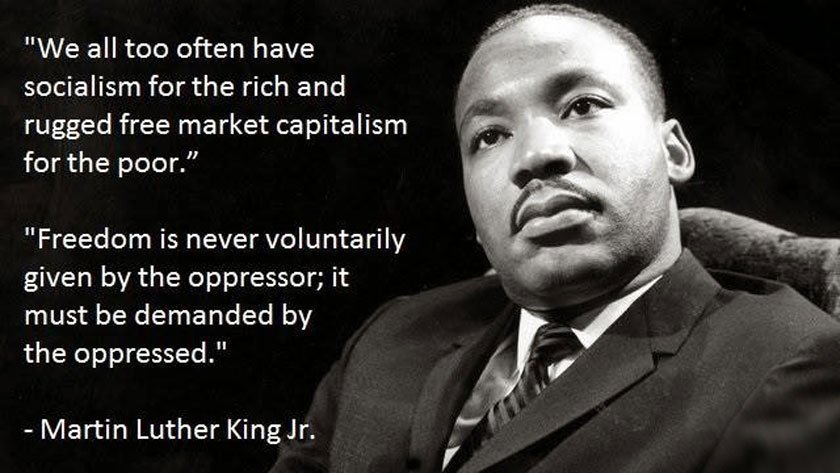 "The problem is that we all too often have socialism for the rich and rugged free enterprise capitalism for the poor. That's the problem."
"The Minister to the Valley," February 23, 1968, From the archives of the SCLC.
But as powerful as this quote is, it's just the "wrap":
"Whenever the government provides opportunities in privileges for white people and rich people they call it "subsidised" when they do it for Negro and poor people they call it "welfare." The fact that is the everybody in this country lives on welfare. Suburbia was built with federally subsidised credit. And highways that take our white brothers out to the suburbs were built with federally subsidized money to the tune of 90 percent. Everybody is on welfare in this country. The problem is that we all to often have socialism for the rich and rugged free enterprise capitalism for the poor. That's the problem."- Martin Luther King Jr.
Support Labour Heartlands
Help Us Sustain Ad-Free Journalism
Sorry, I Need To Put Out the Begging Bowl
Independent Journalism Needs You
Our unwavering dedication is to provide you with unbiased news, diverse perspectives, and insightful opinions. We're on a mission to ensure that those in positions of power are held accountable for their actions, but we can't do it alone. Labour Heartlands is primarily funded by me, Paul Knaggs, and by the generous contributions of readers like you. Your donations keep us going and help us uphold the principles of independent journalism. Join us in our quest for truth, transparency, and accountability – donate today and be a part of our mission!
Like everyone else, we're facing challenges, and we need your help to stay online and continue providing crucial journalism. Every contribution, no matter how small, goes a long way in helping us thrive. By becoming one of our donors, you become a vital part of our mission to uncover the truth and uphold the values of democracy.
While we maintain our independence from political affiliations, we stand united against corruption, injustice, and the erosion of free speech, truth and democracy. We believe in the power of accurate information in a democracy, and we consider facts non-negotiable.
Your support, no matter the amount, can make a significant impact. Together, we can make a difference and continue our journey toward a more informed and just society.
Thank you for supporting Labour Heartlands
Just click the donate button below