Labour's Michael Shanks Prevails in Rutherglen and Hamilton West by-election, Defeating SNP Challenge
Labour emerged triumphant in Rutherglen and Hamilton West, dealing the SNP an embarrassing rebuke. Anas Sarwar's party secured a resounding victory, trouncing Humza Yousaf by nearly 10,000 votes – a difficult night for the SNP deputy.
But does this truly constitute progress, or merely shuffling deck chairs on Britain's sinking ship of state? Our politics sink into a race to the bottom, where apathy reigns and holding one's nose to vote against the alternative passes for democracy.
Labour may have won but it got a lower vote than the previous results when it actually lost. for example, 19,101 (2017) 18,545 (2019) 17,845 (2023).
Some see Labour as the lesser evil, believing things cannot possibly deteriorate further under their watch. But history counsels scepticism – we have descended this path before, always to dismay. New Labour once sang optimistically that "things can only get better." Now loyalists meekly suggest things cannot get much worse, can they? What inspiring rhetoric for UK democracy!
When both options represent a race to mediocrity, apathy rules as people see little stake in engaging. But disengagement only enables further deterioration as parties grow disconnected from voters. It's a vicious cycle with no escape. A race to the bottom where the disenchanted shrug, break the pencil and stay home, ceding the field to cynical opportunists.
Until a leader or party emerges who awakens our better angels instead of exploiting our prejudices, this race to the bottom will continue. There is a choice of course, either we reclaim democracy or watch it perish from neglect. The choice remains ours. But for now, we remain in the Interregnum.
As Antonio Gramsci stated: "The crisis consists precisely in the fact that the old is dying and the new cannot be born; in this interregnum, a great variety of morbid symptoms appear'."
A reckoning for the SNP
This electoral contest arose following the ousting of former SNP MP Margaret Ferrier due to a recall petition. Ms Ferrier faced expulsion from the party after violating Covid regulations by travelling between London and Glasgow while being Covid-positive.
In the 2019 constituency vote, the SNP enjoyed a comfortable majority of 5,230 votes. This defeat represents an embarrassing moment for Mr Yousaf, marking his first electoral test as the SNP leader. Conversely, it serves as a substantial boost for Mr Sarwar and Sir Keir Starmer, as the Labour Party strives to regain lost ground in Scotland ahead of the upcoming general election.
The winning candidate, Labour's Michael Shanks saw off the Nationalist challenge of Katy Loudon.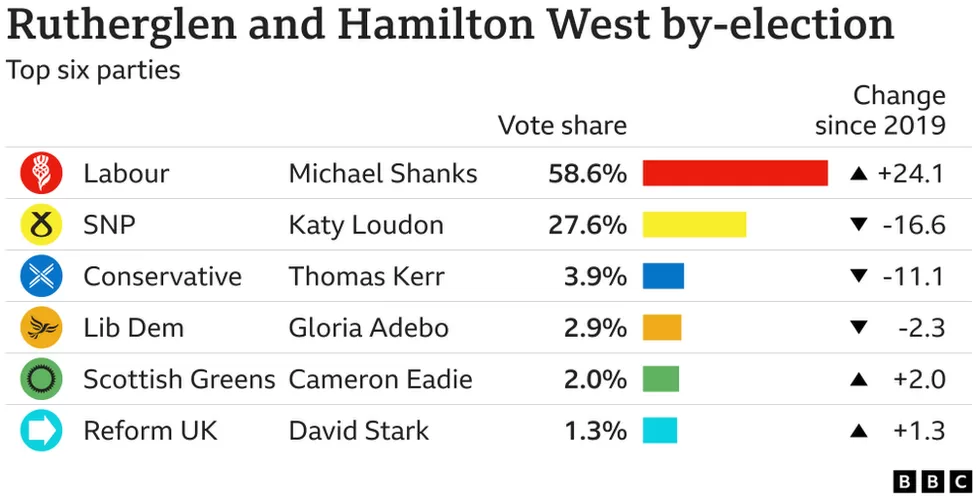 It was considered a Labour stronghold until 2015, when Margaret Ferrier first won it for the SNP with a majority of 10,000 votes.
In 2017, it was reclaimed by Labour under Jeremy Corbyn by less than 300 votes but with a larger majority than today 19,101 votes. Ferrier then retook the seat in 2019. Again Labour under Corbyn still got a bigger majority than today with 18,545 votes.
The 5,230 majority had made it one of the party's most vulnerable Westminster seats.
Turnout for the vote was 37.19%, a dramatic fall from the 66.5% recorded at the last general election.
Labour's vote share was up 24.1% from the 2019 general election. However, its vote was down by 700 votes.
Scottish Labour leader Anas Sarwar said it was a "seismic" night and that people in Rutherglen and Hamilton West had sent "a clear message".
"They're desperate for a fresh start, they're desperate for a change and the vehicle for that change is now Scottish Labour."
He said Scotland would lead the way in delivering a Labour government in the UK.
However for the majority, until fresh ideas emerge or existing parties rediscover their purpose and spine, this sad tango of low expectations and minimal enthusiasm will continue. Those still voting do so for lack of alternatives rather than genuine inspiration.
Support Labour Heartlands
Help Us Sustain Ad-Free Journalism
Sorry, I Need To Put Out the Begging Bowl
Independent Journalism Needs You
Our unwavering dedication is to provide you with unbiased news, diverse perspectives, and insightful opinions. We're on a mission to ensure that those in positions of power are held accountable for their actions, but we can't do it alone. Labour Heartlands is primarily funded by me, Paul Knaggs, and by the generous contributions of readers like you. Your donations keep us going and help us uphold the principles of independent journalism. Join us in our quest for truth, transparency, and accountability – donate today and be a part of our mission!
Like everyone else, we're facing challenges, and we need your help to stay online and continue providing crucial journalism. Every contribution, no matter how small, goes a long way in helping us thrive. By becoming one of our donors, you become a vital part of our mission to uncover the truth and uphold the values of democracy.
While we maintain our independence from political affiliations, we stand united against corruption, injustice, and the erosion of free speech, truth and democracy. We believe in the power of accurate information in a democracy, and we consider facts non-negotiable.
Your support, no matter the amount, can make a significant impact. Together, we can make a difference and continue our journey toward a more informed and just society.
Thank you for supporting Labour Heartlands
Just click the donate button below